Every year in late April, the National Park Service waives the entry fee for all National Parks for its annual Fee-Free Day. This annual event is funded by the National Park Foundation, the official charitable partner of the National Park Service. Typically, this day coincides with Earth Day, giving you an excellent reason to visit a national park and appreciate the beauty and grandeur found in a natural setting. 

Among the many National Parks that open their gates for free is Arizona's beautiful Grand Canyon. Normally, the entry fee at this park is $30 per vehicle for a week pass, but on April 21, 2018, you'll have the opportunity to freely enter the Grand Canyon - and better yet, you'll get the chance to take part in the annual Earth Day festivities at the Grand Canyon Visitor Center Plaza.

How to Celebrate Earth Day at the Grand Canyon
The Grand Canyon Visitor Center Plaza, near Mather Point at the South Rim, hosts the Grand Canyon's Earth Day Festival every year. From 10 A.M. to 2 P.M., you'll find a free-to-enter, open-house style festival with special exhibitions and interactive activities for all ages. The festival hosts a number of local retailers and organizations who are focused on preserving the environment, and they will be offering many earth-related activities, ranging from educational opportunities to arts and crafts and much more.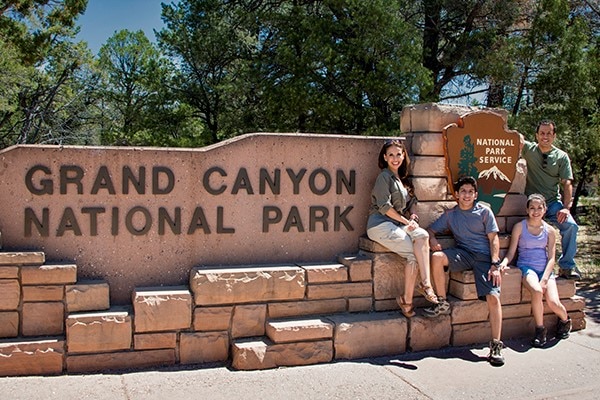 This Year's Theme: Waste, Water, and Energy Reduction
The Earth Day Festival at the Grand Canyon is a themed event to raise awareness of some of the toughest issues facing our environment. This year, you can learn about how to reduce your carbon footprint with the theme focused on waste, water, and energy reduction. Exhibitors include the Arizona Department of Environmental Quality, Clean Cities Coalition, National Weather Service, and Sierra Club.
"Water is an invaluable resource at the Grand Canyon and we are always talking to our tour guests about water conservation," says Romy Murphy, Operations Manager for Pink Jeep Tours at the Grand Canyon.
You can also take part in a community trash pick-up event on Friday, April 20 to clean portions of the Grand Canyon, in anticipation of the Park's Earth Day celebration the following day. During this event, park rangers take the opportunity to share the effort that the National Park Service puts into preserving the parks while keeping them accessible for visitors. The trash pick-up event and Earth Day festival are both sponsored by the Grand Canyon Green Team.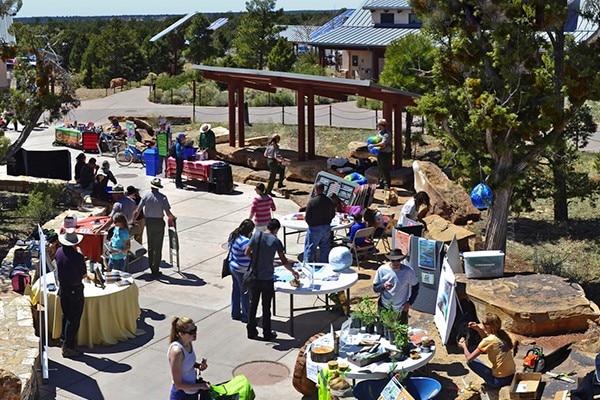 What Else to do at the Grand Canyon on April 21st
The Grand Canyon's Earth Day Festival is not the only way that you can celebrate Earth Day in this wondrous national park. In addition to visiting the open-house, you can also take a short shuttle ride from the Visitor Center to Grand Canyon Village. Here, you'll be able to find a number of restaurants, shops, and trailheads for exploring, including architectural landmarks like El Tovar Lodge, Kolb Studio, and the Hopi House.
In the spirit of the Earth Day theme, you can also opt to take a 2.5-mile (4km) stroll on the South Rim Trail, which follows the canyon's edge from the Visitor Center at Mather Point to Grand Canyon Village. April is part of the perfect hiking season, with temperatures ranging from 52°F (11°C) in the morning and maxing out around 80°F (27°C). For medium to experienced hikers, there is also the Bright Angel Trail, South Kaibab Trail, Hermit Trail and Grandview Trail. Take advantage of the Park's free entry to finally cross off hiking at the Grand Canyon from your bucket list.

Be aware that you will need to plan to have your own water, and restrooms are not available along all of the trails.
Better yet, tour Grand Canyon National Park with an expert guide who can make your visit unforgettable by sharing key insights of the canyon's history and geology, tell educational and entertaining stories, and steer you away the crowds whenever possible. And best of all, manage the driving and parking! Pink Jeep Tours offers seven different excursions into the Park, including sunset tours and hiking tours. You'll ride in a state-of-the-art open-air Jeep® Wrangler and take home memories of the Grand Canyon that will last a lifetime.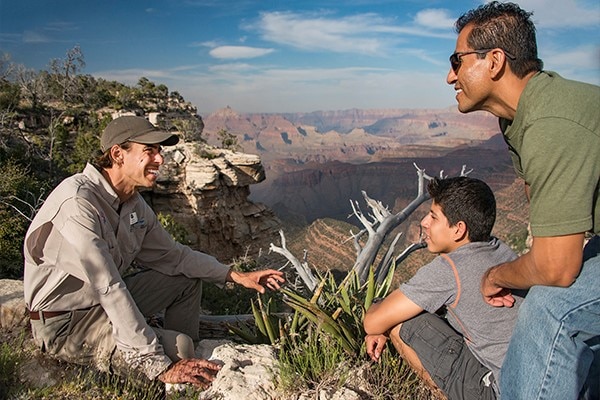 When to Arrive and Where to Stay
Many, many, many people take advantage of the free entry to Grand Canyon National Park for Earth Day, so you will want to plan to arrive early. The gates open at 7 A.M., and the parking lots at Mather Point and the Grand Canyon Village will fill up quickly after that. To get the most out of your day, try to arrive as close to 7 A.M. as possible, and plan for an early guided tour before spending time at the Earth Day Festival starting at 10 A.M.

If you're looking to stay overnight near the Grand Canyon in anticipation of Earth Day, neighboring cities include Tusayan, Williams, Flagstaff, and Sedona. These cities are roughly 30 minutes to two hours away from Mather Point by car. From Williams, you can take Highway 64 north. From Flagstaff, take Highway 180 north to join Highway 64. From Sedona, take Highway 89A through scenic Oak Creek Canyon to join Interstate 40 west until heading north to the Grand Canyon on Highway 64.

A Final Note
While entry to the Grand Canyon will be free on April 21st, all fees that are associated with camping, tours, and reservations of materials will not be waived on the fee-free day. These options, nonetheless, can be enriching for you and your group to learn about the history of the Grand Canyon or for you to take your trip to the next level. Be sure to reserve in advance, as these spots will fill up quickly in anticipation for the Earth Day celebration at the Grand Canyon!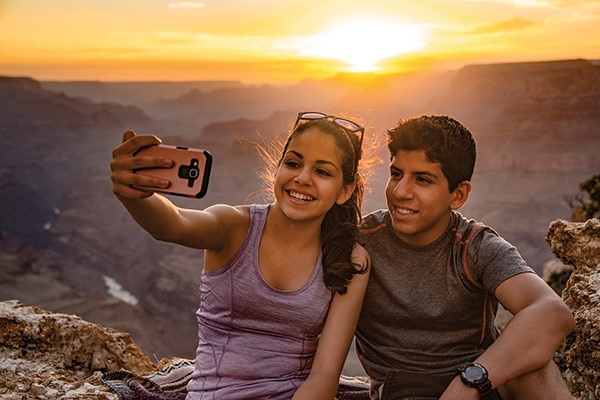 ---