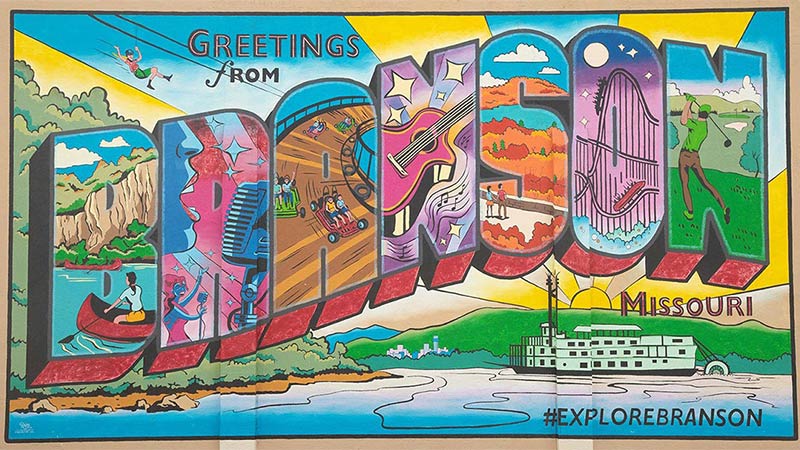 If you're looking for a family-friendly vacation spot and unforgettable adventures that last a lifetime, look no further than Branson, Missouri! Famous for its live music shows, the city also has world-class shopping, unbeatable outdoor recreation and one-of-a-kind attractions that can't be found anywhere else in the United States.
Nestled in the heart of the Ozark Mountains on the southwest border of Arkansas, a Branson vacation is a favorite among travelers of all ages. It is a popular year-round, road-trip destination but also easily accessible by air.
With so many fun things to do in Branson, you'll want to plan ahead to make the most of your time. We've put together a comprehensive Branson travel guide with vacation ideas and tips to help you plan your first trip to Branson.

Why Visit Branson, MO?
The city of Branson is known for its good ol' fashioned southern hospitality and middle-America small-town feel but with all the activities that you can find in a big city. Depending on the season, a Branson vacation also offers several opportunities to experience the splendor of nature.
Whether you are looking for a fun family vacation, the best live entertainment, outdoor activities, a romantic getaway, or the exhilaration of a roller coaster, you will find it all in Branson.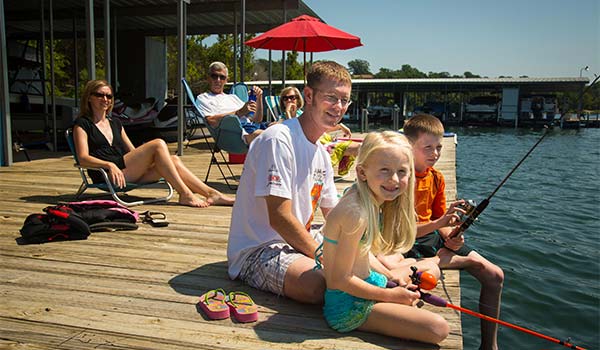 What You Need to Know About the City of Branson, MO
Founded in 1903, the city of Branson is located in the Ozark Mountains in Taney County, Missouri. Tourists have flocked here for over a century. The Shepherd of the Hills novel, published in 1907 by Harold Bell Wright, put Branson on the map. It depicts the lives of mountain people living in the Ozarks and is still celebrated in outdoor theatre productions.
Branson's live entertainment covers every music genre from country to rock and beyond. But it's not just the music that attracts over nine million visitors to Branson each year. There are a plethora of attractions such as museums, theme parks, zoos, shopping and outdoor recreational activities.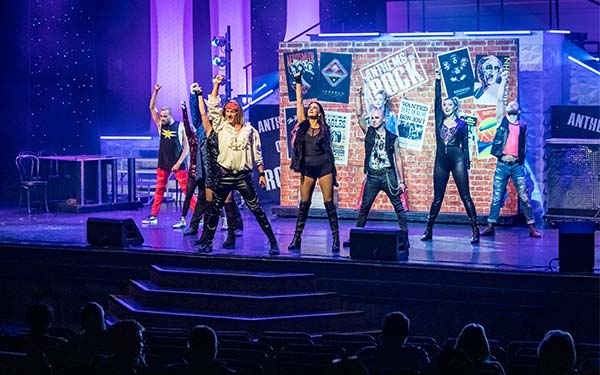 Weather and Climate
The Ozark Mountains boast some of the best year-round climate. Branson's weather is mostly mild with few extremes. On average, the city enjoys 209 days of sunshine. Annual rainfall is about 45 inches.
If you visit Branson during the spring, expect temperatures to hover in the low-to-mid 40s in the mornings and warm up to t-shirt weather by late afternoon. The summer brings the heat with highs in the low 90s. Luckily, you can cool off at the water parks or one of Branson's many lakes.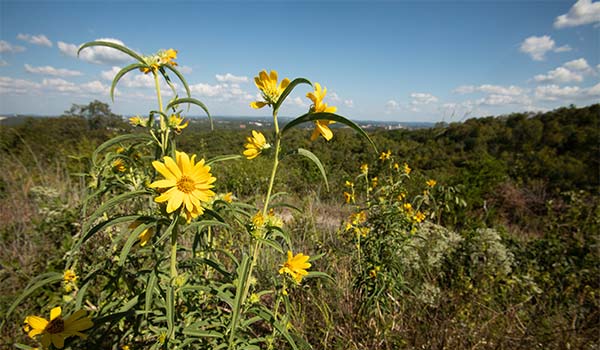 One of the best times to visit Branson is the fall season. Autumn colors burst forth from mid-September through October. The crisp fall temps hover in the low 40s at night and the low 70s during the day.
During the winter, chilly temperatures dip down into the 20s, with highs around the 40s. Branson's average annual snowfall is just over 8 inches, but it rarely snows more than a few inches at a time—just enough to make snow angels or a snowman.


What to Pack
Whatever the season, Branson's weather can change quickly. If you are visiting in the spring or fall, pack clothes that can be layered. Temps are cooler in the morning and warm up throughout the day. Comfortable walking shoes, a light jacket and a refillable water bottle are year-round essentials.
In the summer, sunscreen, lip balm and bug spray are must-haves along with t-shirts, shorts and a swimsuit. It rains often, so be prepared with a poncho. The winter months bring colder temps so think heavier layers—a warm coat, warm socks, fuzzy sweaters, gloves, a hat and scarf.


Dining
Branson caters to every appetite. Atmospheres range from kid-friendly restaurants to casual and fine dining rooms, dinner shows and more. Branson's restaurant scene includes buffets, steakhouses, eclectic eateries, national chains, lakeside dining and more!
We recommend tasting some of the food found only in Branson. Big D's BBQ has been voted Branson's Best BBQ four years in a row! The Lake House is a local's favorite for gorgeous views. McFarlain's Family Restaurant is a Branson exclusive, famous for its Ozarks cuisine, rising joke table and homemade pies.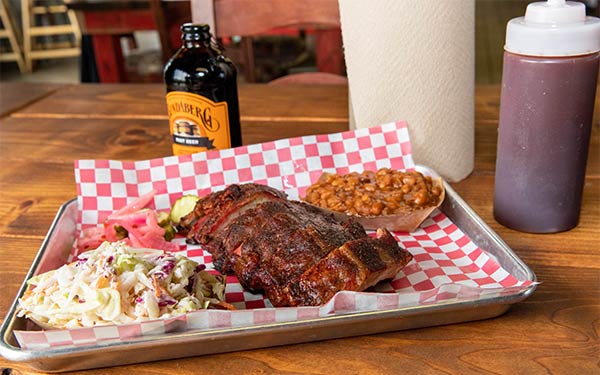 Shopping
The Branson/Lakes area has some of the best shopping in the Midwest. The Branson Landing features over 100 specialty stores and restaurants. The Crystal Fish Gifts, locally owned in Branson for over 35 years, offers one of the largest selections of handmade and local items in Southern Missouri. Historic Downtown Branson is home to Dick's 5&10, one of the last remaining nickel and dime stores in the United States.
Visit the Branson Craft Mall for unique wares of over 200 vendors, artists and crafters. Shop local at The Grand Village Shops, a quaint village-style experience. Don't miss Kringles the largest, year-round Christmas store in Missouri. For brand-name designers, the Tanger Outlets Branson offers guilt-free shopping at its best.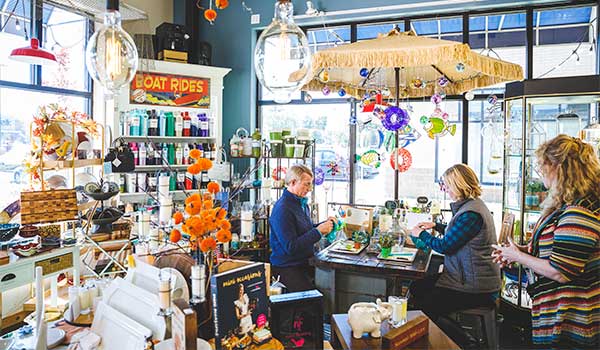 Lodging
Branson's diverse lodging options are endless. You'll find family-friendly hotels, opulent resorts, bed and breakfasts, vacation homes, cabins and more. Double the fun by staying at a top-rated Branson resort with kid-friendly activities, thrilling attractions and outdoor adventures on-site.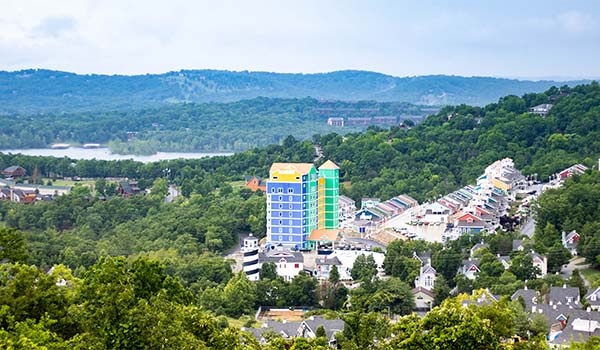 Castle Rock Resort and Waterpark boasts a 40,000-square-foot indoor and outdoor waterpark. Grand Country Resort is a family favorite with Splash Country. For lakeside views and water sports, Stillwaters Resort and Watermill Cove Resort are minutes from Silver Dollar City.
If you seek outdoor adventure, Big Cedar Lodge offers glamping, private rustic cabins and countless activities. Silver Dollar City Campground has accommodations for every type of camper, from tent and RV sites to log cabins.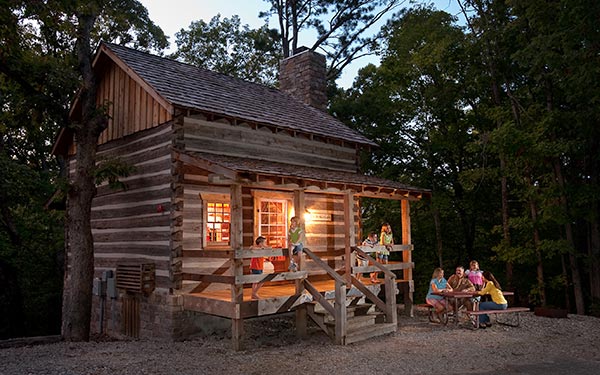 Branson Holiday Lights
Recognized as America's Christmas Tree City, Branson transforms into a fantasy land of lights, festivals and holiday cheer each winter. Silver Dollar City's An Old Time Christmas dazzles with 6.5 million holiday lights. There are three major drive-thru Christmas lights displays: Branson's Lights of Joy, Let There Be Lights! at the Promised Land Zoo, and The Trail of Lights at Shepherd of the Hills. Branson's Christmas activities offer something for everyone.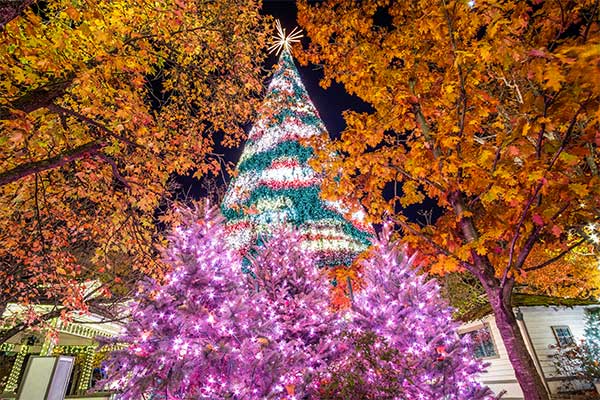 Branson's Top Sightseeing Destinations
Historic Downtown Branson
Small-town nostalgia meets big-time fun in Historic Downtown Branson. The crown jewel is the 120-foot tall fountain and fire show in the entertainment district. You'll also find shopping, the Branson Scenic Railway, Historic Owen Theatre and famous Branson Murals here. Stroll the streets on foot or hop aboard the free tram, Sparky.


Table Rock Lake
With almost 800 miles of shoreline, crystal clear waters and renowned bass fishing, Table Rock Lake is one of Branson's top vacation spots. It's popular for swimming, boating, fishing, sailing, waterskiing, hiking, camping and more. Over 100 resorts sit adjacent to the lake and campsites line the shores.


Lake Taneycomo
Home to the Branson Landing Boardwalk, Lake Taneycomo flows through the heart of town. Originally a section of the White River, it is now fed by Table Rock Lake and is a world-class trout fishing destination. Branson Jet Boats and the Lake Queen Sightseeing Cruise are great ways to explore the lake.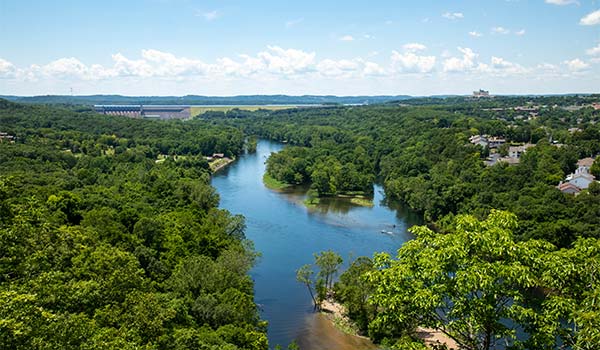 Showboat Branson Belle
Delve into the history of Missouri's waterways aboard the Showboat Branson Belle, America's Most Entertaining Lake Adventure. Cruise the pristine waters of Table Rock Lake aboard a 700-passenger paddle-wheeler, dine on a scrumptious 3-course meal and catch an exciting music variety show! No Branson trip is complete without a visit to the fabled showboat.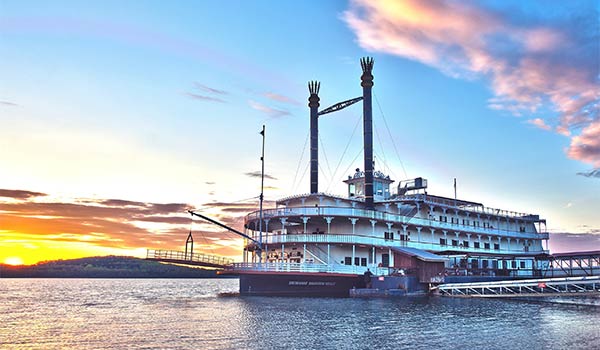 Best Activities To Do in Branson, MO
Titanic Museum Attraction
Learn about the passengers and history of this ill-fated 1912 ship. The Titanic Branson Museum includes a replica of the famous Grand Staircase, over 400 authentic artifacts and a real iceberg. Upon entering, visitors get a boarding pass with the name of a real passenger whose fate they can trace through the museum.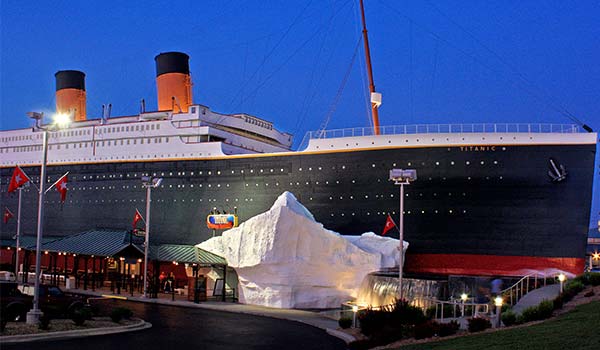 Bigfoot Fun Park
One of Branson's more popular adventures, Bigfoot Fun Park, has thrills for all ages. Take a 200-foot free-fall on the Gravity Bomb! Join the Bigfoot Research expedition team and journey deep into the Ozarks. There is also a massive arcade, mini-golf course and 8Di gaming experience.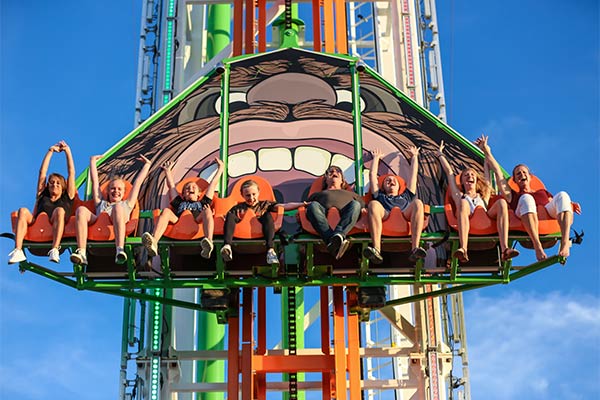 Fritz's Adventure
This family-friendly attraction brings outdoor adventure indoors! Spend the whole day experiencing three stories and 80,000 square feet of climbing space. Fritz's Adventure is a unique Branson family fun experience with obstacles, ziplines, suspension bridges, free falls and more.
Branson Family-Friendly Activities
Silver Dollar City
This 1880s-style theme park is full of family fun with over 40 thrilling rides, attractions, live shows and concerts. Silver Dollar City is a favorite among families visiting Branson. Don't miss the Time Traveler—a spinning rollar coaster with a 10-story, 90-degree vertical drop. In summer, splash into White Water, voted one of America's 10 Best Outdoor Water Parks.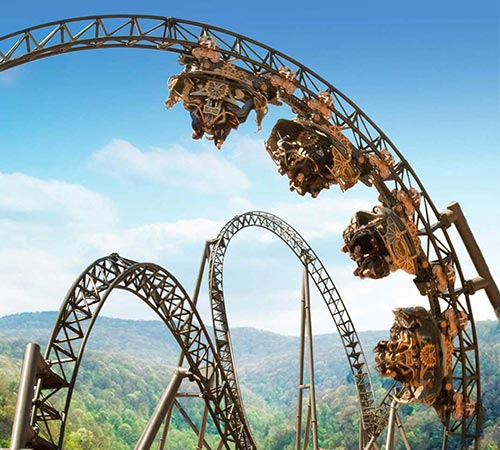 Dolly Parton's Stampede Dinner Show
Channel your inner cowboy with this fun family dinner show! The Dolly Parton Stampede Show features 32 horses, a cast of talented riders and a four-course feast of country-style cuisine. It's one of Branson's must-do-activities and known as the City's most fun place to eat. During the holidays, the Stampede becomes a Christmas fantasy land.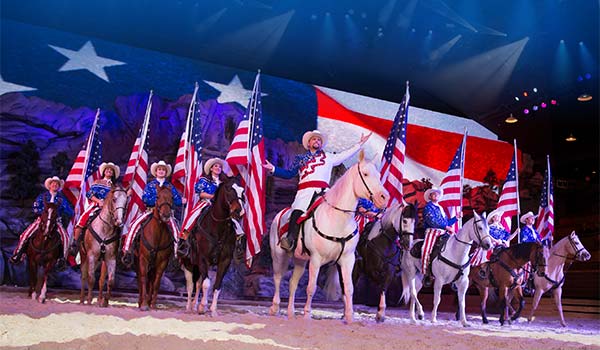 Track Family Fun Parks
Grab the family and get behind the wheels at the Track Family Fun Parks! Cruise three unique high-rise go-kart tracks and many more. Buckle up for bumper boats/cars, strap in for a mid-air rush on the 100-foot-tall Skycoaster swing or take a spin on the Branson Ferris Wheel. Each park features several family-fun activities.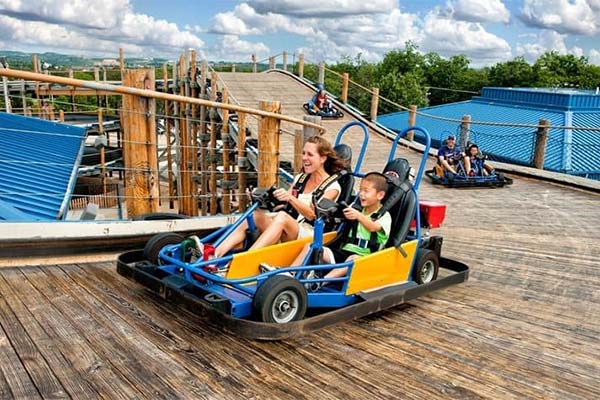 Shepherd of the Hills Adventure Park
Recently voted as the Best Aerial Adventure Park in America by USA Today, Shepherd of the Hills Adventure Park's rides and attractions is a must for Branson visitors! Try your hand at the outdoor ropes course or zoom over treetops on ziplines. Kids will love the petting zoo and several live shows feature Ozark Mountain life.


Branson, MO Frequently Asked Questions (FAQ)
What is the best time of year to visit Branson, MO?
Anytime is a good time to visit Branson! The two most-visited times of year are November to December and June through August. In winter, the Ozark Mountain Christmas is an all-out extravaganza. Summer is peak season when shows and attractions are in full swing.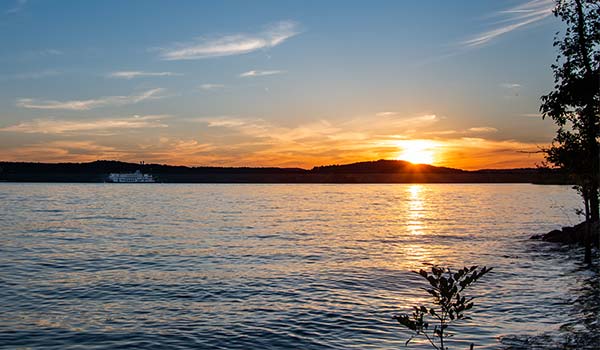 Is Branson, MO kid-friendly?
Branson is known for its kid-centric attractions and activities. The Associated Press has recognized Branson as one of the top family vacation destinations in the United States. There's no shortage of Branson vacation ideas.

How much does it cost to visit Branson, MO?
Branson is an affordable family vacation given its many attractions and events. A 7-day Branson visit for a family of four will average $5,800. If you plan a trip to Branson, bundle your attractions, show tickets and hotel. Book your own vacation package and look for deals to combine the many Branson things to do.


NEW!
Explore Branson in High Gear with Pink Jeep Tours!
Experience the best of Branson and the magic of the Ozarks with our signature, guided tours.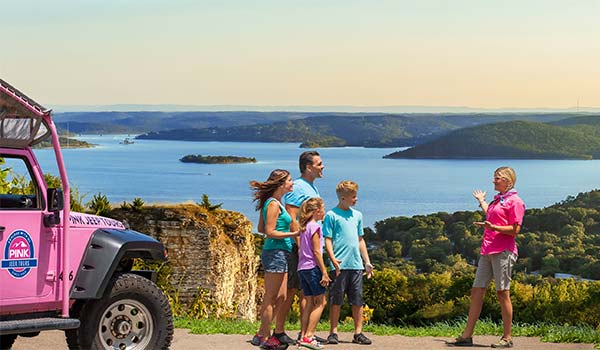 ---