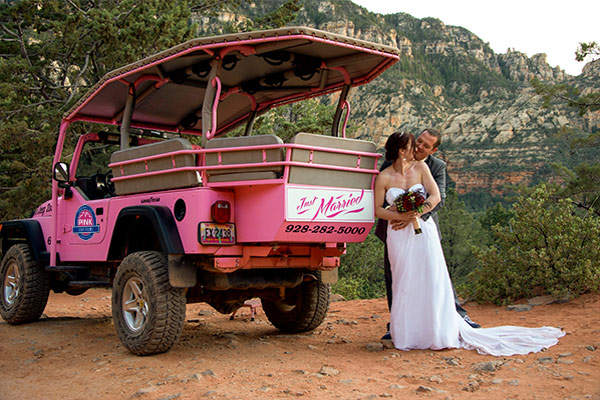 A wedding should be a grand event—a unique celebration of love and commitment. But many weddings end up being more "dime a dozen" than "one in a million."
As one of the Southwest's most popular wedding destinations, Sedona, Arizona, adds plenty of charm, beauty, and romance to any wedding celebration, but there are a few ways to make a Sedona wedding really stand out. Pink Jeep Tours, the world-renowned tour company based in Sedona, AZ, offers wedding packages—complete with a choice of exclusive Jeep tours—to excite, delight, and surprise wedding parties and guests. This could be the wedding you've always dreamed of...with just a touch of pink.
Sarah Fox, a member of the Pink Jeep Tours Special Events team, shared some of her insights about each of their ceremony locations. Each one has something special to offer, but they'll all give you the wedding experience of a lifetime (not to mention the best wedding photos you've ever seen).
Broken Arrow Tour (Ceremony at Chicken Point)
As the only tour company with access to the Broken Arrow Trail, Pink Jeep can treat you and your guests to an exclusive tour opportunity that will show you the very best of the Sedona landscape, while adding a little adventure to the mix. With a ceremony at Chicken Point, a lookout point with panoramic views of the red rocks, you'll have the perfect setting for a one-of-a-kind ceremony.
Sarah points out that while all types of couples are drawn to the Pink Jeep wedding, many of the couples are really focused on creating an experience for their guests. For these couples, this exclusive tour option really can't be beat.
"Many couples right now want to celebrate their marriage in a place that is all about a natural setting," Sarah says. "It takes away all the wedding noise and lets everyone really focus on the couple and their love. The addition of the tour, especially one with off-roading like Broken Arrow, adds a lot of fun to the whole experience."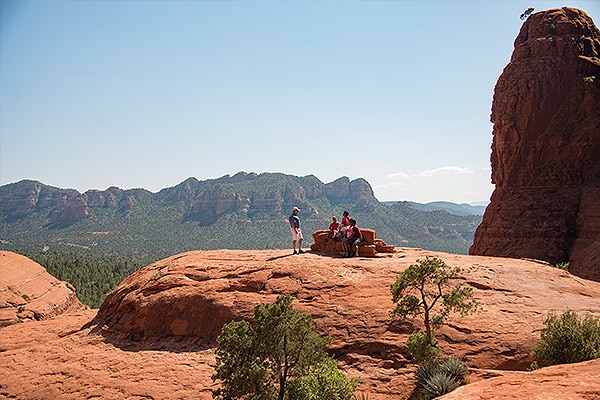 Scenic Rim Tour (Ceremony at Merry-Go-Round)
The Scenic Rim Tour is aptly named: it is one of the most scenic tours offered by Pink Jeep Tours. This excursion is an adventure, taking you and your guests up over rugged terrain that is certain to be unlike any wedding they've ever been to. And Merry-Go-Round rock gives you the perfect place to exchange your vows, with a magical, "top-of-the-world" setting that will leave your guests breathless.
"Merry-Go-Round is one of our most popular ceremony spots, for good reason," says Sarah. "I remember one couple who wasn't quite sure they wanted to do the whole 'outdoor wedding' thing, but when we previewed the spot, they were like, 'This is it.' It's that moment that makes me love my job."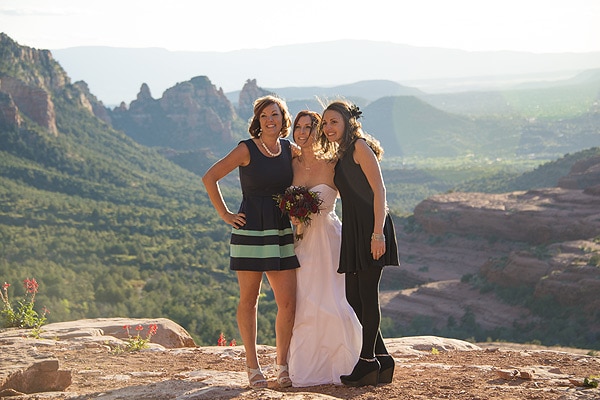 Coyote Canyons Tour (Ceremony at First Overlook)
Sarah adds, "We can't bring in decorations or 'extras' to the ceremony site due to forest regulations, but the truth is, you don't really need them. It's so beautiful to just celebrate a simple, grand love in a simple, grand place."
Diamondback Gulch Tour (Ceremony at Rattlesnake Point)
This popular tour will take you and your guests beyond Sedona and into the Coconino National Forest. Make sure your guests bring their cameras—they're going to want them! This tour is where rugged adventure meets incredible beauty (sounds like a love story, doesn't it?). If you want to give your guests an experience they'll never forget—and if you want wedding photos that will make jaws drop—look no further.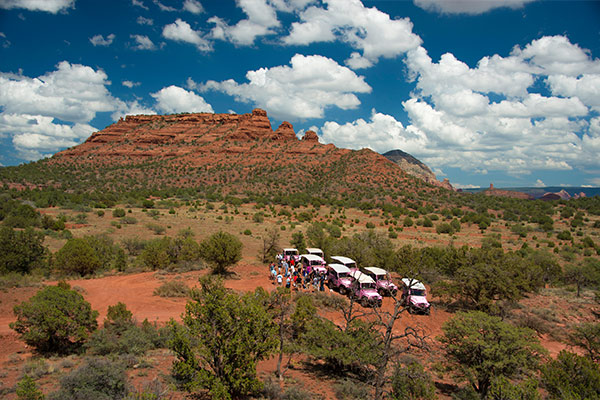 Your Wedding, Your Way
Sarah wants couples to know that she won't take a "one size fits all" approach to their wedding. "The best thing about doing a wedding with us, besides the amazing locations, is that we can make it exactly what you want it to be. We've had couples do champagne toasts, bring acoustic musical instruments; we even had one couple surprise their guests with the wedding location."
Sarah goes on to say that while Pink Jeep Tours does a lot of the work for you, nothing has to be set in stone. "We can customize the tour times to allow the perfect amount of time for the ceremony and pictures. We can add picnic lunches or a full-blown, catered receptions with filet mignon.
A wedding is always a beautiful thing. Take it to the next level by working with Pink Jeep Tours to create a once-in-a-lifetime experience for you and your guests. Contact them to discuss itinerary options and other enhancements.
---