For Beth Hansen, America's National Parks carry a special allure. Her love for being surrounded by the beauty and grandeur of the world's most cherished lands inspired her to come out of retirement for the opportunity to explore the Grand Canyon on a daily basis. 
Having worked with Pink® Jeep® Tours at Grand Canyon National Park for just a little over two months, Beth has quickly become a popular addition to the team. Read more about Pink Jeep Tours through the eyes of Beth Hansen below.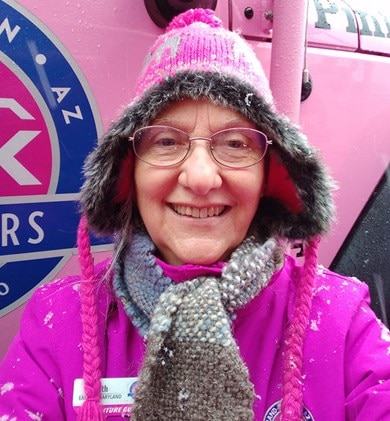 HOW LONG HAVE YOU WORKED FOR PINK JEEP TOURS? 
Beth: Two months! This is my first season. I strongly encourage retirees that still have a longing for adventure to apply to be an Adventure Guide. It's the perfect retirement career.


WHY DID YOU DECIDE TO BECOME AN ADVENTURE GUIDE?
Beth: I have experience leading tours for Yosemite and Yellowstone, so once I heard about Pink Jeep Tours, I wanted to be a part of it. I spent 20 years working for history museums and engaging with the public through tours, so it was a natural fit. I am just happy to have the opportunity to experience the Grand Canyon every day!


WHAT DOES IT TAKE TO BE A GOOD ADVENTURE GUIDE?
Beth: You have to enjoy people. Pink Jeep Tours are all about our guests and making every tour memorable and unique to their interests.


WHAT IS YOUR FAVORITE PART OF BEING AN ADVENTURE GUIDE?
Beth: My favorite part is leading tours for people that have never been to the South Rim of the Grand Canyon before. They always have this "wow" moment, and it's fun for me to witness every time!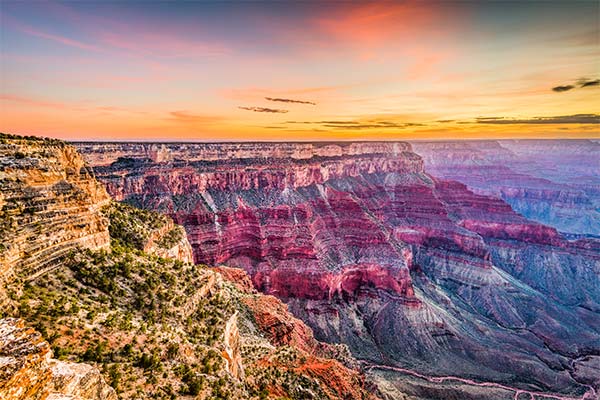 WHAT IS YOUR MOST CHERISHED TOUR MEMORY THUS FAR?
Beth: I had a tour with a family that had three generations on the trip with them, and the grandmother had never seen the Grand Canyon. It was on her bucket list, and she was so excited to experience it for the first time with her family. I was very touched to help her achieve her dream.


WHAT IS YOUR FAVORITE STOP ON THE GRAND CANYON TOUR?
Beth: I have a favorite rock off the beaten path that I take my guests to. You can see ripples from when it was once underwater. The mud eventually hardened into this beautiful rock design and it's fascinating. It is these types of finds that make the Grand Canyon so special.


WHAT ARE THE BENEFITS OF TAKING A PINK JEEP TOUR VS. DRIVING YOURSELF?
Beth: The Pink Jeep Tours' experience is completely different than driving or hiking while looking at guidebooks. You and your group can relax and view the magic, while we do driving! We can answer all of your questions and personalize the tour based on your interests.
Due to the training for Adventure Guides, we have extensive knowledge of the Canyon and its history. We learn more bits of information from guests on our tours, and it's fun to relay facts from past guests to future ones.


WHY SHOULD TRAVELERS VISIT YOU IN THE GRAND CANYON NATIONAL PARK?
Beth: My answer to that is, "Because it's the Grand Canyon!" We've all seen photos of it throughout our lives, but you have no idea how truly awe-inspiring it is in person until you're immersed in it in a Pink Jeep Tour. You can see essentially the whole Canyon in a day with us, and experience one of the great natural wonders of the world.
 
LASTLY, GIVE US A FUN FACT ABOUT YOU!
Beth: I have a hobby of weaving pine needle baskets! Since I started working at Pink Jeep Tours and moved to a forested area outside the Canyon, I am able to collect endless pine needles from around my house. I also love to crochet in my off time.
You can visit Beth and experience the beauty of the Grand Canyon with your own eyes. Book your Grand Canyon tours today.
---