Sedona Adventure Guide: Monica Polacca
Monica Polacca, a Native American of Navajo, Hopi and Havasupai descent, has a deep-rooted connection to the lands she explores every day on her Pink® Jeep® Tours. To her, conducting tours is a means to reconnect people with the natural elements and leave them with a deeper appreciation for Sedona's history, geology, native plants and wildlife. Learn more about Pink Jeep Tours through the eyes of Sedona Adventure Guide Monica Polacca – including why she calls her tour vehicle the "Pink Pony" – below!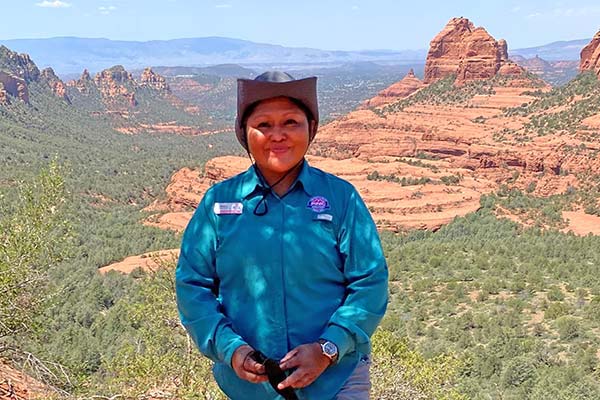 How long have you worked for Pink Jeep Tours?
Monica: I started in January 2021, but I have always wanted to work for Pink Jeep Tours. I was working at Enchantment Resort and I met a Pink® Adventure Guide who hosted tours from there. I admired the way he carried himself and how knowledgeable he was about the area in his conversations with our guests. He was so professional and willing to share information with visitors. I really felt it was something I wanted to be a part of. Funny enough, that very Adventure Guide ended up being my coach through guide training! My journey to becoming an Adventure Guide came full circle.


Why did you decide to become an Adventure Guide?
Monica: I truly believe it's because of my Native American heritage. I have a connection and a familiarity with the land. I have lived here most of my life and it's a part of who I am. My footsteps have been on this land for as long as I can remember. I have a deep connection to the natural elements and I wanted to share that with others.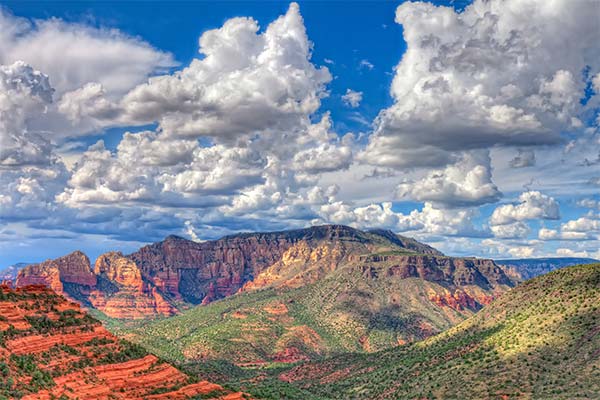 What does it take to be a good Adventure Guide?
Monica: The best adventure guides have a love for serving the public, are genuinely personable and conduct themselves professionally. It's also imperative that you are knowledgeable about the area's history and culture, and have a deep understanding of the native plants and wildlife.


What is your favorite part of being an Adventure Guide?
Monica: I love meeting people from all walks of life! I learn just as much from them as they do from me. I call my vehicle the "Pink Pony" because in Native American philosophy, the horse is a means to educate the mind. The horse will take you out into the world and expose you to many things that can change and influence your life. In that tour vehicle, we're all learning from each other and about each other. My tour vehicle is my modern-day pony.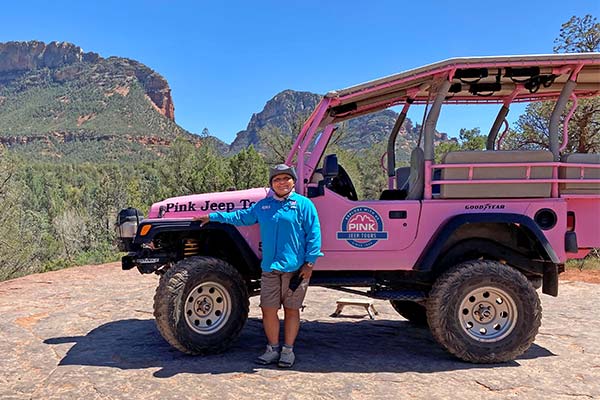 What is your most cherished memory thus far?
Monica: My favorite tours are the multi-generational families, where there are elderly folks and grandparents. I have had parents and grandparents express sincere gratitude for sharing information about the world with their children and grandchildren. It's so rewarding to see them light up with a different perspective of nature. It touches my heart.


What's your favorite stop on the Sedona Pink Jeep Tours?
Monica: It's not really a stop, but my favorite part of any tour day is when the sun rises during the first tour in the morning. There is something so special about that time in the day. I encourage my guests to look out at the horizon and take a moment to appreciate the view, while I tell them stories about those who were here before us. It's a serene and genuine moment that we're fortunate to experience. I make sure I encourage them to be aware of the natural elements around us at that time, including how the air feels and smells in that moment and how the sunrise looks.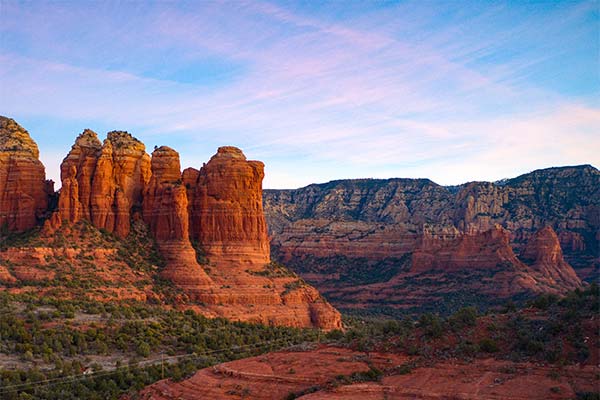 What are the benefits of taking a Pink Jeep Tour vs. driving yourself?
Monica: There's an advantage to riding with us because of Pink® Jeep® Tours' 60-year history in Sedona and the connection that our Adventure Guides have with the land. We have so much knowledge, wisdom and experience to share with our guests. It's a holistic experience, all in one ride. I hope to help people get personally connected to the area and the true spirit of the land. A lot of people leave saying Sedona feels more meaningful to them after their tour.


Why should travelers visit you in Sedona?
Monica: People should visit us so that they can have a genuine, authentic experience with people who have a true love for the land and a devotion to nature.


Give us a fun fact about you!
Monica: I am quite an adventurous spirit. My last name means butterfly, which is fitting because I like to spread my wings and get out and explore the world. I used to live in Alaska and experienced nature at its most extreme. I know why they call it the last frontier! It was so rewarding to live simply and connect with the land.
Visit Monica and experience the natural beauty of Sedona with your own eyes. Book your Sedona tour today!
---