Celebrating Earth Day this year will be like no other in world history. Not only does April 22, 2020 mark the 50th anniversary of Earth Day, this year we are in the middle of a pandemic and world health crisis. While many of our traditional celebrations, events and workshops will be canceled this year, there are still ways you can celebrate Earth Day 2020 from the comfort of your home.

What is Earth Day?
Earth Day is a day created to promote awareness for protecting our planet Earth's environment and resources. Over 175 countries celebrate Earth Day. We use this time to raise awareness about themes like climate change, protecting endangered species, saving water, zero waste and conserving energy.
Here are some ideas to celebrate Earth Day from home while social distancing.


Feed the Hummingbirds
Ordering and planting petunias and lilies will not only beautify your space, but also attract visits from hummingbirds.


Read an eBook
Now's the time to share with your family how the Grand Canyon was formed, or learn the history of the great Smoky Mountains.


Dine by Candlelight
Change it up and save on electricity. Candlelight is calming and transfers your home to a different space.


Learn about Sustainable Seafood
There is a movement afoot; learning how to source sustainable seafood will prepare you for a new way eating when things return to normal.


Camp in the Backyard
A family fun adventure is just steps away, and the memories will last a lifetime.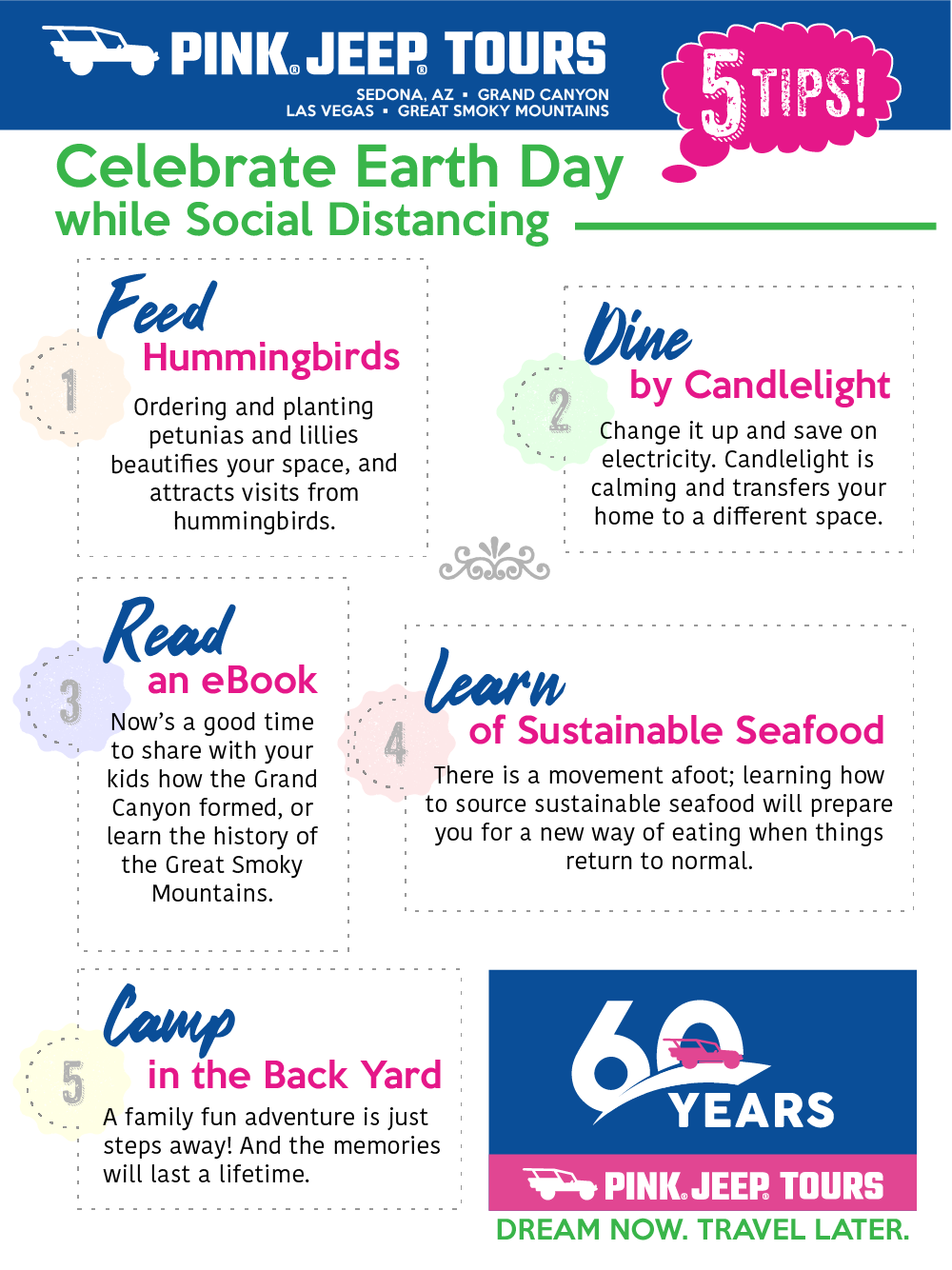 Earth Day Goes Digital
Participate in EARTHRISE this year, a global digital mobilization that drives actions big and small, gives diverse voices a platform and demands bold action for people and planet. Over 24 hours, EARTHRISE will fill the digital landscape with global conversations, calls to action, performances, video teach-ins and more.
ABOUT PINK® ADVENTURE TOURS
Founded in 1960 and based in Sedona, Arizona, PINK® Adventure Tours provides unique, unforgettable tour experiences to Sedona, the Grand Canyon, Las Vegas and the Smoky Mountains, for visitors from around the world. With a fleet of over 150 cutting edge vehicles, it remains the only tour company with guide trainers certified by the National Association for Interpretation on its staff, and the only tour company to use the Smith System® of Driving by all guides.
---