When it comes to preserving Arizona's Coconino National Forest, Pink Jeep Tours wants to be part of the solution. That's why we take deliberate steps to show our continued commitment to conservation.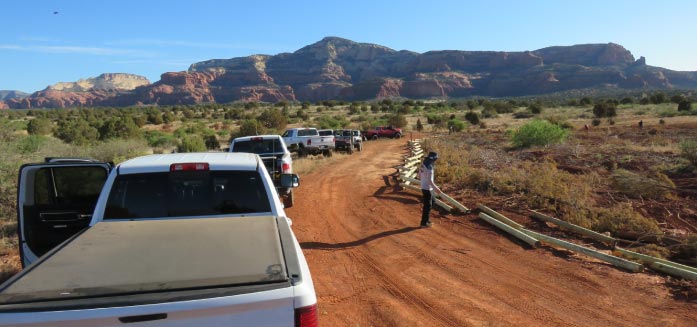 Pink Jeep is a founding member of Sedona's Red Rock OHV Conservation Crew (RROCC), a coalition of more than a dozen private industry partners who have pledged resources to promote ethical and responsible off-road recreation.
Members began dedicating 1% of sales to land preservation and rider education in 2021, a commitment that could achieve $400,000 in annual contributions to the Coconino National Forest's Red Rock Ranger District.
In addition, RROCC is working with Tread Lightly! to produce educational content on public safety, limiting speed, noise and dust, respecting others who use the roads, observing sensitive areas such as the grasslands west of Sedona and leaving historical or archeological sites undisturbed.
The video below, featuring PINK Adventure Guide Dan Wishnewsky, demonstrates the devastating effect of vehicles going off-trail.
RROCC's latest endeavor tackled one such off-trail problem area with the construction of a 400-yard worm fence at the infamous "Donut Hole" near the Diamondback Gulch. It's an area that has suffered topsoil destruction, erosion, and water source contamination from off-trail motorized recreation. The fence was placed to maintain the designated trail and allow the surrounding area to recover.
Pink Jeep President John Fitzgibbons did not hesitate to roll up his sleeves. Over the course of several long days, he maneuvered bulldozers and hauled more fence posts than he might care to remember.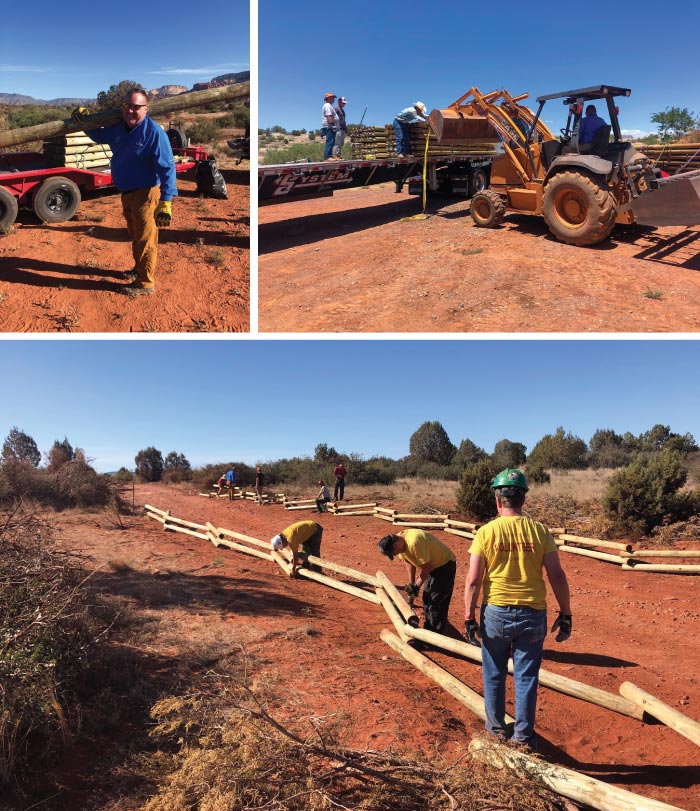 The resulting enclosure will allow nature to heal.
At Pink Jeep Tours, we believe that the outdoors are there to be enjoyed. It's why we do what we do. This passion for the outdoors means that we want to do everything possible to preserve and protect our environment for generations to come.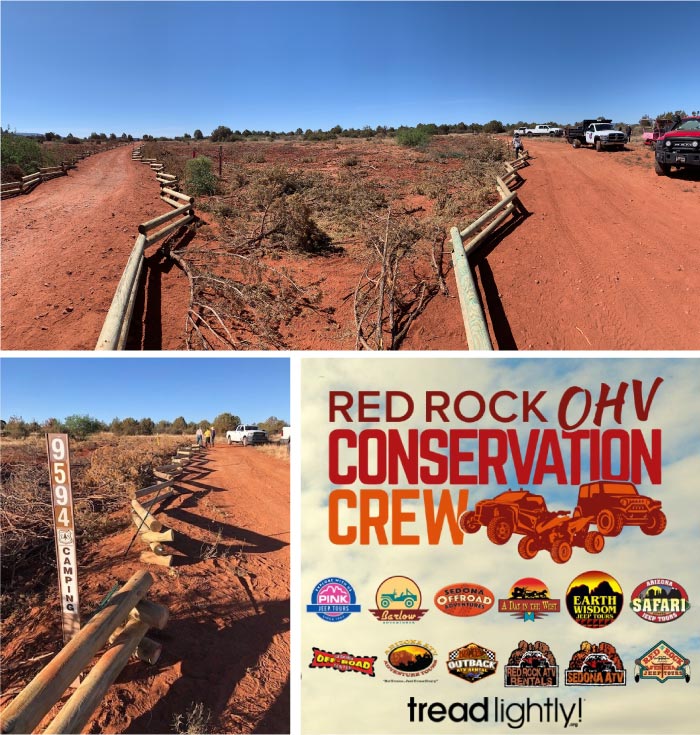 ###
All businesses permitted to operate on National Forest lands are required to contribute 3% of gross revenue, 95% of which stays on the local Forest for maintenance of existing infrastructure, ground operations, monitoring and administration.  Revenue collected from permitted OHV companies, including jeep tours and ATV tours, has helped to support road and trail maintenance, resource protection, projects and administration and monitoring efforts to ensure sustainability of uses into the future.
---