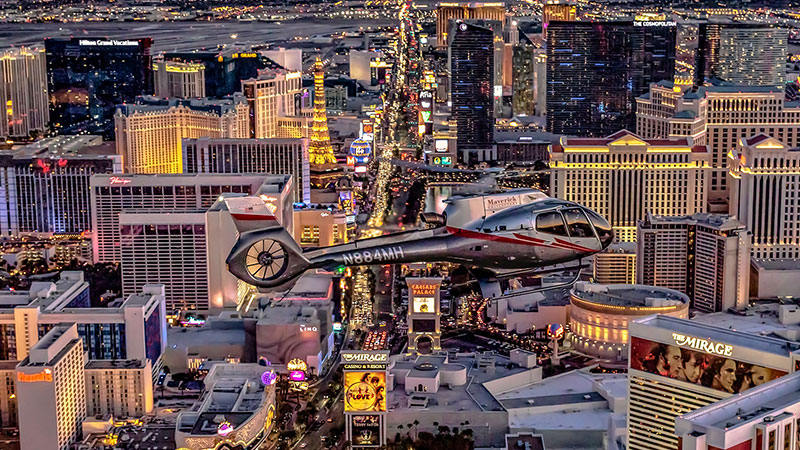 Planning a trip to Vegas? Be sure to set aside time away from the Strip for the most breathtaking spots that are just a short drive away. There are many tours available to take in the geological splendor of the Red Rock Canyon, the striking contrast of Death Valley, the technological wonder of Hoover Dam and of course, the staggering sights of the magnificent Grand Canyon West Rim. These locations are the best Las Vegas day trips and reason enough to take a break from the Strip.


Red Rock Canyon Tour from Las Vegas
Explore beyond the glitz and glamour of Sin City and take in the soothing, arid landscape of Red Rock Canyon National Conservation Area. The canyon encompasses 195,819 acres within the Mojave Desert and is known worldwide for its unique geology. You'll see vividly colored rock formations, Joshua trees, desert flowers and rare desert tortoises. Red Rock Canyon features a 13-mile Scenic Drive and 26 hikes and trails.
The best way to experience its spectacular rock formations is by booking a top-rated day trip from Las Vegas. You can explore this mountainous terrain via open-air Jeep with Pink Adventure Tours. They offer both a paved tour through Red Rock Canyon's serene landscape and a rugged Red Rock Canyon Rocky Gap Off-Road adventure.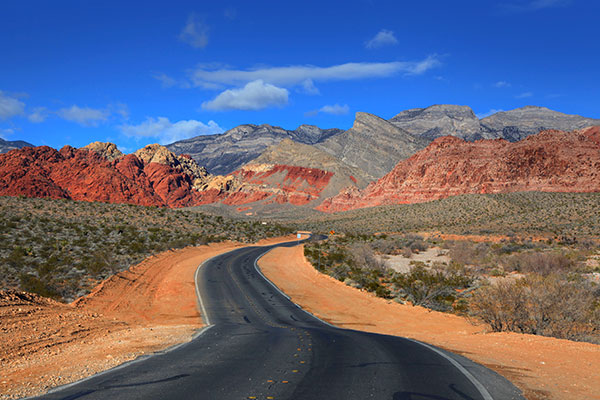 How far is Red Rock Canyon from Las Vegas?
Red Rock Canyon is located 17 miles west of the Las Vegas Strip on Charleston Boulevard/State Route 159. It is visible from most hotels on the Strip as well!
How long does it take to drive to Red Rock Canyon from Las Vegas?
The distance to Red Rock Canyon is not that long, but if you've ever tried going a mere 3 miles off the strip, you know it can eat up a good chunk of time. On average, expect it to take around 30-45 minutes to reach the entrance of Red Rock Canyon.
Best photo opportunities at Red Rock Canyon
There is no shortage of scenic stops along Red Rock Canyon's 13-mile scenic drive. Timed Reservations are required for vehicle entry to the Scenic Loop between 8am - 5pm, from October 1 through May 31. Be sure to stop at Calico Hills and see its backdrop of reddish-orange rock formations.
Turtlehead Peak has some of the best scenic views of the Las Vegas Strip, the desert below and Lake Mead in the distance. Ice Box Canyon is a favorite for its cooler air, low light for pics and cascading seasonal waterfalls. Other spots that are not to be missed include North Peak, Bridge Mountain, First Creek Canyon and the magnificent Mount Wilson.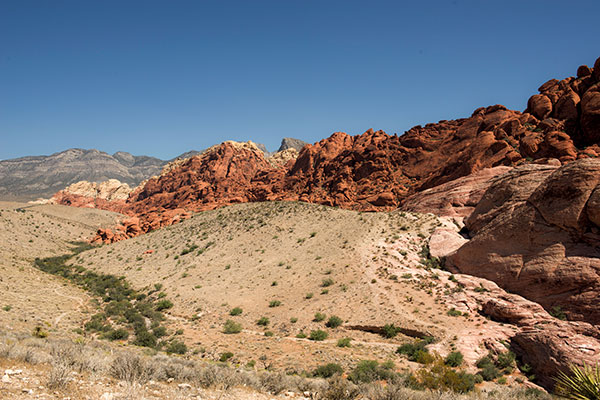 Death Valley Tour from Las Vegas
Commonly referred to as "A Land of Extremes," Death Valley boasts striking contrasts of rare snow-covered peaks towering above a below-sea-level basin. Although it's the hottest, driest and lowest place in North America, the drier air mingles with pockets of diverse wildlife and flowers.
If you're looking for the maximum experience of this surreal landscape, Pink Adventure Tours offers a Premium Journey: Death Valley Tour. A professional tour guide will pick you up at your hotel for an adventure that includes a picnic lunch, plenty of water to keep you hydrated and the most remarkable views of Death Valley.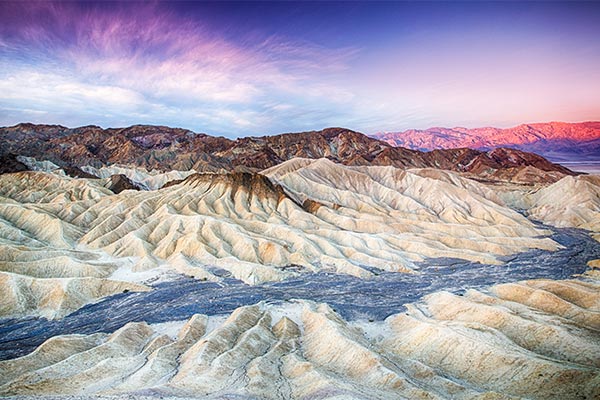 How far is Death Valley from Las Vegas?
Death Valley is located approximately 130 miles from Las Vegas and, like Red Rock Canyon, is part of the Mojave Desert. Death Valley borders the Great Basin Desert and stretches out 5,270 miles across and into Nevada.
How long does it take to drive to Death Valley from Las Vegas?
It takes around two hours to travel to Death Valley and four hours roundtrip. To make the most of your day trip, be sure to plan on leaving early in the morning and returning late afternoon or early evening.
Best photo opportunities at Death Valley.
You'll find a plethora of photo opportunities when you visit Death Valley National Park. Zabriskie Point is one of the most photographed spots due to its spectacular landscape formed by millions of years of volcanic activity. At 282 feet below sea level, Badwater Basin is the lowest point in North America and its crystalline salt flats stretch for miles. The geometric shapes, framed by the jagged peaks of the Black Mountains and the Panamint Range, are otherworldly.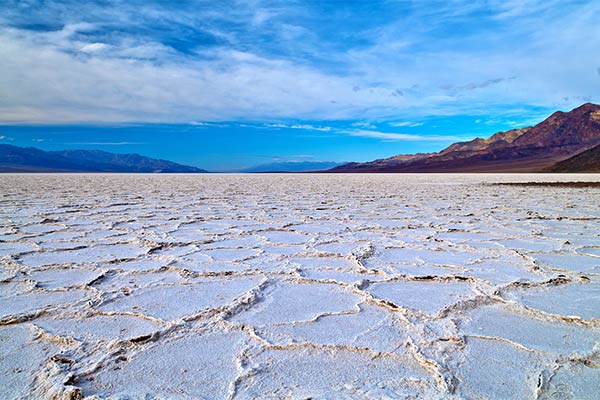 In contrast, Dante's View sits at 5,476 feet above sea level and is known for its panoramic views and sunset photo opportunities. Don't miss The Artists Drive Scenic Loop. It winds 9-miles through colorful canyons and past mountains to unveil one of the most astonishing views in Death Valley—the multicolored hills of the Artists Palette.


Hoover Dam Tour from Las Vegas
Spanning the Arizona-Nevada border, Hoover Dam is an engineering marvel and one of the Seven Wonders of the Industrial World. Topping out at 726 feet tall and stretching 1,244 feet across the Black Canyon, it is the tallest concrete arch-gravity dam in the US. Steeped in history and built to last 1,000 years, Hoover Dam is one of the most famous and most visited destinations outside of Las Vegas.
Pink Jeep Tours offers a luxury Hoover Dam Tour that includes visiting the Boulder City/Hoover Dam Museum, a guided walking tour on the topside of the Dam, and dramatic views of the Colorado River and Lake Mead. It's a nice respite from the hustle and bustle of Las Vegas and a perfect family-friendly adventure.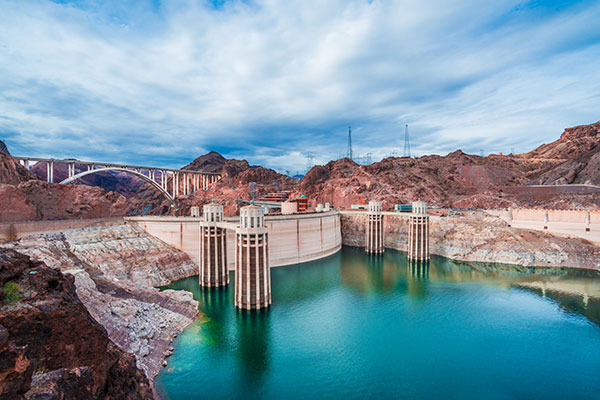 How far is the Hoover Dam from Las Vegas?
Hoover Dam is located on Highway 93 at the Nevada-Arizona border, just 33 miles from the Las Vegas Strip. If you drive, you can park free in one of the remote parking lots on the Arizona side and walk across the dam. (You'll have to walk back too.)
How long does it take to drive to the Hoover Dam from Las Vegas?
On average, it takes anywhere from 45 minutes to one hour to reach Hoover Dam from Las Vegas Boulevard. The fastest, easiest route between Hoover Dam and the Las Vegas Strip is to head east to I-215, then south on I-11 to US 93, which leads into Boulder City.
Best photo opportunities at the Hoover Dam
Hoover Dam offers awe-inspiring photos from many vantage points including the Mike O'Callaghan-Pat Tillman Memorial Bridge. At 890 feet above the Colorado River, it's the second-highest bridge in the U.S. and the world's highest concrete arch bridge.
From here, you'll get expansive views of the Dam, Lake Mead and the Colorado River. At Hoover Dam you can take a selfie standing in two states at once, visit the Winged Figures of the Republic bronze statues and marvel at 360-degree views from the Observation Deck.


Grand Canyon West Rim Tour from Las Vegas
Tours to the Grand Canyon West Rim are one of the top-rated day trips from Las Vegas because you can experience one of the Seven Wonders of the Natural World with fewer crowds. Owned and operated by the Hualapai Tribe, the West Rim features unique cultural experiences and the Grand Canyon Skywalk. You'll also find aerial tours, whitewater rafting, hiking and ziplining here.
Several tour companies offer day trips from Las Vegas to the Grand Canyon West Rim. Pink Jeep Tours Las Vegas has a fully-guided Grand Canyon West Rim tour that includes free hotel pick-up in a luxury Tour Trekker, lunch and admission fees. They are also the only Las Vegas tour company with a Grand Canyon West Hoover Dam Combo tour, hitting both bucket-list destinations in one day.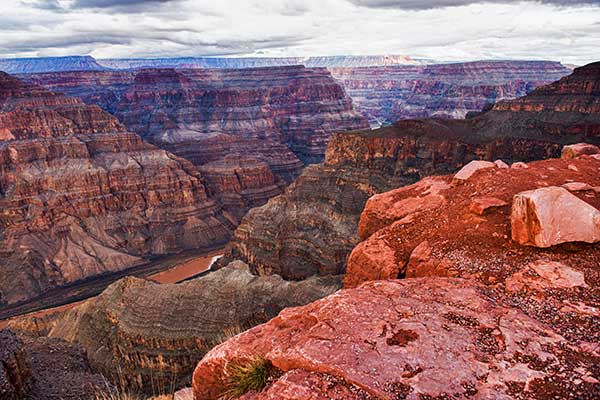 How far is the Grand Canyon West Rim from Las Vegas?
The West Rim is the closest point of the Grand Canyon to Las Vegas. It is approximately 130 miles away from Las Vegas Boulevard.
How long does it take to drive to the Grand Canyon West Rim from Las Vegas?
You can expect your drive to the Grand Canyon West Rim to take about two-and-a-half hours from Las Vegas. The scenic route takes you past Hoover Dam, Lake Mead and Boulder City, and through a Joshua Tree forest. Visitors are strongly encouraged to leave as early as possible to make sure they can take in all the sights.
Best photo opportunities at the Grand Canyon West Rim
The Grand Canyon West Rim has dramatic photo opportunities that you won't find anywhere else. Venture 70 feet out from the Rim on the Grand Canyon Skywalk and peer 4,000 feet down to the Canyon floor. Eagle Point is named for a rock formation directly across the canyon that resembles an eagle. Guano Point is famous for year-round photo opportunities and remnants of a historic tram that once sprawled 8,800 feet across the Canyon to a bat guano mine.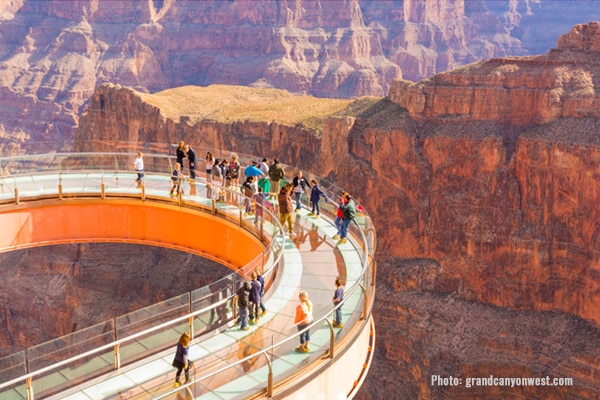 Leaving the Strip: Top-Rated Day Trips from Las Vegas
Now that we've covered some of our favorite day trips from Las Vegas, here are some other top-rated day tours from Las Vegas by Pink Adventure Tours:
As a city, Las Vegas has much to offer, but you won't want to miss out on these Las Vegas day trips that provide an experience unlike any other!
---