By Jordan Morgan, Guest Author from Dollywood Insider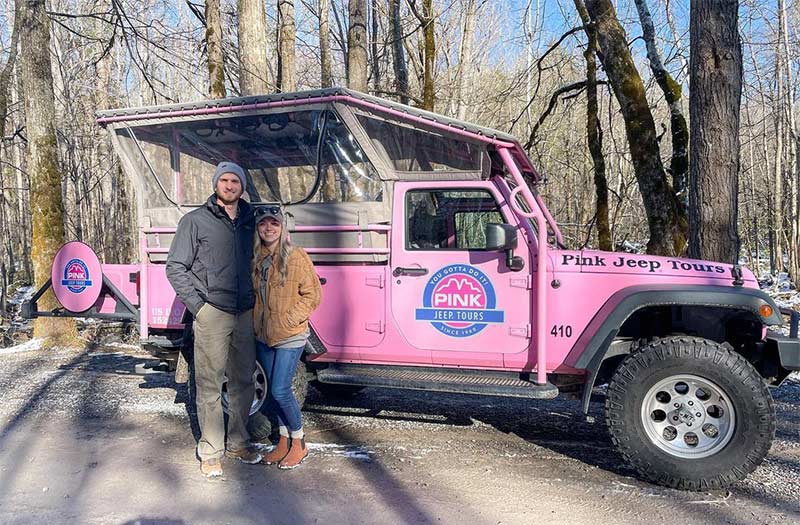 Insider Tip
Are you having a destination wedding in the Gatlinburg area? Book Pink Jeep Tours for your wedding party!

With the Great Smoky Mountains being one of the top wedding destinations in America (second only to Las Vegas!), it's no surprise that couples are looking for a variety of adventures while they're here. From experience, I can tell you Pink Jeep® Tours is an excellent way for couples to spend quality time together with minimal distractions. You get to sit back, relax, and snuggle up with your honey while a well-educated tour guide ferries you around the Smokies!
I'm going to give you my top reasons a Pink Jeep tour is the best date idea when you're visiting East Tennessee.
Your Tour Guide = Personal Chauffeur & Photographer
I was so excited to get the opportunity to enjoy a Pink Jeep private tour with my husband, and it more than lived up to my expectations. We spent three entire hours riding through Gatlinburg and the time flew by too quickly. Even though the snow the night before had dropped temperatures into the low 20s, we were cozy and warm throughout our entire tour. Our guide even served as our photographer during the adventure which was a nice cherry on top! My husband and I were able to simply enjoy each other's company while our guide handled all the logistics and planning – truly a dream when it comes to planning date night. We both got to take in the beauty around us because neither one of us had to drive.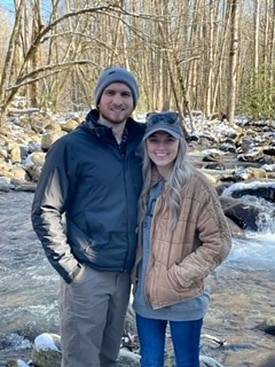 Insider Tip
If you're visiting in the winter, make sure to layer up and wear good walking shoes. It's always a good idea to bring a raincoat along since the Smoky Mountains are a rainforest, after all!
See the Best of the Smokies
We normally venture through the mountains in the summer season, but doing the tour in the winter was a lovely change of pace. It's not unusual for the national park to close roads in the winter because of slick roads. Had we tried a leisurely drive on our own, we wouldn't have known where to go or what to see with two of the main park roads being shut down! Our guide handled this wrench in the plans effortlessly, and we got to see a part of the park we'd never visited before: Greenbrier. We were the only people there that afternoon and it was so serene. I've made a mental note to head back there this summer and let my kids splash around in the river.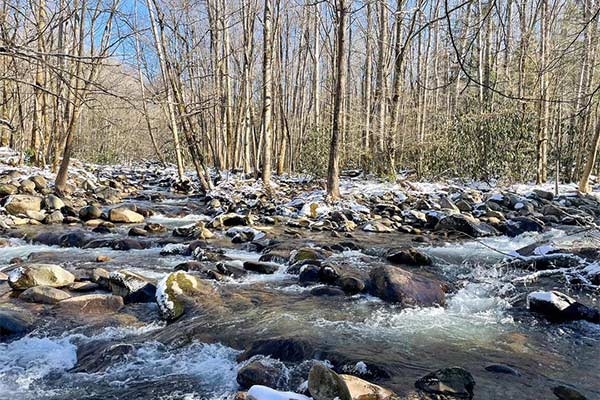 Carefree Experience
The Pink Jeeps aren't just pretty rolling down the highway; they are super functional and built specifically for these tours! We were comfortable the entire time and felt completely safe crunching along the snow-covered paths, because we knew the vehicle was made to handle those conditions.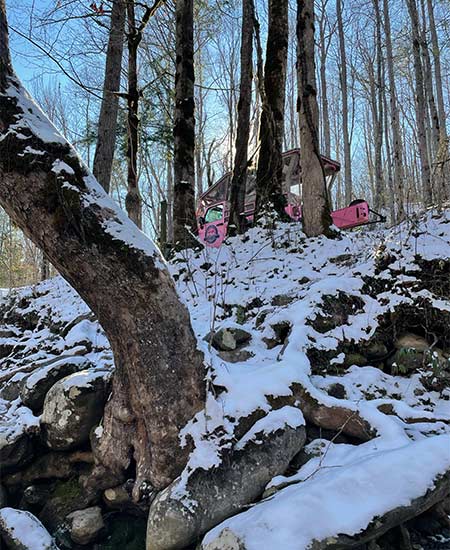 Thrills Included
We ended the tour with the Bear Track, the 4×4 off-roading option, and got to see a bird's eye view of Pigeon Forge that you can only see if you do a Pink Jeep tour. Plus, rock climbing—in a car—was a thrill! This is certainly something you can't do on your own. The national park doesn't allow off-roading. And, I recommend a professional driver for the experience!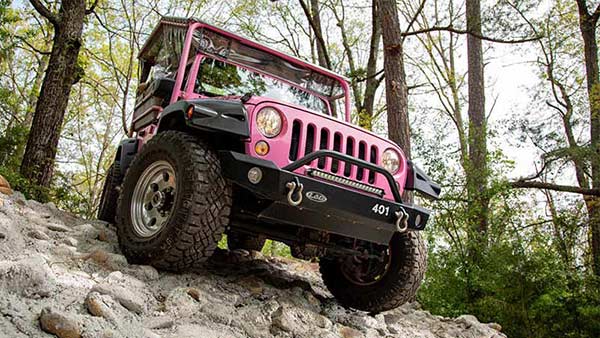 Insider Tip
If the 4x4 trail ride isn't your thing (or if you are pregnant), just let the guides know at check- in, and you will be accommodated.
Lots to Learn & Appreciate
Even though the Smokies are practically in our backyard, our guide filled our brains with more information about the area than we have ever heard. (Plus, I think if I was reading it while we drove, I probably would've gotten carsick – TMI?). We learned about everything from how Gatlinburg was established and got its name, what plants are native to the national park and how park rangers work to keep tabs on all the flora, fauna and wildlife, to the history of the creation of the national park. It was truly evident that the people at Pink Jeep have a love for their job and the Great Smoky Mountains.

If you're looking for a fun date, then look no further than Pink Jeep Tours. I promise you will not be disappointed!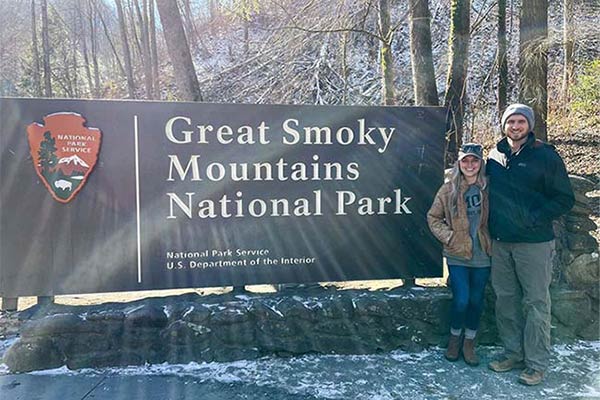 Insider Tip


If you're visiting from out-of-town, stay at Dollywood's DreamMore Resort and Spa and receive a

special discounted rate

for a Pink Jeep tour.




President's Day Special
Get $100 Off Private, Smoky Mountain Tours taken between now and February 21st.
Must book by phone. Call (800) 873-3662 today!
---