Welcome to Las Vegas! Sin City, America's playground, the Entertainment Capital of the World, whatever name you call it, you know it offers a million things to do and never enough time to do them all. But time may not be the only scarce resource in this neon-lit paradise. Sometimes circumstances call for you to party on a budget.
But can you find affordable activities in this city of excess? Yes! There are plenty of things to enjoy in Las Vegas without breaking the bank. In fact, we've assembled a list of some of our favorites for you to check out the next time you drive under that signature neon sign.


Affordable Shopping in Vegas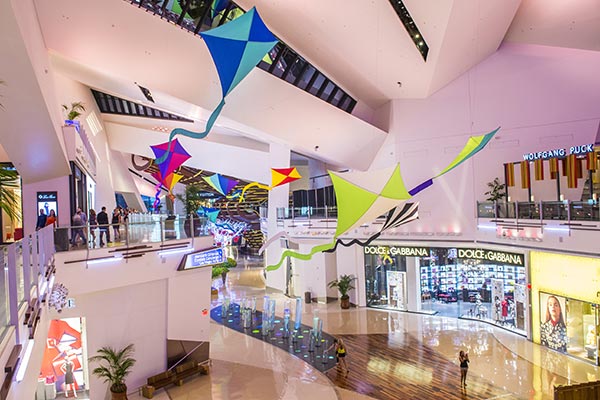 Las Vegas may be famous for its luxury clothing stores and designer goods, but plenty of affordable shopping options exist if you know where to look. Here are some of the best places to get a great deal when you want to hit the shops:


Las Vegas North Premium Outlets
Located on the northern end of Las Vegas near Fremont Street, the Las Vegas North Premium Outlets offer luxury apparel at affordable prices. Snag great savings on looks from designers like Dolce & Gabbana, Kate Spade, Coach and Michael Kors.


Bonanza Gift Shop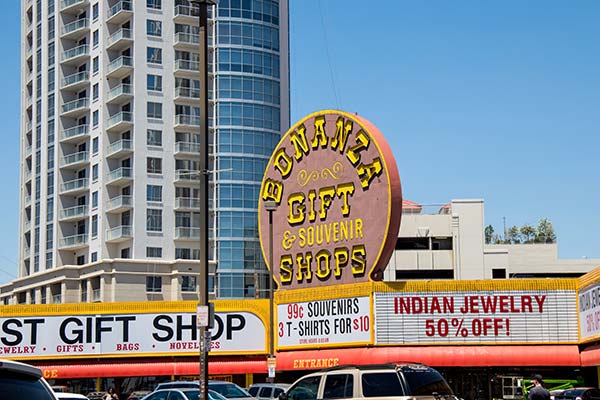 Hailed as the "World's Largest Gift Shop," Bonanza Gift Shop offers all the knick-knacks and souvenirs one could want. With locations in both the Sahara and on the Strip, it's easy to access and full of exciting treasures that could only have been unearthed in Las Vegas. Best of all, they have goods of all prices, so whether you're walking in with some big winnings or coming in after a bad hand, you'll find something that suits you.


Miracle Mile Shops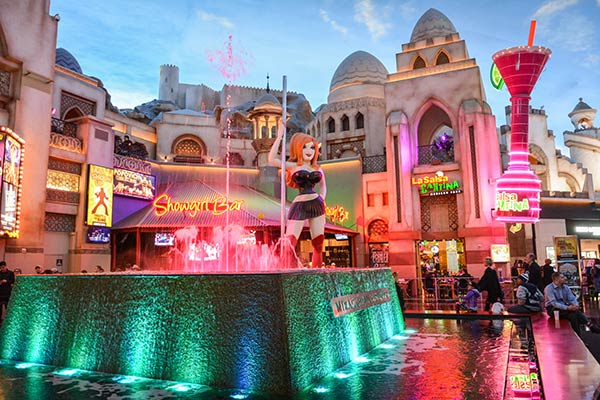 Encasing the main casino floor of the Planet Hollywood Resort & Casino, the Miracle Mile shops are a central attraction in Las Vegas. Recently remodeled, the area boasts dozens of attractions, shops and eateries all in a convenient loop around the Planet Hollywood Casino. Ride a mechanical bull at PBR Rock Bar & Grill, grab a cocktail from Fat Tuesdays, or get a blow dry at Drybar while sipping on a martini. And we'll let you in on a Las Vegas local secret. Parking is free for up to two hours in the back of the shops.


Fashion Show Mall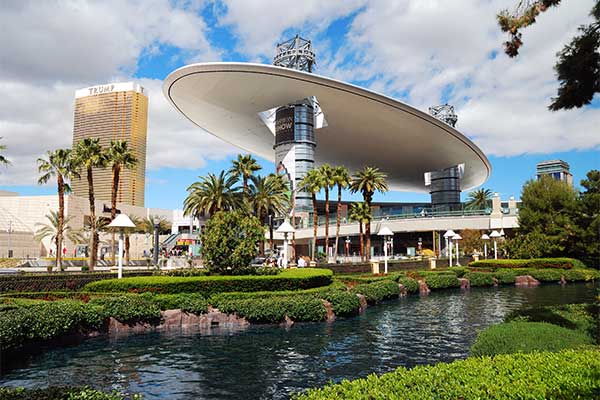 Similar to Miracle Mile, Fashion Show offers visitors numerous retail and dining options ranging from affordable to premium. If you only want to window shop, this multi-story shopping mall has plenty to gawk at. It even features a fashion runway at its center where models display the clothing options offered at the stores in the mall.


Affordable Hotels in Las Vegas
Las Vegas is famous for many things, but super budget-friendly hotels aren't exactly the first thing that come to mind. Thankfully, we've identified a few hotels that offer all the premium luxuries and amenities of expensive resorts but for an affordable, budget-friendly price.


Ellis Island Hotel
Just one block east of the Strip, the Ellis Island Casino, Hotel & Brewery offers all the benefits of a hotel on the Strip without the cost. Guests and visitors are welcomed to stop in for a bite to eat at the Village Pub & Café, grab a pint of their signature Ellis Island Microbrews, or play in a casino featuring slots, blackjack, and their own sportsbook.


Treasure Island Hotel & Casino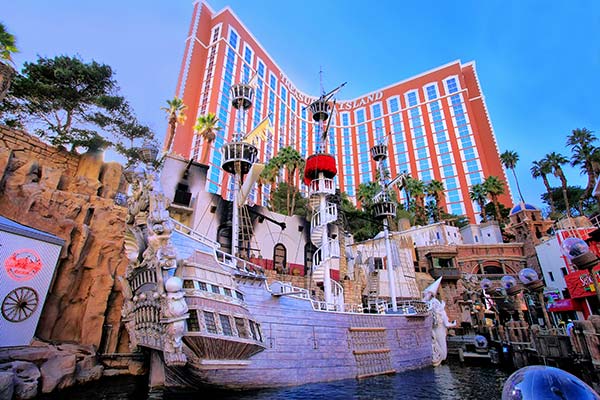 A long-time favorite of tourists and locals alike, the Treasure Island Hotel and Casino is a luxury hotel and casino located directly on the Strip. The resort boasts a casino, numerous rooms hosting shows like Cirque du Soleil's Mystère, the original Cirque show in Las Vegas, and a sky bridge to the Fashion Show Mall.


Flamingo Las Vegas Hotel & Casino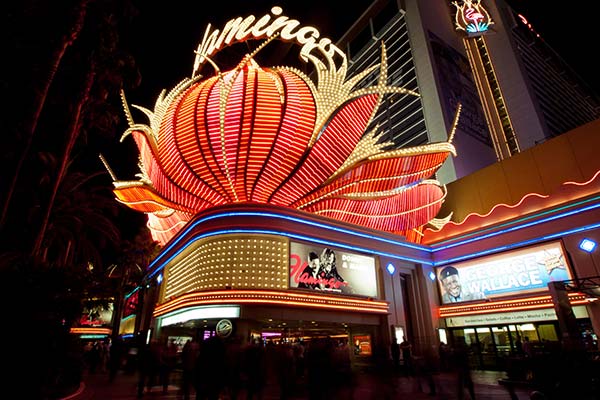 As the oldest resort on the Strip, the Flamingo has a long history of providing luxurious amenities to its guests for an incredible price. Despite being open since 1946, the hotel, and especially its rooms, are among the nicest on the Strip thanks to a $90 million remodel that was completed in 2018. Don't be deceived by the Flamingo's age, this old dog knows a lot of new tricks.


Budget-Friendly Attractions in Las Vegas
Once you secure accommodations in your price range, what's there to do that's affordable? Las Vegas offers plenty of budget-friendly spectacles beyond the many shows, casinos, and clubs. Each of these enjoyable activities showcases majesty, splendor and excitement in the way that only Las Vegas can.


Pink Jeep Adventure Tours Las Vegas Bright Lights Tour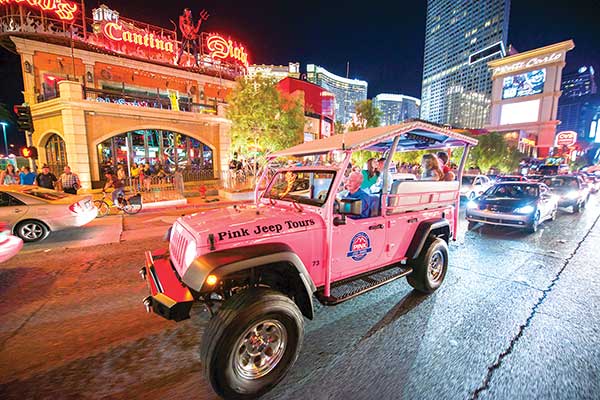 Those looking to take in every inch of Las Vegas' famous excess should book a seat on our thrilling Bright Lights tour in Las Vegas. This comprehensive tour of Las Vegas takes you to the famous wedding chapels, the iconic "Welcome to Fabulous Las Vegas" sign, and along the length of the world-famous Strip.
Our tour caps off with a magical ride on the High Roller, the world's largest observation wheel, where you can see the breathtaking sights you just drove past from 550 feet in the air. 


The Bellagio Conservatory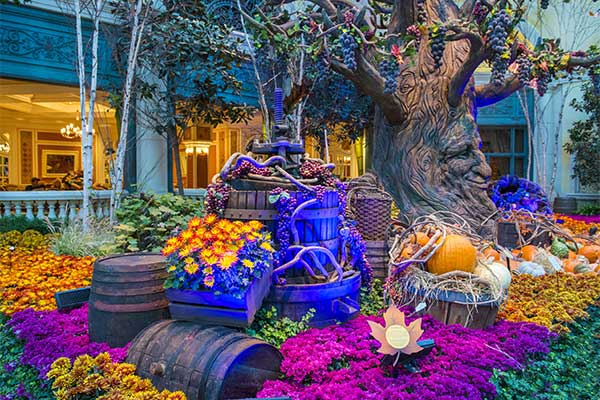 Because it's nestled in the middle of the desert of the American Southwest, you might not imagine lush, green landscapes when you think of Las Vegas. But you'd be mistaken. Case in point: the Bellagio Conservatory is a team of horticulturists and designers who transform sections of the Bellagio into brilliant floral landscapes. Best of all, attendance is possible on any budget! All you need to do is stroll into the Conservatory area across from the reception desk and enjoy meandering through the gardens.


Fountains of Bellagio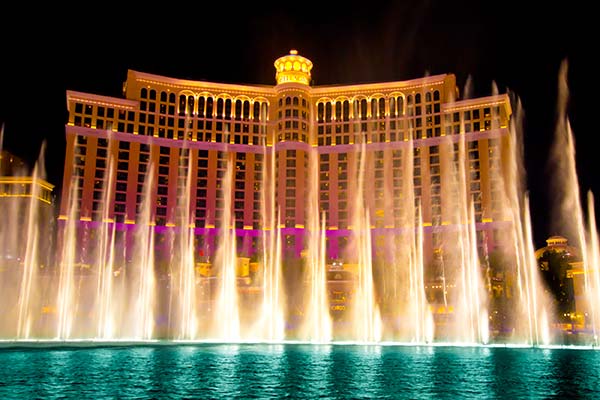 The famous Fountains of Bellagio are one of the best things to do in Vegas when you're trying to keep the trip wallet-friendly. This free show takes place every 30 minutes from 3pm to 7pm, then increases to every 15 minutes from 7pm to 12am. Be sure to experience the roar of the fountains the next time you hit the Strip.


Affordable Restaurants in Las Vegas
While most foodies wax poetic about New York and Los Angeles, neither of those cities can match the quality and density of restaurants on the Strip. Filled to the brim with eateries on every corner, Vegas has an affordable dining option for every taste or preferred cuisine.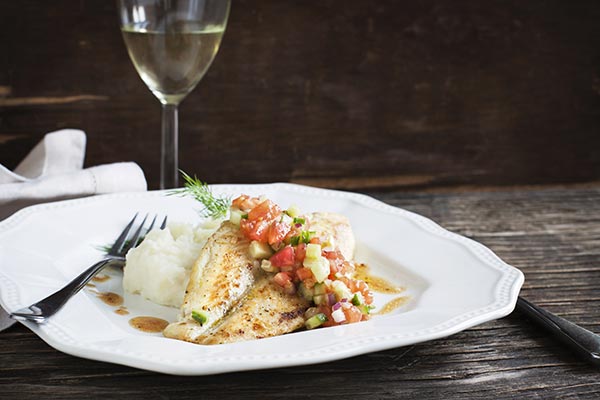 Durango Taco Shop
Inspired by traditional Mexican cuisine, Durango Taco Shop offers classic flavors for a great price. Take in the relaxing atmosphere at their location in the Flamingo and give your feet, and your wallet, a well-deserved break.


Archi's Thai Café
If you need some budget-friendly food on the go, Archi's Thai Café has you covered. Located away from the strip, this much beloved Thai eatery has received acclaim from both the Zagat and Michelin guides for its authentic representation of Thai cuisine.


Pizzeria Francesco's
Sometimes, all you need is a slice. When your pizza craving inevitably kicks in, don't settle for second best — head straight for Pizzeria Francesco's in Treasure Island. Featuring gourmet ingredients, these hand-tossed, authentic New York-style slices are sure to wow your taste buds. And with an average check of only $10 per person, you can't afford to miss this spot.


Family-Friendly Activities in Vegas
Vegas may be known as Sin City, but there are plenty of exciting activities for kids and families to enjoy. Here are some of our favorites.


Circus Acts at Circus-Circus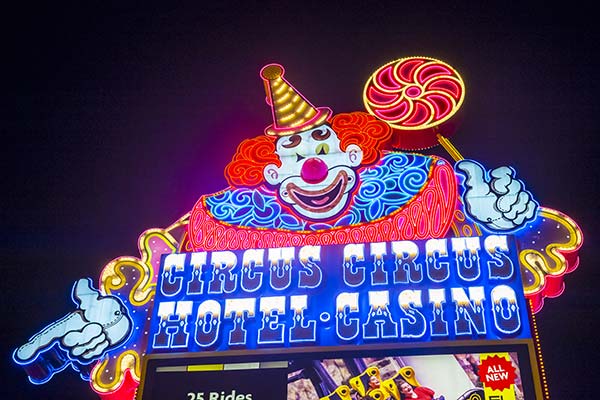 Enjoy the high-flying thrills of the circus at Circus-Circus! This free show takes place at the world's largest permanent circus and is sure to excite the whole family. Whether you want to see soaring trapeze artists, wacky clowns, buff strongmen, or elegant aerial silk performances, Circus-Circus has it all.


Fall of Atlantis at Caesar's Palace and Aquarium Tour
This enchanting show is sure to widen your eyes with excitement. Hosted at the Caesar's Forum shops, the Fall of Atlantis features giant animatronics, fireballs, talking statues and waterworks. The show starts every hour on the hour after 11am, and follows King Atlas of Atlantis as he tries to decide which of his unfit children will take the crown. Needless to say, hijinks ensue.
If you're early (or late) for the show, don't lament. Turn around and check out the 50,000-gallon aquarium nearby, which boasts more than 300 saltwater fish and is sure to make you and your family feel like Atlantean royalty.


GameWorks at Town Square
If walking through the casino all day has you hankering for a less risky kind of game, then GameWorks is your next destination. Originally put together through a collaborative effort between Sega, Universal Studios and DreamWorks in 1997, GameWorks offers the latest in gaming technology for you and your family to enjoy. Whether you're a casual gamer or a hardcore e-sports star, there's a game for you at GameWorks.


Fun Dungeon at Excalibur
If GameWorks is a little too modern for your gaming sensibilities, there's no need to worry. Head on over to the Fun Dungeon at the Excalibur to experience the arcade as it originally existed. With more than 200 total games, you're sure to find something you'll love. And best of all, you control exactly what you spend on each machine, so there's no need to worry about blowing your budget.


Las Vegas FAQ
Are Masks Required?
Yes, the City of Las Vegas, in accordance with state ordinances designed to protect tourists and residents, requires masks to be worn indoors at all times and outdoors when unable to socially distance.


Are Restaurants Allowing Dine-in?
Some restaurants in Las Vegas are currently allowing dine-in service, while others are not. Make sure to call ahead when considering a restaurant to be prepared for what they are offering. In most cases, outdoor dining for dine-in is still available at a number of restaurants.


What Free Things Can You Do in Vegas?
In addition to the Fountains of Bellagio, Fall of Atlantis at Caesars, and the Bellagio Conservatory, there are dozens of free entertainment options on the Strip that will fit any budget. Some of the most popular free activities to enjoy are:
     

The Arts Factory

     

The Cactus Garden at Ethel M. Chocolates

     

Downtown Container Park shopping mall

     

Fremont Street Experience

     

Live runway shows at Fashion Show Mall

     

The Welcome to Las Vegas sign


Heading to Las Vegas Soon?
We hope that this has brought your attention to some fun and affordable Las Vegas experiences you can enjoy. If you plan on heading to Las Vegas soon, don't forget to check out our premium Pink Jeep Las Vegas tours. Explore the city and nearby attractions for a great price that always provides more than your money's worth. Book a tour today!
---