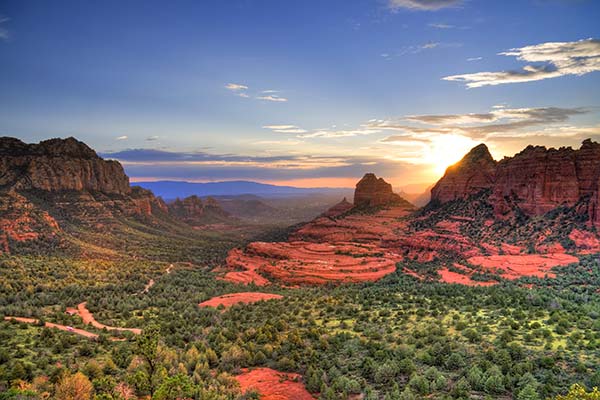 Welcome to Sedona, AZ! A small, thriving community filled with down-to-earth residents, charming small businesses, and breathtaking views. Located just north of the bustling city of Phoenix and south of Flagstaff, Sedona has long been a popular tourist destination for out-of-towners and locals alike. But with such a storied history, the hardest thing about visiting Sedona is finding the best way to spend your weekend.
In this article:
Why visit Sedona?
Travel tips on Sedona weather, what to pack, and when to go
Day 1 itinerary
Day 2 itinerary
Day 3 itinerary
Why Visit Sedona, AZ?
Much like its northern neighbor Flagstaff, the city of Sedona thrives on tourism. Tourists first arrived in the early 1900s as word of the gorgeous Oak Creek Canyon made its way across the country. Zane Grey described its vivid scenery in his book, Call of the Canyon, which became Sedona's first movie.
Just southwest of Sedona at the Crescent Moon Picnic Area, the Lower Oak Creek flows towards the Verde River crossing in front of the towering spires of Cathedral Rock. Once the first image of this iconic view, known as Red Rock Crossing, was published—photographers and tourists have flocked here in droves.
But there's more to do than just look at the stunning vistas. Thanks to years of tourism-focused investment, Sedona has some of the best shopping in the state, amazing restaurants, and of course, incredible views, hikes, and outdoor activities.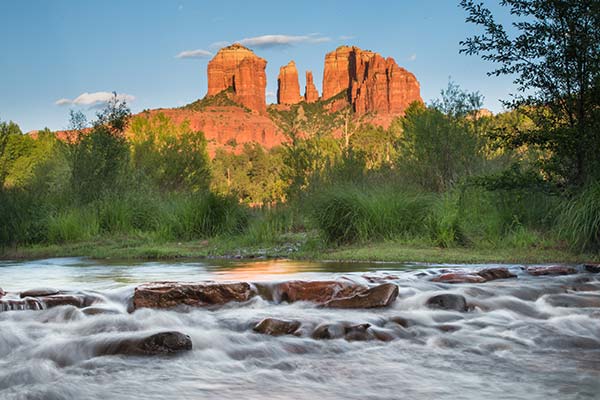 Sedona Travel Tips
Weather and Climate
Sedona has a temperate, semi-arid climate. During the winter months, visitors can expect a low of around 30 degrees Fahrenheit, and a high of around 56 degrees. The record low was 0 degrees Fahrenheit, though subfreezing temperatures like this are rare in the area.
During the summer, Sedona can get quite hot. The average high in summer months ranges from 90 to 97 degrees Fahrenheit, but it is not uncommon for the thermometer to crack 100 degrees in June, July and August.
With a semi-arid climate, there is little need to worry about rain dampening your parade, particularly through the dry spring months. On average, Sedona experiences about 19 inches of rain each year and has about 62 days where precipitation (almost entirely rain in this case) occurs.
What to Pack
If you plan to participate in outdoor activities like hiking, swimming, off-road tours, and rafting, make sure to bring plenty of sunscreen and at least one refillable water bottle. For clothing, you'll want to bring a wide-brimmed hat to protect you from the sun, along with plenty of breathable outfits that cover as much of your body as possible. But make sure to pack as light as possible because the shopping in Sedona is hard to beat!
When to Visit
Thanks to its temperate climate, any weekend is a good weekend to visit Sedona! Our favorite times of year are spring and fall when the weather is more temperate than the hot summers and surprisingly chilly winters.
Day 1: Check-In to Your Hotel and Check out the Views
Situated far away from other cities, Sedona can seem a bit tricky to get to, but once you arrive, you'll quickly forget the journey. Just make sure that you keep your eyes on the road while driving into the city, it's easy to get distracted by the gorgeous views!
How to Get to Sedona
Because of its remote location, the best way to get to Sedona is to take a flight to the city of Phoenix. From there you can either rent a car at the airport or you could take the shuttle from Phoenix straight to Sedona! There are also flights directly to the much closer city of Flagstaff, but few airlines fly into the Flagstaff airport.
Where to Stay in Sedona
Thanks to its sterling reputation as a tourism city, there are plenty of amazing hotels and resorts in Sedona. Some of our favorites include Amara Resort & Spa, the Sedona Rouge and Hilton Sedona Resort. If you really want to splurge, Enchantment Resort nestled amid the red rock walls of Boynton Canyon is an experience beyond compare.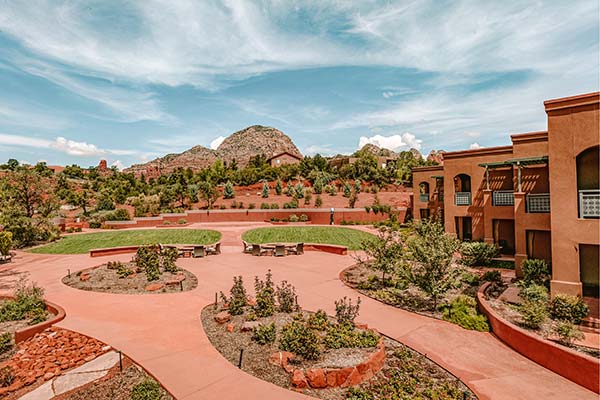 Day 2: Adventure Awaits!
Those looking for the best Sedona has to offer should take a look outside their hotel room. Sedona's amazing reputation is based on the beautiful views and hiking trails throughout the town. So whatever you do, make sure you get out and go exploring!
Sedona Tours
There are countless tours throughout Sedona, but everyone raves about the Pink Jeep Broken Arrow tour. This off-road tour is the only tour in the area to take visitors up atop the famous Red Rocks themselves. Explore the amazing sights and experience a piece of film history as you hike and drive across the location where Jimmy Stewart filmed the beloved movie Broken Arrow.
Sedona Hiking
If you want to get in a great hike, there are plenty of places to do it in Sedona! We personally love hiking Doe Mountain Trail. Part of Pink Jeep Tours Sedona Hiking Adventure, Doe Mountain Trail leads to the plateau of a 400-foot tall mesa. From the top of this mesa, you can see many of Sedona's most iconic rock formations—Capitol Butte, Cathedral Rock, Airport Mesa, the Mogollon Rim and Courthouse Butte. It's a view that can't be beat and an experience that has to be seen to be believed.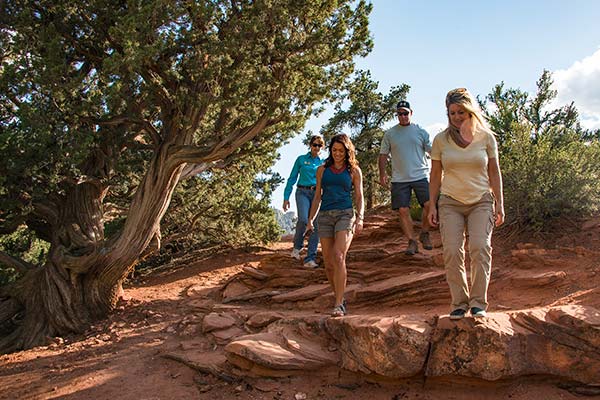 With over 200 hiking trails, Sedona has become known as "America's Day Hike Capital." Before you hit the trail, visit the experts at The Hike House. They specialize in the five elements for a total hiking experience: the free Sedona Trail Finder, Hiking Footwear & Gear, On & Off Trail Apparel, Guided Hiking Adventures and an Energy Café. The café even has a super cool, make-your-own trail mix station.
Day 3: Wine & Dine
Of course, no weekend in Sedona is complete without a little rest and relaxation. After your hikes and off-road tours, get ready to cap off the weekend with some of the best food in the Western United States.
Sunrise at the Chapel of the Holy Cross
Those with some extra pep in their step should make sure to check out the sunrise at the Chapel of the Holy Cross. This gorgeous building built directly into the side of Sedona's picturesque buttes overlooks a valley full of amazing geological features that you simply have to see during sunrise. For a fully immersive experience, take the all-paved Sedona 360 Tour a bit later. You'll ride in a comfortable, glass-topped PanoramaVan to Uptown Sedona and the Chapel, and along Red Rock Loop Road to Cathedral Rock.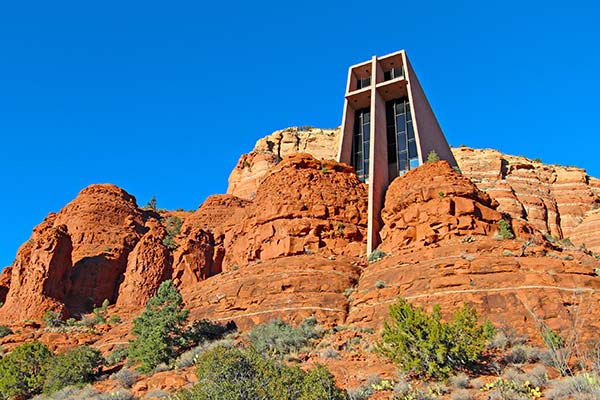 Sedona Wine Tours
While Sedona doesn't have any wineries of its own, you'll find incredible local tasting rooms and several vineyards in the surrounding Verde Valley. Off the beaten path are delightful, award-winning wineries like Javelina Leap, Oak Creek, Alcantara, Burning Tree Cellars and Page Springs Winery, all of which bring a relaxed, unpretentious flair to the often stuffy world of wine.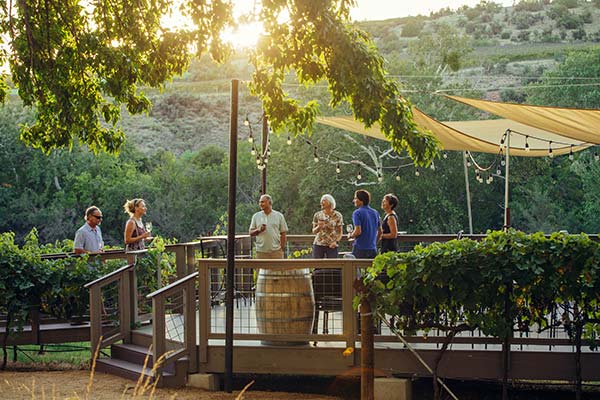 Sedona Shopping Spree
Sedona may be best known for its natural beauty, but the art galleries and shopping aren't far behind in terms of fame. Sedona was a player on the international art scene long before it became a New Age mecca. Over 80 galleries and hundreds of shops are woven throughout the area.
You'll find them in Uptown and West Sedona, tucked away at Tlaquepaque Arts & Shopping Village, The Shops at Pinon Pointe and Hillside Sedona. Several are also clustered along State Route 179 in what's become known as Gallery Row. More than 300 local artists live here and several participate in the Sedona Open Studio Tour each spring.
Sedona shopping options run from A to Z. Whether you're looking for unique collectibles from Sedona Center, some of Sedona's signature crystals from the famous Sedona Crystal Vortex or unexpected flavors from Sedona Divine Olive Oils & Vinegars, you'll find more than a few things that suit your taste.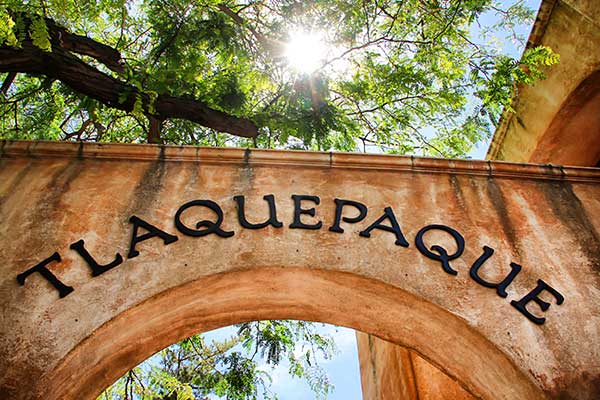 Best Sedona Dining Options
It isn't a real vacation until you've sampled lots of local cuisines. Luckily, Sedona has amazing casual eateries to fine dining restaurants in spades. The Cowboy Club (formerly Oak Creek Tavern) offers up high-desert cuisine and storied history as the gathering place for Hollywood's Western movie legends and cowboy artists.
Internationally acclaimed Chef Lisa Dahl has pioneered the culinary scene in Sedona for 25 years. Dahl Restaurant Group offers five outstanding and diverse restaurants: Dahl & Di Luca Ristorante Italiano, Cucina Rustica, Pisa Lisa, Mariposa Latin Inspired Grill and Butterfly Burger, a couture burger lounge.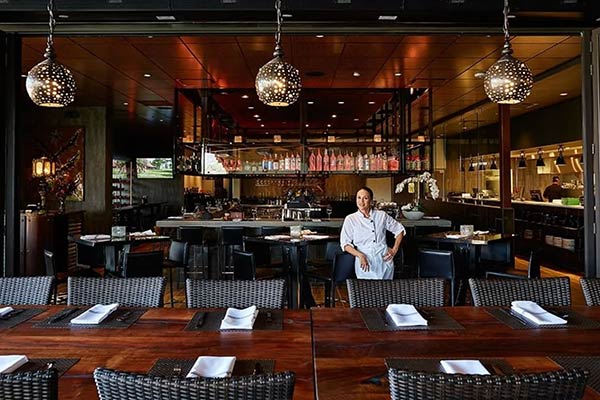 Creekside American Bistro, overlooking Oak Creek, serves a seasonal, locally sourced menu for breakfast, lunch and dinner. Fido will love the "Doggie Deck Favorites'' menu and filtered water served on the patio. At Tlaquepaque, you'll find French cuisine at René, healthy and gluten-free fare at The Secret Garden Café, and award-winning craft beer at the Oak Creek Brewery and Grill. You won't see many chain restaurants in Sedona, but you will find something for every palate.
There is no limit to the things you can do during a weekend stay in Sedona. Few people can experience the "WOW" factor of the landscape without catching "Red Rock Fever," a condition causing them to return again and again! So, it's a good bet you'll be back for repeated visits. To learn more, Visit Sedona.
---