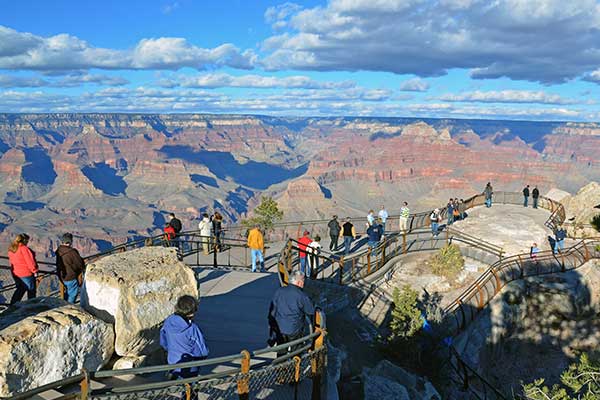 "Grand Canyon National Park invites the public to celebrate the 48th Anniversary of Earth Day during National Park Week on Saturday, April 21, 2018. All Earth Day Celebration activities are free and open to the public," according to a press release from the National Park Service.
Normally, the entry fee at Grand Canyon National Park is $30 per vehicle and $25 per motorcycle for a week pass, but on April 21, 2018, you can enter the park for free! This year's Earth Day Celebration will feature displays about current park conservation efforts and initiatives including water conservation, waste, recycling, composting, dark skies, smart transportation and biofuels.

How to Celebrate Earth Day at the Grand Canyon
Visitors can participate in the Grand Canyon's Earth Day Celebration at the Grand Canyon Visitor Center Plaza near Mather Point from 10 am to 2 pm. The free, open-house-style festival will feature special exhibitions and interactive activities for all ages. Several local retailers and organizations will offer a variety of earth-related activities from educational opportunities to arts and crafts and more.
A special live interpretive demonstration of the Grand Canyon Railway Steam Engine featuring the use of biofuels will take place at the South Rim Train Depot between 1:45 and 2:20 pm.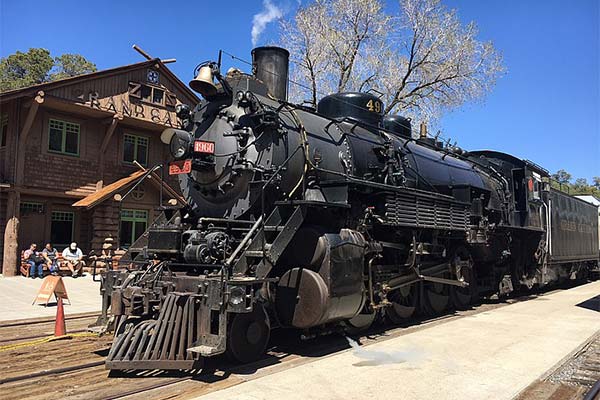 Litter Clean-up Activities
Visitors can also participate in various litter clean-ups throughout the park on Friday and Saturday. It's a great way to volunteer and give back to Mother Nature. Scheduled clean-ups are as follows:
Friday, April 20, 2018

9-11 am: Grand Canyon Visitor Center 

12-2 pm: Recreation Center

3-5 pm: Backcountry Information Center

Saturday, April 21, 2018

8:30-10:30 am: South Rim Train Depot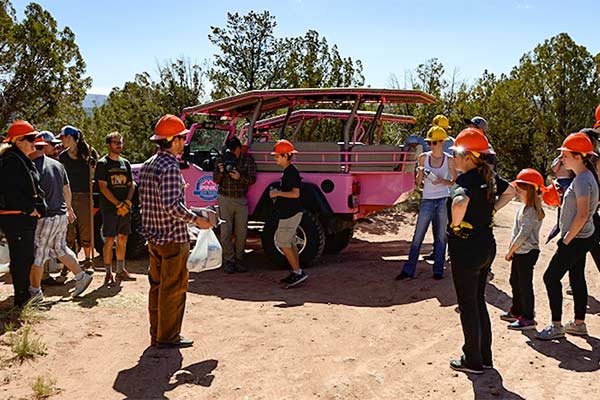 What Else to do at the Grand Canyon on April 20th
At the Visitor Center, guests can reflect and think about what they love the most about Grand Canyon while engaging with an interactive display, "Ribbons of Stewardship for a Healthy and Sustainable Grand Canyon National Park." You can write personal sentiments about what you treasure most about Grand Canyon National Park and place your ribbons on the branches of our 'tree', said the National Park Service.
Discover treasures during the Grand Canyon Conservancy's scavenger hunt! Learn about the park's latest initiatives affecting water conservation, recycling, zero-waste, composting, dark-sky protection and eco-transportation. Collect stamps on the plaza from various exhibits to win a prize.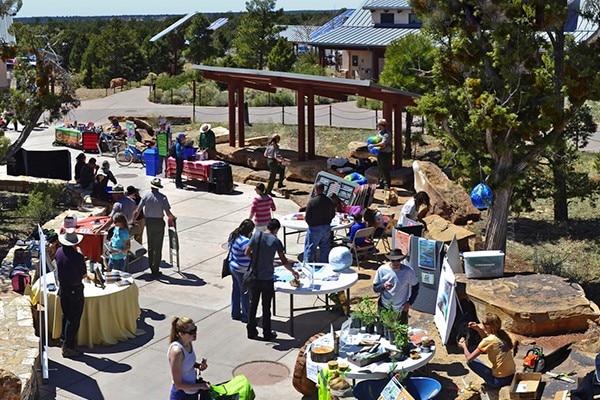 Better yet, tour Grand Canyon National Park with an expert, local guide who can make your visit unforgettable by sharing key insights into the canyon's history and geology while sharing educational and entertaining stories, and steering you away from the crowds whenever possible.
Best of all, they'll manage the driving and parking! Pink Jeep Tours offers seven different Grand Canyon National Park tours, including sunset tours and hiking tours. You'll ride in a state-of-the-art, open-air Jeep® Wrangler and take home memories of the Grand Canyon that will last a lifetime.



When to Arrive and Where to Stay
Many people take advantage of the free entry to Grand Canyon National Park for Earth Day, so you'll want to plan to arrive early. The gates open at 7 a.m. and the parking lots at Mather Point and the Grand Canyon Village will fill up quickly. To get the most out of your day, arrive early and take a guided tour before the Earth Day Festival starts at 10 a.m.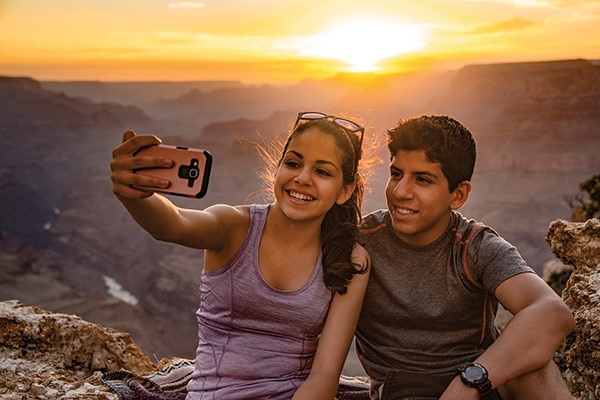 If you're looking to stay overnight near the Grand Canyon in anticipation of Earth Day, neighboring cities with accommodations include Tusayan, Williams, Flagstaff and Sedona. These cities are roughly 30 minutes to two hours away from Mather Point by car. From Williams, take Highway 64 north. From Flagstaff, take Highway 180 north to join Highway 64. From Sedona, take Highway 89A through scenic Oak Creek Canyon to join Interstate 40 west, and head north to the Grand Canyon on Highway 64.


A Final Note
While entry to the Grand Canyon will be free on April 21st, all fees that are associated with camping, tours and reservations of materials will not be waived on the fee-free day. These options, nonetheless, can be enriching opportunities for you and your group to learn about the history of the Grand Canyon and take your trip to the next level. Be sure to reserve in advance, as these spots will fill up quickly in anticipation for the Earth Day Celebration at the Grand Canyon!
---