Half-day tours of the Nevada Desert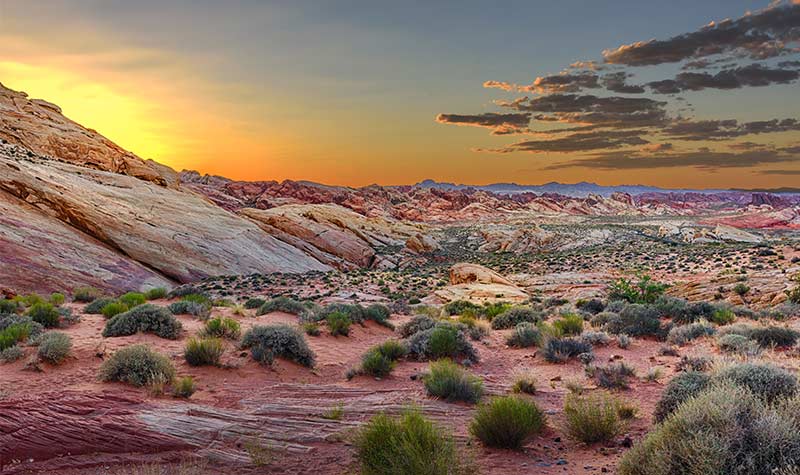 Few people think of the natural wonders of the desert when planning a trip to the neon lights of Las Vegas. Yet most of Nevada's 110,00 square miles lie in the middle of the Great Basin and the Mohave Desert covers the southern third of the state.
It's a land of extremes in geography and climate, as well as flora and fauna. A place where stunning landscapes, natural world wonders, historical sites and outdoor recreation opportunities are just minutes from the Strip.
Las Vegas and the surrounding areas are globally unique in terms of their geologic history and makeup, full of fascinating landscapes and rock formations that you simply won't see anywhere else.
Glitz and glamour, gambling and spas, live entertainment and fine dining are synonymous with Sin City. But the real (original) rock stars are on the natural side of Vegas. And you can enjoy the best of both with these half-day tours that get you back in time for dinner and a show!
RED ROCK CANYON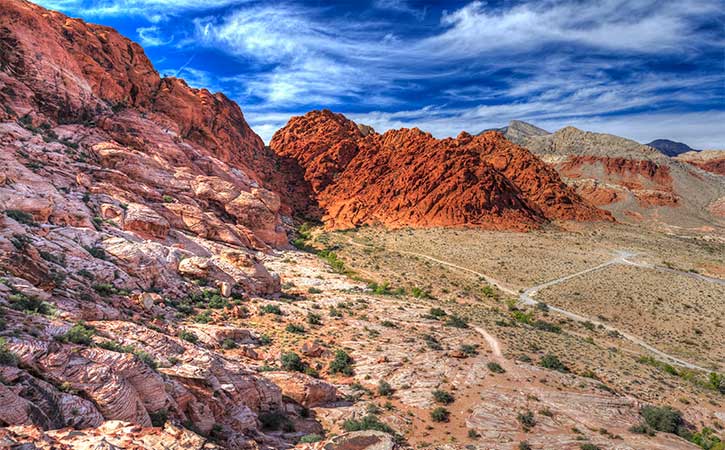 Red Rock Canyon National Conservation Area (RRCNCA) encompasses 195,819 acres within Nevada's Mojave Desert and is known worldwide for its unique geology. You'll see vividly colored rock formations, the Keystone Thrust Fault and Native American petroglyphs. It is located just 17 miles (30 min) west of Las Vegas Strip on Charleston Blvd and SR 159
If you look out of a west-facing hotel room from a high-rise on the Strip, you can see the Spring Mountains Range. At the base of the mountains is Red Rock Canyon, an outdoor playground of sweeping desert vistas and giant layered red rocks that call to locals and visitors alike.
The Visitor Center features indoor and outdoor exhibits, plant specimens and live Desert Tortoises in a protected habitat. More than 600 species of plants flourish here. Of these, 15 are unique to Red Rock Canyon—found nowhere else in the world. Desert wildlife abounds and many species have physical adaptations that enable them to survive here.
ROCK STARS OF RED ROCK CANYON
Red Rock Canyon Scenic Loop Road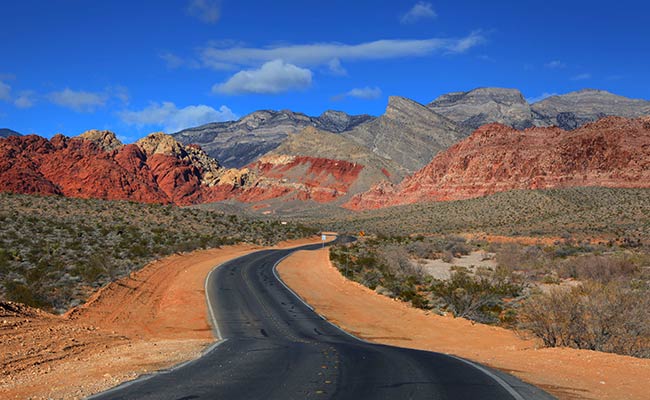 There is no shortage of amazing rock formations and scenic stops along Red Rock Canyon's 13-mile Scenic Drive, accessible by car or bicycle. Canyons and peaks, ledges and chimneys, chutes and gullies lead to surprises around every turn. There are 26 different hikes and trails that take you from the deep canyons to the highest points.
Timed Reservations are required for vehicle entry to the Scenic Drive Loop between 8am - 5pm, from October 1 through May 31. Car/Truck entry fees are $20 per vehicle; lower rates exist for motorcycles, cyclists and pedestrians.


Calico Hills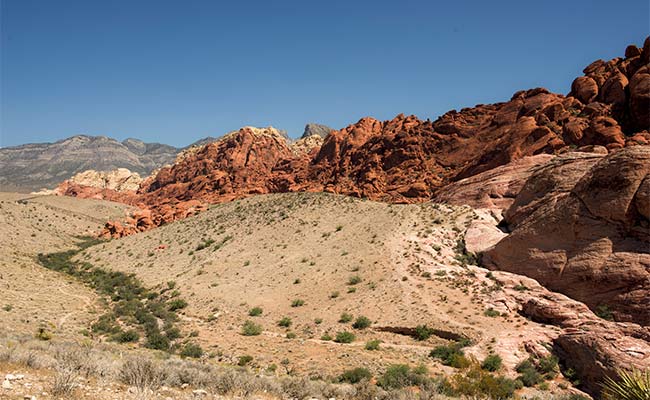 The Calico Hills rise to greet you upon entering the Scenic Drive. This cluster of red and orange rocks began as sand dunes 180M years ago and are laced with hiking trails, climbing routes and canyons. Well-preserved animal and plant fossils lie within their layers. Water is stored in natural tanks that feed the area's unique ecosystem. At dawn and dusk, the Calico hills become a kaleidoscope of pinks, reds and oranges shifting with the changing light.


Keystone Thrust Fault

The most impressive geologic feature of the park is the Keystone Thrust. It is one of a series of faults in the earth's crust that formed 65M years ago. Here, the Pacific plate began moving under the North American plate, causing ancient limestone to be pushed up and over much younger red sandstone rock.
You can hike the 2.4-mile Keystone Thrust trail to see the intersection of these two geological eras. It is visible as grayish carbonate or limestone layers over red- and buff-colored sandstone throughout Red Rock Canyon.


Rocky Gap Road

The Keystone fault line stretches thousands of miles northward but the best observation points in the park are along the Rocky Gap Road. This 8-mile, extremely rugged, backcountry road follows an old wagon route used by early pioneers. It offers a thrilling, up-close view of the majestic canyon.
This road is not for the faint of heart. It requires a high clearance 4WD vehicle and an experienced driver at the wheel. Pink Jeep Tours' Rocky Gap Off-Road Adventure guides are expertly trained to navigate the steep ledges, rocky washes and huge boulders in custom-built Jeep Wranglers.


Wilson Cliffs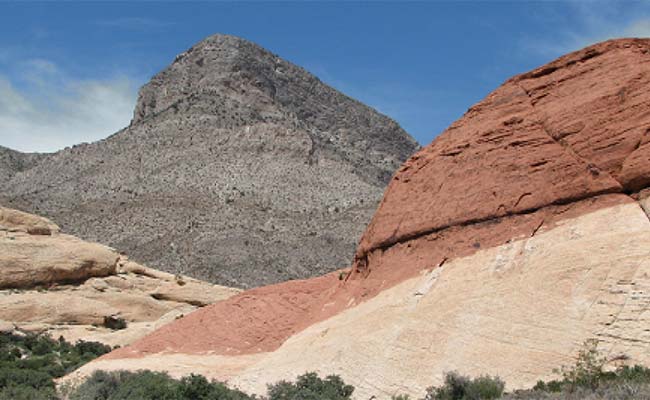 The 3000-foot-high Wilson Cliffs are a popular hiking and climbing destination. As part of the world-famous Keystone Thrust system, the Wilson Cliffs formed due to compression of what's now the western U.S. Here 500M-year-old gray Cambrian limestone rests upon 180M-year-old red Jurassic Aztec sandstone, forming Turtlehead Peak.


Petroglyph Wall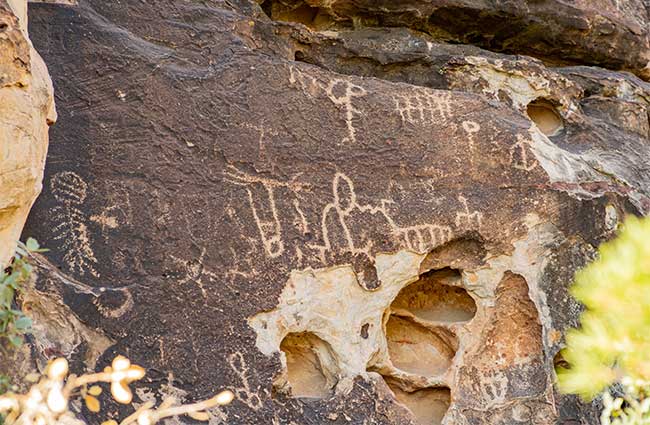 Native Americans, including Ancestral Puebloans and Southern Paiute, created petroglyphs and pictographs throughout Red Rock Canyon. The Petroglyph Wall Trail is a must-see and a short walk from the Willow Springs Picnic Area. It takes you back in time to a cliffside that is etched with 800-year-old rock art. This is the shortest trail (.2 mile) in Red Rock Canyon and very kid-friendly.


Duration: 4 Hours (mild tour, paved roads)
VALLEY OF FIRE STATE PARK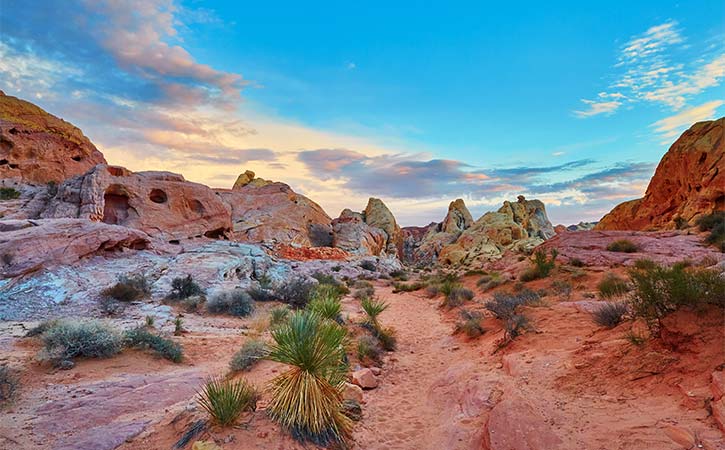 Nevada's Valley of Fire State Park is one of the most stunning landscapes in America. It encompasses 50,000 acres of preserved land and was the first park to be established by the State of Nevada in 1935. Here, bright red Aztec sandstone outcrops dot the landscape framed by gray and tan mountains.
Located just 45 miles northeast of Las Vegas, Valley of Fire is a pleasant day trip for anyone looking to escape the crowds. This family-friendly park has hiking trails for every ability. Rock climbing, repelling and camping is permitted in designated areas, and road cycling is popular throughout the park.
Formed over millions of years, the park's multi-colored rock formations, natural arches and narrow slot canyons reveal a new geological era in every direction. Here, the powerful forces of wind, water and time are on full display.
ROCK STARS OF VALLEY OF FIRE
Valley of Fire Scenic Byways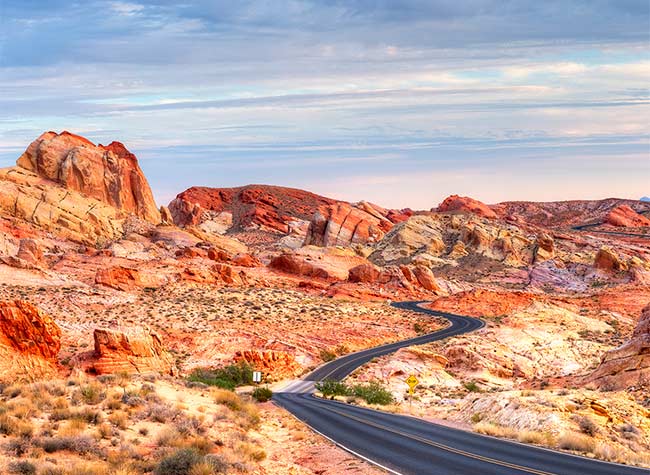 Valley of Fire Highway, voted one of the most scenic drives in Southern Nevada, winds 15 miles from I-15 before reaching the park's West Entrance. It crosses the southern boundary of the park to the East Entrance near Hwy 169, passing Atatl Rock, the Beehives, Cabins, Seven Sisters and Elephant Rock.
White Domes Road Scenic Byway (also called Mouse's Tank Road) intersects Valley of Fire Highway and runs north into the heart the park. This road passes several geological marvels and short trailheads—Balanced Rock, Mouse's Tank, Petroglyph Canyon, Rainbow Vista, White Domes, the Fire Wave and more.


Atlatl Rock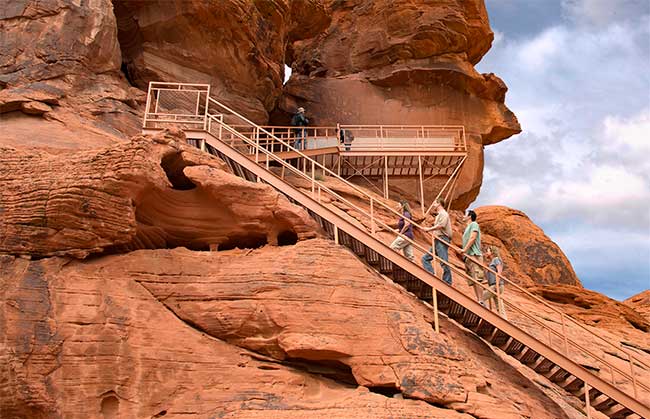 Atlatl Rock is a 250-foot-high sandstone outcrop famous for its collection of petroglyphs dating back over 4,000 years. A metal staircase leads to a viewing platform next to a large rock panel 50 feet above the ground. It depicts an atlatl (at'-lat-l), a device the Anasazi would use to launch their spears before the invention of bows.


Mouse's Tank Trail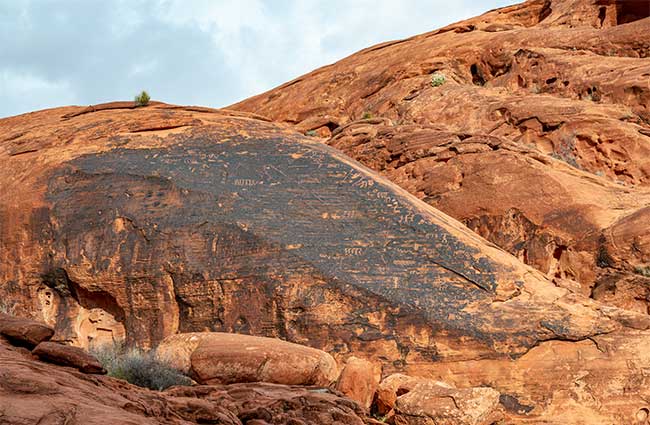 Mouse's Tank Trail is known for having one of the largest concentrations of petroglyphs in the state of Nevada. It passes through Petroglyph Canyon, whose rock faces are etched with figures, animals and symbols believed to be over 2,000 years old. This three-quarter-mile walk is one of the best Valley of Fire trails for kids.


Elephant Rock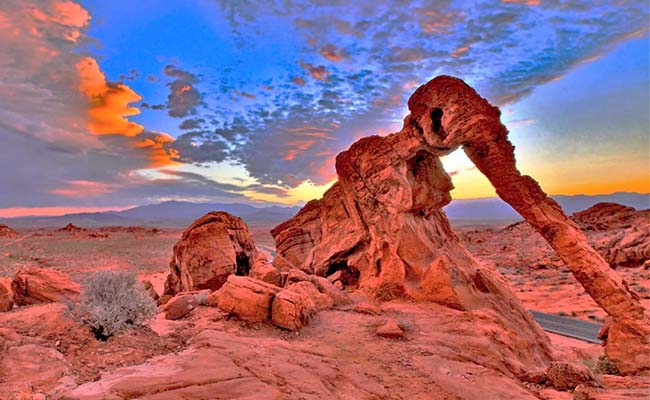 It only takes one look at Elephant Rock to know where it got its quirky name: this rock really looks like an elephant, with its giant sandstone "trunk" forming a magnificent archway. Located near the park's east entrance, it's a sight to behold! Elephant Rock Loop, a short 1.2-mile trail, offers up-close views from every angle.


The Beehives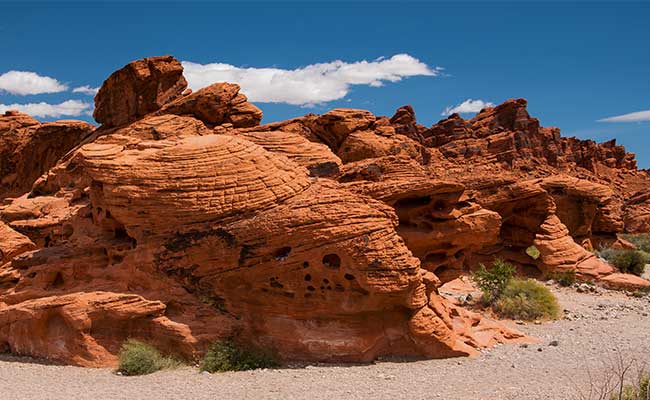 Incredible sandstone formations? Perfect examples of geologic "cross-bedding?" Great stop for a one-of-a-kind picture? Check, check, and check. The Beehives in the Valley of Fire aren't just unique looking. They're also full of fascinating geologic importance, showing how silt, sand and water work together to create natural wonders.


The Fire Wave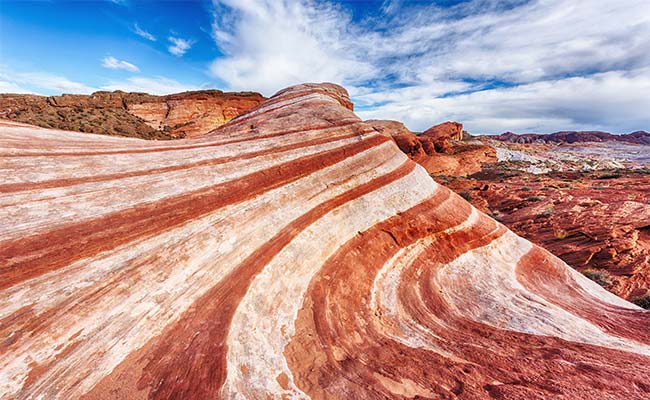 The 1.5-mile Fire Wave Trail is one of the most popular hikes in the Valley of Fire, thanks to its gorgeous scenery. It leads to a wave-like slickrock area whose pink, orange and white stripes resemble swirled ice cream or candy. Due to extreme summer heat, this hike is closed from June 1- October 1.


White Domes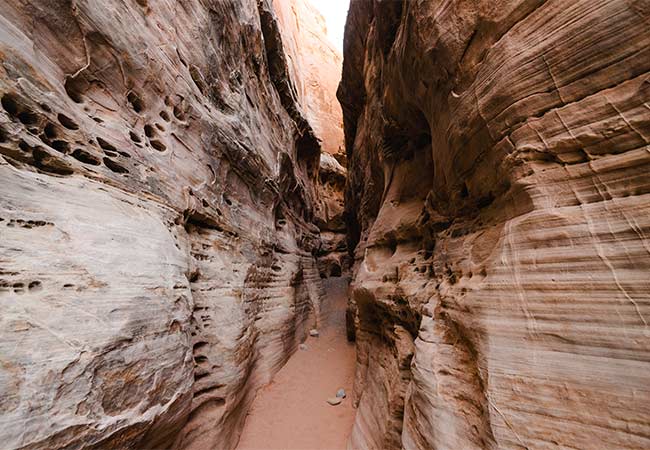 The 1-mile White Domes Loop Trail is one of the best places to experience the diversity of Valley of Fire. Here, the landscape shapeshifts with every turn—sweeping desert vistas, colorful rock layers, a slot canyon, domes, windows, caves and a historic movie set.


Duration: 5.5 Hours (paved roads; meal included)
ELDORADO CANYON & TECHATTICUP MINE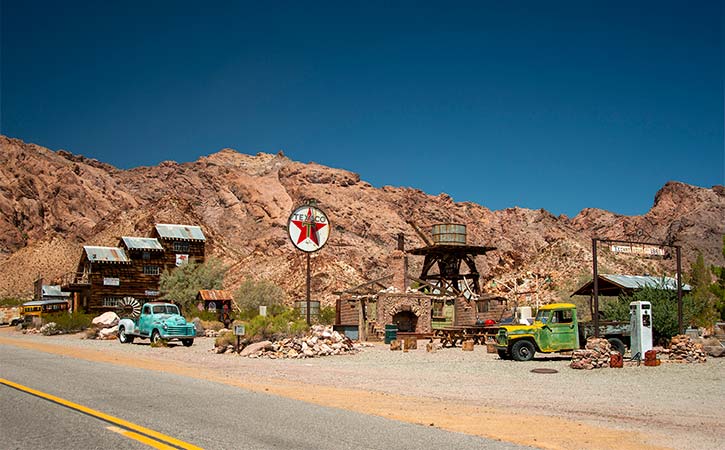 From a lawless gold mining mecca to a hoarder's dream, EL Dorado Canyon and Techtatticup Mine were once the epitome of the Wild West. Famed for its rich silver and gold mines, wild gunslinging days and vintage collectibles, visitors can get a taste of authentic Nevada history just an hour from Las Vegas.
The route to El Dorado Canyon begins at Nelson Road (NV Hwy 165) off I-95 south of Boulder City. The highway climbs 11 miles through desert hills to the township of Nelson in the upper canyon. The historic Techatticup Mine (Eldorado Canyon Mine Tours) is two miles away. Nelson's Landing lies at the bottom of the canyon where it drains into the Colorado River.
The journey is sprinkled with unique desert plants and an array of wildlife. Nelson is surrounded by Bureau of Land Management (BLM) property, where bighorn sheep and wild burros roam. The canyon itself consists of steep, multicolored conglomerate sandstone walls up to 700 feet high.
ROCK STARS OF ELDORADO CANYON
Eldorado Canyon Mine Tours - Techatticup Mine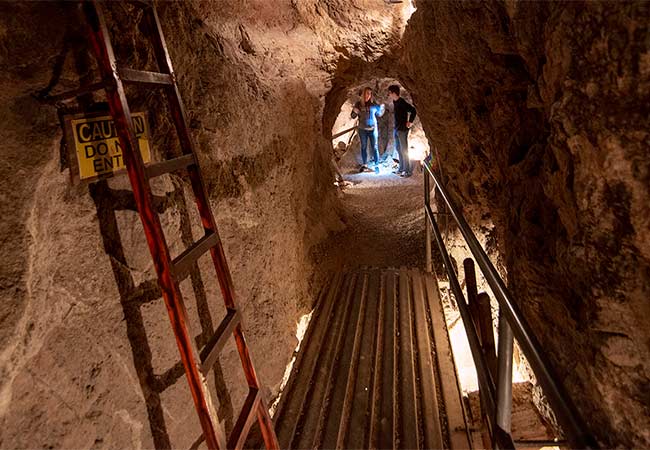 The Techatticup Mine, which operated from 1861 to 1942, is the crown jewel of Eldorado Canyon. It is one of the oldest, richest and most famous gold mines in Southern Nevada. Mining production in the canyon produced nearly $10 million in precious ore. Of the 12 mines in the area, the Techatticup was the main supplier.
Eldorado Canyon Mine Tours offers visitors a look back to the early days. The one-hour guided tour takes visitors 500 feet into the mine to see the quartz veins that the gold and silver ran in. The local owners share the history of the mine, Nelson's Landing and tales of the area's turbulent past.
Mine tours require a minimum of 4 people and reservations are required. Call (702) 291-0026.


Nelson Ghost Town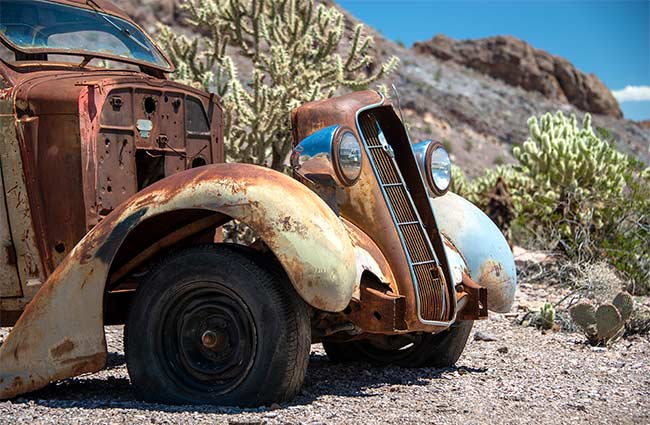 Even though most folks call the mine Nelson Ghost Town, the actual town of Nelson is 2 miles up the canyon. The Techatticup Mine and the surrounding buildings look like a ghost town, so the name stuck. Weathered structures of wood and tin include a general store, stamp mill, bunkhouse and miner cabins.
The grounds are scattered with a large collection of old vehicles, mining equipment, nostalgic signs and pieces of scrap metal. There is a museum and gift shop with an eclectic mix of old photos, antiques and other memorabilia.
Eldorado Canyon and Techatticup Mine have become popular sites for photo shoots, films and TV shows including the 1997 film, "Breakdown," the 2001 crime film "3,000 Miles to Graceland" and—more recently—the National Geographic Channel's "Brain Games."


Nelson's Landing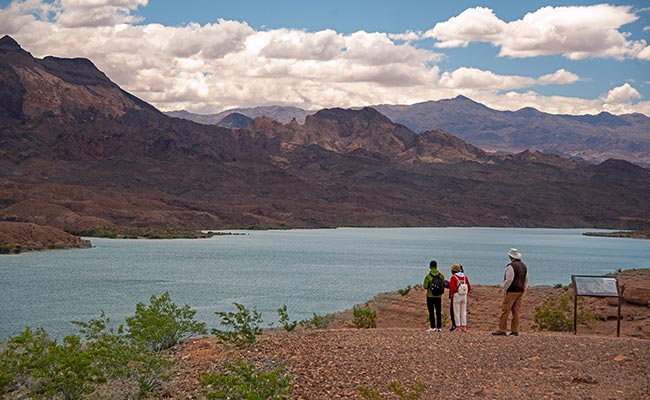 The canyon road ends at an overlook above the Colorado River and Nelson's Landing. For 40 years, arriving here by steamboat was the main way to reach the mine. Nelson's Landing was a busy drop-off place for miners and supplies. Bullion was shipped by steamboat down the river to sea-going vessels in the Gulf of California.
In 1974, a flash flood sent a 40-foot wall of water crashing down on the community. Nine people were killed. Cabins, mobile homes and the floating dock were washed away.
Nelson's Landing was never rebuilt but it's a popular spot for picnicking, swimming and cliff jumping. Halfway across the river to the other side is the state line, so you can lounge on the beach and look into Arizona!
Duration: 4 Hours (paved roads; mild .25-mile walking tour)

So, when you're in Sin City, take a walk on the wild side. These three amazing half-day tours will give you a natural dose of adventure and still get you back in time for dinner and a show!
---