Stay all Night…Stay a little longer!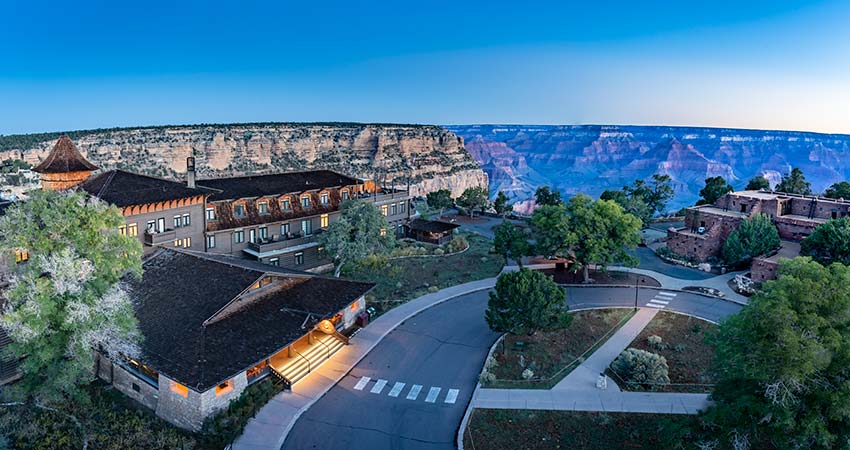 Grand Canyon National Park Lodges

Nothing beats staying inside Grand Canyon National Park overnight. You're ideally positioned to catch a stunning sunrise and/or sunset…and walk under a million stars at night. Designated as a "Dark Sky Park" by the International Dark Sky Association, there's no better place to stargaze. Wildlife abounds at dawn and dusk—half the park's wonder is after dark!
Grand Canyon National Park Lodges, part of the Xanterra Travel Collection®, is the primary provider of in-park lodging at the South Rim. It manages six distinctively different hotel properties. You can stay right on the rim and step outside to sweeping canyon views or just off the rim, a mere 10- to 15-minute walk away. Delaware North Parks and Resorts operates two additional options.
Plan to stay at least one night inside the park if you can. Two nights are ideal—this allows time to explore several viewpoints, Grand Canyon Village and take a hike or two. Reservations are required up to a year in advance, even longer if you want to stay on the canyon floor.
LODGING ON THE CANYON RIM
The Legendary El Tovar Hotel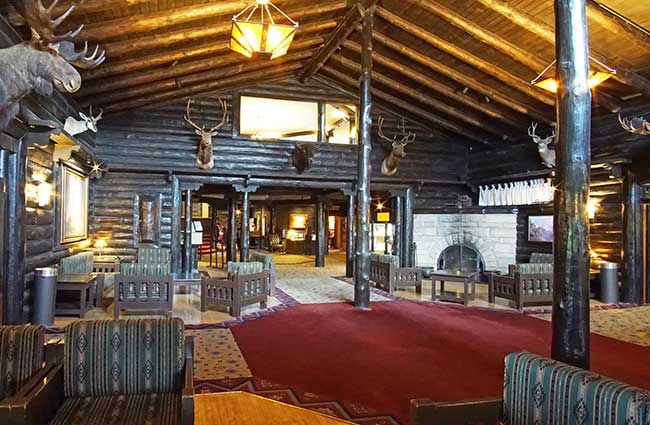 The Grand Canyon's premier lodge, El Tovar Hotel, is widely considered the crown jewel of Historic National Park Lodges. It opened in 1905 and sits directly on the canyon rim. Designed by Chicago architect Charles Whittlesey, the hotel resembles a rustic Swiss Chalet and aimed at pleasing the elite travelers of the era.
El Tovar was among a chain of hotels and restaurants operated by the Fred Harvey Company in conjunction with the Santa Fe Railway. Constructed of local limestone and Oregon pine, it cost $250,000 to build and has been the most sought-after lodging at the Grand Canyon for over 100 years.
In 1987 the Hotel was designated a National Historic Landmark. Today, it's a world-class destination featuring a fine dining room, lounge, gift shop and newsstand. El Tovar guests enjoy full bell service and in-room dining for breakfast and dinner.
El Tovar has 78 rooms including 12 suites. No two rooms are alike, adding to its distinctive charm. Each suite has a unique name, identity and décor. Several have a porch or balcony. Some rooms are ADA-compliant; all are non-smoking. Due to high demand, some suites cannot be booked online.
Bright Angel Lodge & Cabins – Natural Rustic Character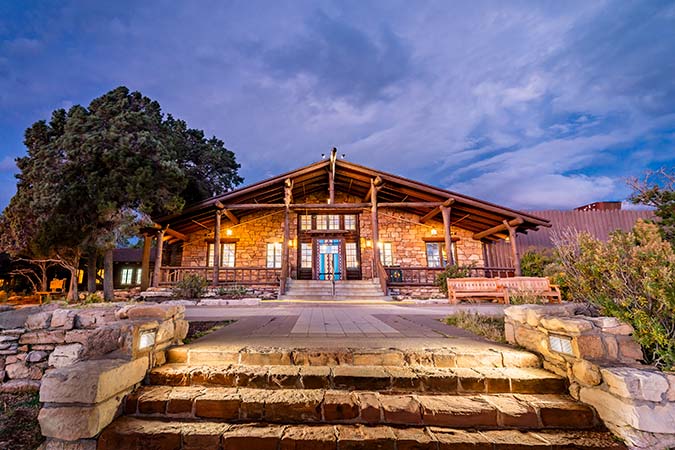 Located near the famous Kolb Studio, Bright Angel Lodge is a more affordable option than the luxurious El Tovar. It was first built as a hotel in 1896, then a camp and finally a lodge. The lodge and surrounding cabins have undergone several transformations since the train arrived in 1901.
In 1935, the Santa Fe Railroad tasked Mary E. J. Colter to design a fresh look for the lodge and cabins. She took great care to blend her design with the surrounding landscape. Today, Bright Angel Lodge is a Registered National Historic Landmark imbued with 100 years of canyon culture and history.
The complex has 90 units, from cozy historic rooms with shared bathrooms to standard lodge rooms, cabins and one-of-a-kind cabin suites. Most accommodate up to two people. The unique Bucky O'Neill Cabin was home to one of Roosevelt's Rough Riders and is the oldest continuously standing structure on the South Rim.
Bright Angel Lodge has two restaurants, a gift shop, coffee house, saloon and old-fashioned ice-cream Soda Fountain (in season). The "geologic" fireplace in the History Room features stones representing the rock strata of the Grand Canyon.
Bright Angel Lodge & Cabins Availability

Kachina Lodge – Contemporary Canyon Lodging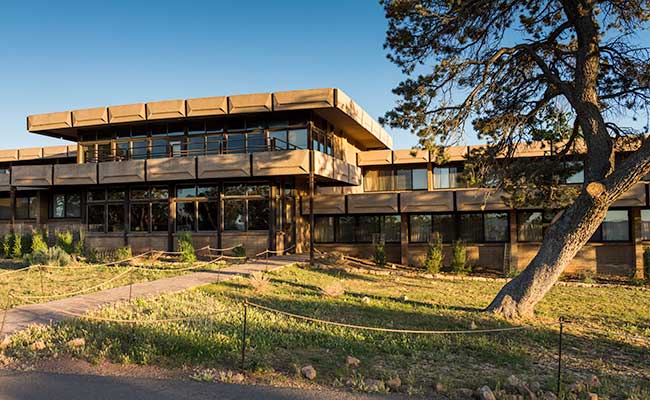 Built in 1968, Kachina Lodge offers more contemporary rim lodging in the heart of Grand Canyon Village's Historic District. It is named after a deified ancestral spirit of the Pueblo people. The lodge is within close walking distance to restaurants, gifts shops, Kolb Studio, Verkamp's Visitor Center and Bright Angel Trail Head.
Kachina sits directly on the Rim Trail so it's ideal for active guests. The trail spans from Hermits Rest to the Kaibab Trailhead, approximately 12.8 miles. Just step outside your room and begin hiking in either direction for exceptional views!
The two-story, tiered design of Kachina mimics the uppermost layers of rock in the Grand Canyon. Its 49 rooms have a comfortable ambience and are similar in size and amenities. They are designated as canyon-side or street-side depending on the view.
The lodge doesn't have a lobby or elevator. Guests check-in at the El Tovar. All rooms are non-smoking and some are ADA-compatible.

Thunderbird Lodge – Contemporary Lodging at Grand Canyon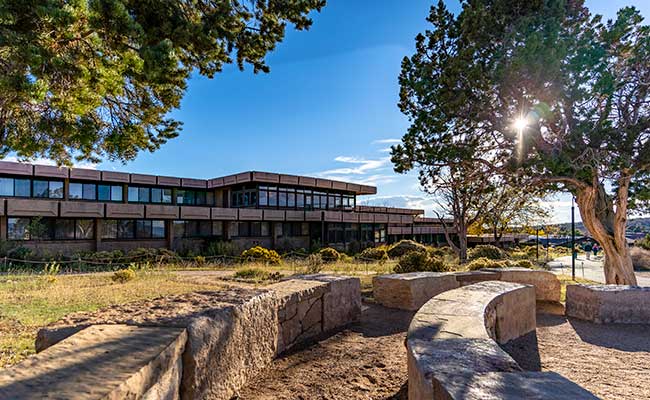 Thunderbird Lodge is very similar to Kachina and just a few steps away. Also on the Rim Trail, it's a great place to catch a sunrise or see early morning wildlife. Located between Bright Angel Lodge and El Tovar, it's a great basecamp for all the activities and experiences at the South Rim.
The family-focused lodge has a contemporary style blended with natural touches. Its 55 rooms are slightly larger and offer more amenities than other historical lodges in the area. Rooms have one king or two queen beds. Most of the upstairs rooms offer partial canyon views while others overlook the Historic Village streets.
Thunderbird Lodge is within walking distance to shops, restaurants, trails and other attractions. The free "Hikers' Express" bus stops out front and the Backcountry Information Center is a short walk away. The lodge does not have a lobby or elevator (ADA-compatible rooms can be reserved by phone). Guests check-in at the Bright Angel Lodge Front Desk.
Thunderbird Lodge Availability
GRAND CANYON LODGING JUST OFF THE RIM

If you're on a tighter budget but still want to stay inside the park, both Maswik Lodge and Yavapai Lodge are just a short walk to the rim. Maswick Lodge is a quarter mile south of the Bright Angel Trailhead across the train tracks. Yavapai Lodge is in the heart of Grand Canyon Village, near the main Visitor Center. It is operated by Delaware North Parks and Resorts.

Maswik Lodge – Nestled in Ponderosa Pine Forest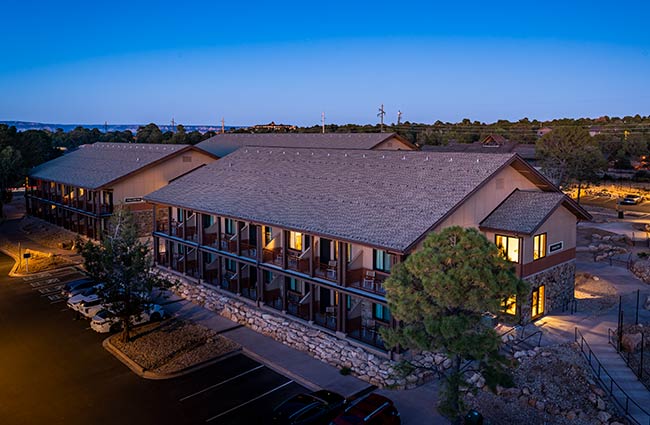 Maswik Lodge is a 280-room complex surrounded by Ponderosa pine forest and named after a Hopi Katsina who is said to guard the canyon. The main lodge has a registration area, gift shop, transportation/activities desk, food court and pizza pub. Accommodations are in adjacent buildings.
The original "Motor Lodge" was built in 1927 by Fred Harvey Company and the Santa Fe Railroad. In the 1940s, 36 cabins were added and 22 were moved from Bright Angel. The original cabins were replaced by more contemporary two-story hotel rooms in 1972.
Maswik Lodge South (above) underwent a $30 million eco-friendly renovation in 2019 and re-opened in 2022. It's the first new lodging built inside the park in 50 years. The original rooms were replaced with 90 standard units and 30 kitchenettes in four two-story buildings. Rooms have private balconies; buildings have elevators and interior hallway entrances.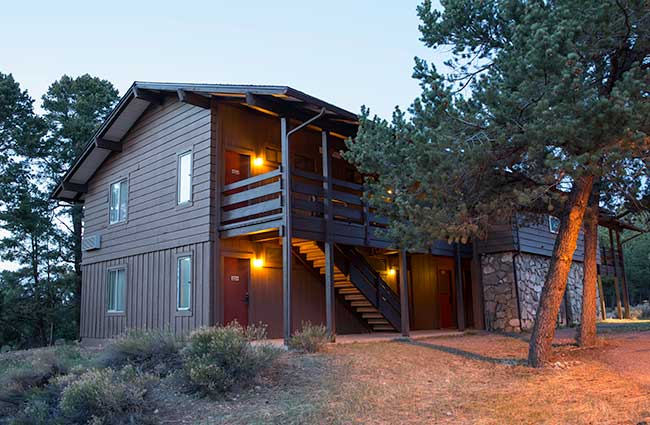 Maswik Lodge North still has its original-style rooms which are located across twelve, two-story buildings. Guest rooms are accessed from outside walkways and stairwells (there are no elevators). ADA-compatible rooms are available.

Yavapai Lodge – Natural Beauty and Convenience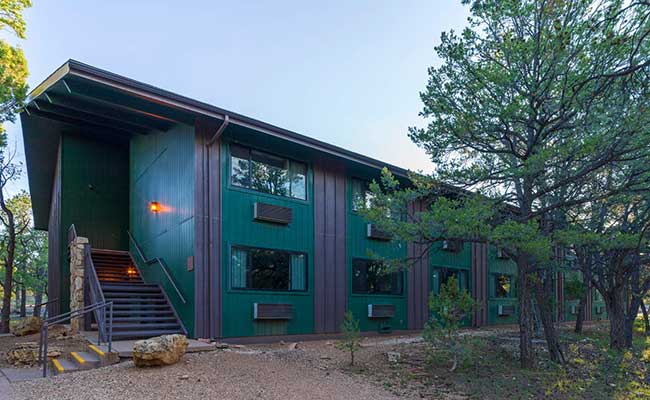 Yavapai Lodge is one of the largest and most budget-friendly options inside Grand Canyon National Park. Surrounded by Pine and Juniper woodlands near the Market Plaza, it occupies a prime spot at the South Rim. Here, natural beauty meets convenience!
The South Rim is just a mile away. You can walk the Greenway Trail to the Grand Canyon Visitor Center or pick up the Rim Trail from just behind the park headquarters. The free Village (Blue) Route shuttle bus stops nearby and runs year-round.
The main lodge features a lobby, cafeteria-style restaurant, coffee shop, gift shop and an outdoor patio tavern with food. Just across the parking lot is the Market Plaza with a grocery store/deli, bank and U.S. Post Office.
The rooms at Yavapai Lodge are housed in six two-story wood buildings (above) called Yavapai East (160 rooms) and ten single-story Mid-Century Modern buildings known as Yavapa West (198 rooms). All rooms have modern amenities with air-conditioning.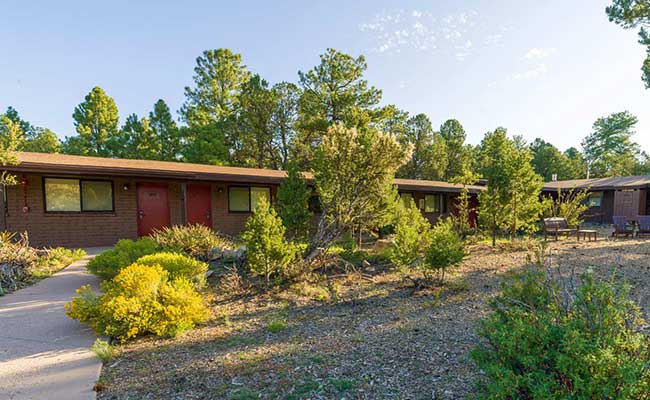 Yavapai Lodge East has king and queen-sized rooms, accessed from outside walkways and stairwells. Many have forest views and some are ADA-compatible.
Rooms at Yavapai Lodge West are more compact and reminiscent of the Route 66 heydays. You can drive right up to your door and it's the only pet-friendly lodging inside the park.
STAY AT THE BOTTOM OF THE GRAND CANYON
Phantom Ranch – An Experience of a Lifetime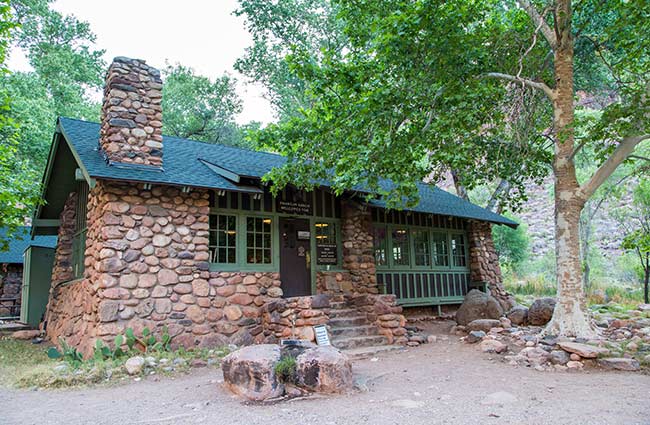 Phantom Ranch is the only lodging below the canyon rim. Designed by Mary Jane Colter in the 1920s, the famed ranch is a historic oasis at the bottom of the Grand Canyon, on the north side of the Colorado River. It can only be reached by mule, on foot or by rafting the Colorado.

The rustic cabins and main lodge are built of wood and native stone that blend with the natural beauty of the area. Accommodations consist of dormitory spaces and cabins that are heated in winter and cooled in summer. Dorms are available to hikers only. Cabins vary in size for 2-10 guests.
Due to major infrastructure projects, the dorms are closed through 2023. No target date is set for reopening. Cabin reservations must be made via an online lottery 15 months in advance.
Phantom Ranch Availability & Lottery

Camping/RV'ing in Grand Canyon Village



By far the least expensive way to overnight in Grand Canyon Village is to stay in an RV or camp. Trailer Village RV Park, operated by Delaware North, offers Grand Canyon RVing at its finest. It's open year-round and is the only in-park RV park with full hookups. Paved pull-through sites can fit vehicles up to 50 feet long. Trailer Village RV Park reservations can be made 13 months in advance.
The National Park Service operates Mather Campground inside Grand Canyon Village. Open year-round, it has 327 sites for RVs (no hookups) or tents. Laundry, showers and a free shuttle bus service are available. Mather Campground reservations are recommended from March-November and can be made 6 months in advance.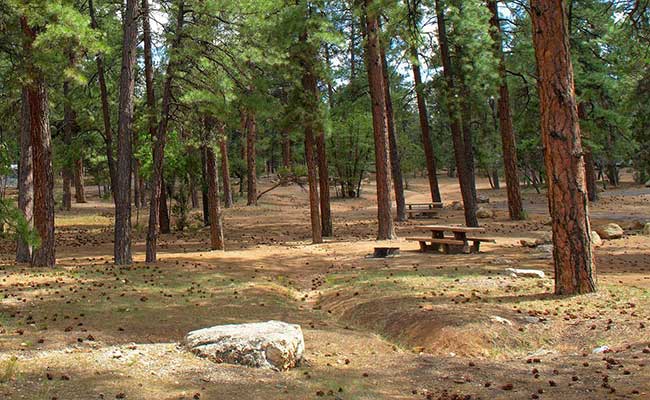 You'll find other accommodations just outside the park from Desert View Campground to a variety of offerings in the nearby town of Tusayan. But, the convenience of staying inside Grand Canyon National Park and the Village is hard to beat!
(And while here, don't forget to hop into a custom Jeep Wrangler with a Pink Jeep Tours Grand Canyon Adventure Guide and see the canyon like a local!)

NOTE: Internet connectivity inside the park is limited and spotty at best. Most hotels have no Wi-Fi access and of those that do, connection speeds are slow. You're at one of the 7 Natural Wonders of the World, so embrace it and take time to disconnect!
Photo Credits: Grand Canyon National Park Lodges, Delaware North Parks and Resorts/Trailer Village RV Park and the National Park Service.
---