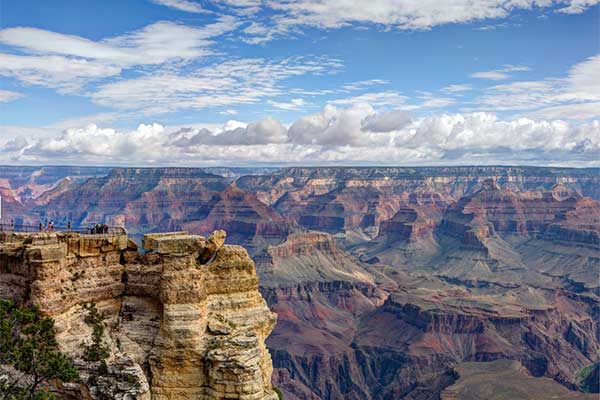 The Grand Canyon is one of the best showcases of geological, biological and ecological diversity unrivaled by any other place across the World. At 277 river miles long, it is big! Don't let the scale of Grand Canyon overwhelm you, there are plenty of hidden gems to be discovered all around!

South Rim, Grand Canyon National Park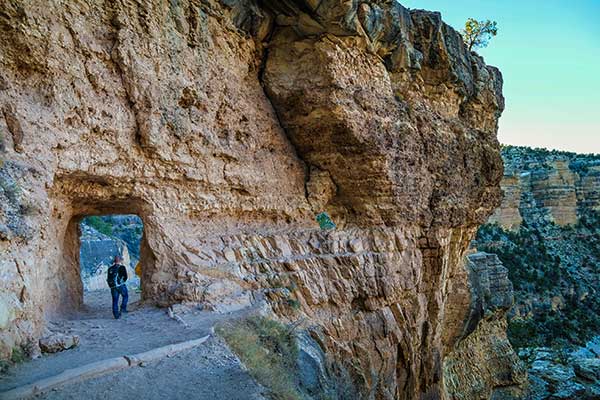 Due to its relatively easy access, the South Rim has been historically the center of commercial development, allowing numerous paved trails along the rim, well-marked trails below the rim, and plenty to see for any interest! I love pointing out 1000-year-old pictographs five minutes below the rim. Begin at the Bright Angel trailhead. Soon after embarking, you will pass through a tunnel cut right through the limestone. Just passed this, stop and look up towards the rim on your left. You will see two separate red-colored pictographs.
While dozens of people scurry past you, unaware of what lies above, I ponder their meaning. Was this illustrating fertile hunting? An ancient ceremony? Or just ancient "graffiti" created by younger generations imitating their elders? The best part for me, we don't know! Illustrating how different life was for ancient peoples while still being the same; wants, needs, and desires as we have today!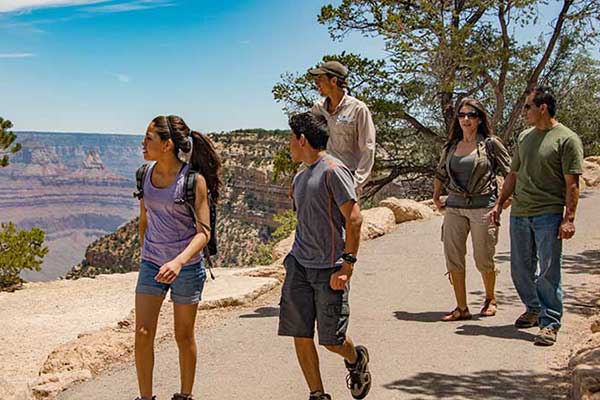 My guests also love the short walk along the rim from the Red Route Shuttle bus stop. A paved sidewalk runs for 12-miles, but less than ¼ mile up the trail you are awarded two very unique things that most people blow right past! A three-minute walk from the time you hit the rim trail, you'll see a jog around a narrow area that handles runoff into the canyon (the Canyon is roughly 15 feet from the sidewalk).
Stop, and look across to the North Rim. As you do so, realize you are looking 18-miles across the Bright Angel fault, the absolute widest part of Grand Canyon! The Canyon is SO much bigger than what your eyes can see and process. Standing here at the widest point helps impart for my guests how big the Canyon really is!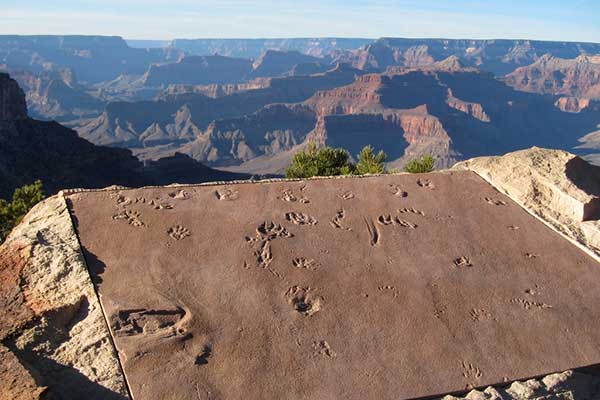 Another few minutes up the trail are some of the highest concentrations of marine fossils I've found anywhere on the rim! Walk along the natural limestone steps off to your left, and let your eyes do the leading. Find seashells, brachiopod trails, and tubeworm burrows! My guests find it hard to comprehend marine fossils under their feet, 7,000 feet above sea level. Their astonishment never gets old!

North Rim, Grand Canyon National Park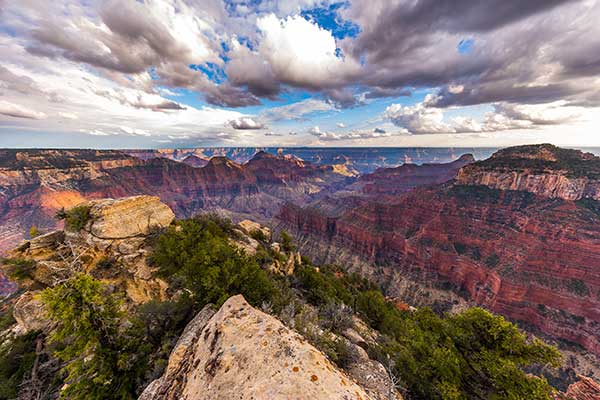 The North Rim is best summed up with one word, remote! It's where I go to unplug from cell service, email and get back in touch with what I love -- being outside! One of my favorite relaxing spots is at a large camping area along Walhalla Glades Trail. Beautiful wildflowers, high elevation deciduous Aspens, and Douglas fir become the skyline. This is my favorite spot to relax on the North Rim due to the ease with which one can disappear from it all. Easy Grand Canyon hiking is a relative term, I'm all for steep, rocky descents on ball-bearing like shale slopes to camp on the banks of the Colorado River.
Every so often it's great to disappear without having the mental strain of completing 8-15 mile marathon days, thousands of vertical feet gain, with help hours away by helicopter if anything goes wrong. Don't be misled; however, just because this isn't Nankoweap Trail (famous for being one of the most difficult trails within the North Rim). Any time you are in the backcountry proper steps must be taken to ensure your safety. This trail has no potable water so bring all you need for the duration of your trip, or some sort of water filtration device (since this is an out and back trail, I cache water on the way out for my return trip).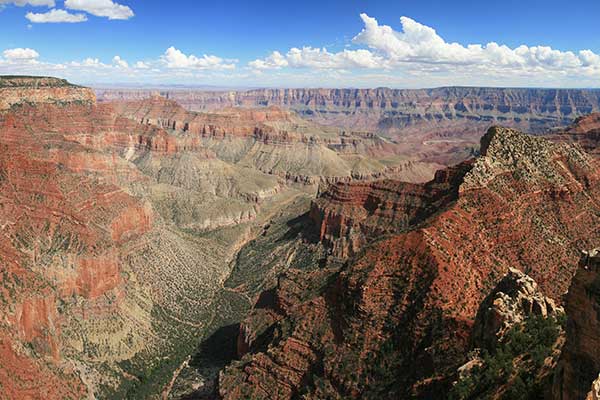 There are no restrooms and what you pack in, you pack out, even TP. The trail itself is an 8-mile, easy to follow, out and back with relatively low elevation gain ending at the southernmost point of Walhalla Peninsula. Ancestral Pueblo ruins dot the area for that personal link back to how humans once lived off the land, sustaining themselves for thousands of years. I find it important for myself to keep that link and understanding of what life was, and most importantly, how it was no better or worse than today, just different. Pondering these thoughts on my way out help ready myself for re-entry into modern society, but you can bet it's not long before I'm back!

Grand Canyon West Rim, Hualapai Reservation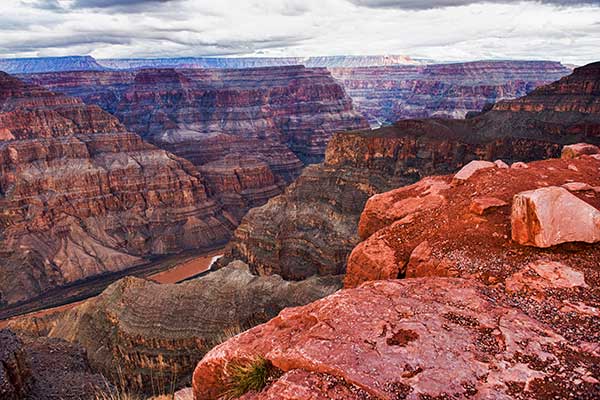 During my 2 ½ years as a guide, including 10 months living exclusively at the National Park, not a day went by where at least one person, recognizing my guide uniform, asked, "Where is the skywalk?" My response was always "250 miles that way (as I pointed West), about a 4-hour drive". It never got old seeing their jaw drop, as they began to realize the sheer magnitude that is the reach of Grand Canyon.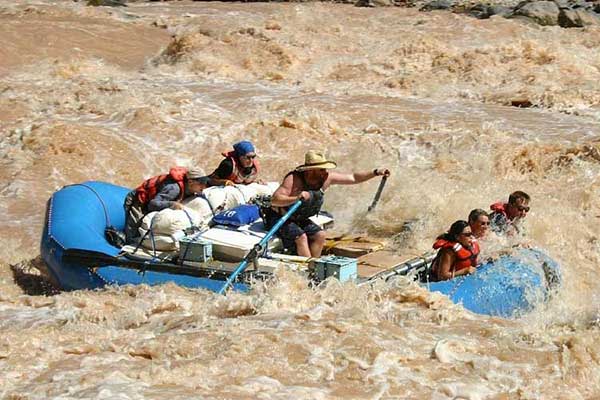 Although the skywalk is a fantastically unique way to experience the Canyon, I suggest getting below the rim for a single day whitewater adventure! The Hualapai are able to regulate how many people are allowed to raft (opposed to the Park Service issuing so many permits within GCNP). Rafting on the river, having a short hike to Travertine falls, and returning all the same day is a wonderful way to experience Grand Canyon West. Tours depart from Peach Springs, AZ. You must have a Hualapai guide with you (sovereign nation, you must adhere to their rules) which adds more depth and perspective on who has called this wonderful place home for generations!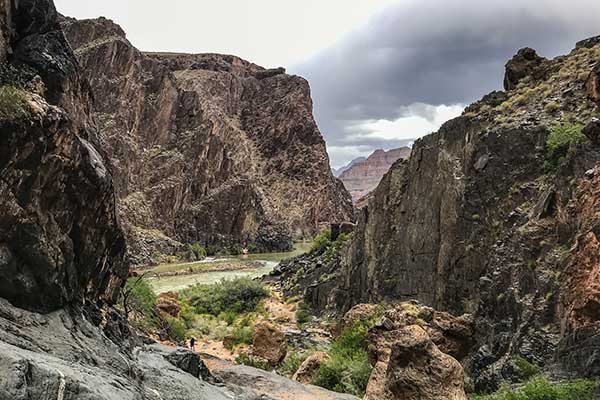 Regardless of which rim you visit and for what reason, you won't be disappointed! Each offers different perspectives that will surely keep you coming back for more! Pink Adventure Tours offers a variety of canyon tours from Sedona, Las Vegas and Tusayan, at Grand Canyon National Park.
---