Grand Canyon Adventure Guide: Jason Rodriquez
Jason Rodriquez is a wildlife enthusiast and natural explorer who grew up in the Grand Canyon State. While serving in the Arizona National Guard Reserves, he was eager to find a side job that would cater to his love for the outdoors and local history. That's when he came across Pink® Jeep® Tours and it offered everything he was looking for and more.
Working as an Adventure Guide in Sedona and the Grand Canyon, Jason has the gift of impeccable timing. He rarely misses an Arizona sunrise or sunset! Learn more about Pink® Jeep® Tours through the eyes of Jason Rodriquez.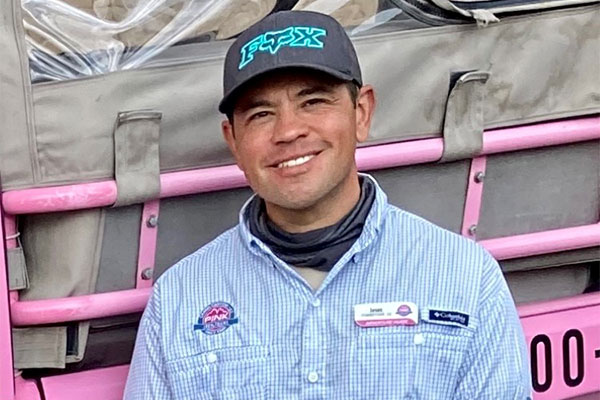 How long have you worked for Pink Jeep Tours?
Jason: I'm celebrating my fifth year as an Adventure Guide. I have been lucky to work at both the Sedona and Grand Canyon locations during my journey as a guide. In Sedona, I primarily led tours to Antelope Canyon. Now, I exclusively host visitors on our Grand Canyon Tours.


Why did you decide to become an Adventure Guide?
Jason: I grew up adventuring through the hills and canyons of Southern Arizona. It ignited in me a deep love and appreciation for the land and wildlife. I didn't know about Pink Jeep Tours at the time. I discovered them while living in Texas and seeking to transfer to Arizona to serve in the National Guard Reserves.
I was looking for tour guide jobs to work on the side. I jumped at the chance to spend my days outside, driving around in an open-air Pink® Jeep® Wrangler! Showing visitors the sheer beauty of the canyons was the perfect job for me.
It was also a natural fit since I formally served as a sergeant in the Military. I have a natural clarity in how I speak and explain things, which helps relay history and wildlife facts to guests. Also, I have exceptional time management skills. I've never missed a sunrise or a sunset on my tours!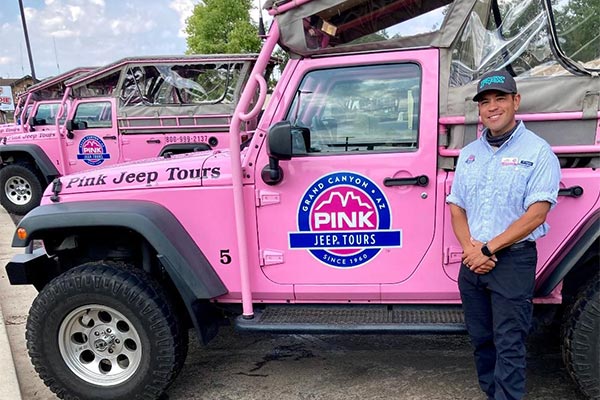 What does it take to be a good Adventure Guide?
Jason: The most important trait of a good Adventure Guide is the ability to treat customers like family. At the end of the day, we're helping guests from around the world create lifelong memories on every tour. Adventure Guides need to honor that responsibility by showing them as much of the Grand Canyon as possible within a short time. You only have a handful of hours with each group and you have to inspire people. I strive to do everything at 100% on every tour and leave my guests wanting to come back or eager to refer the experience to others.


What is your favorite part of being an Adventure Guide?
Jason: The best part of my job is meeting new families and visitors every single day. I thoroughly enjoy having the opportunity to customize each tour to the interests of each guest. It keeps my job constantly new and exciting!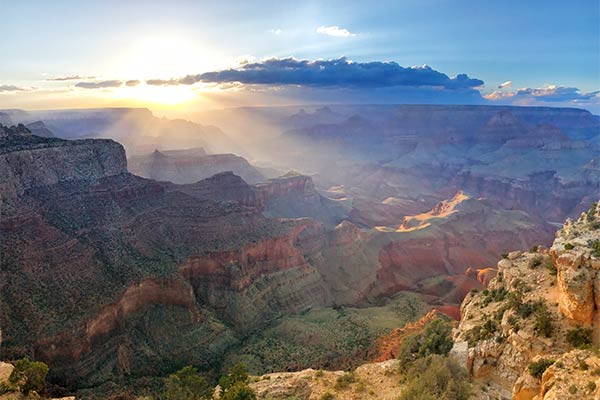 What is your most cherished memory thus far?
Jason: We work closely with the Make-A-Wish Foundation to treat families to unforgettable adventures. I've had kids on my tours who live with cancer or severe medical issues. I do my best to customize things for their particular interests and ensure the entire family leaves happy and feeling like VIPs.
Of course, we treat ALL guests like VIPs but it feels extra meaningful to personalize the experience on our Make-A-Wish tours. It's an honor to be a part of creating a great memory for a child and their family. Those tours always stick with me and are my most cherished ones.


What's your favorite stop on the Grand Canyon Pink Jeep Tours?
Jason: Moran Point on the South Rim of the Canyon! From here, you can see all three main rock layers that make up the canyon and the Colorado River below. On a quiet day with no wind, you can hear the water flowing. It's a favorite spot for catching the dancing light and shadows that play upon the canyon walls.
You also never know what kind of wildlife you'll see. Elk, condor and bighorn sheep frequent the area. Eighty percent of my Grand Canyon sunset tours take place here, so it's a very magical place for me.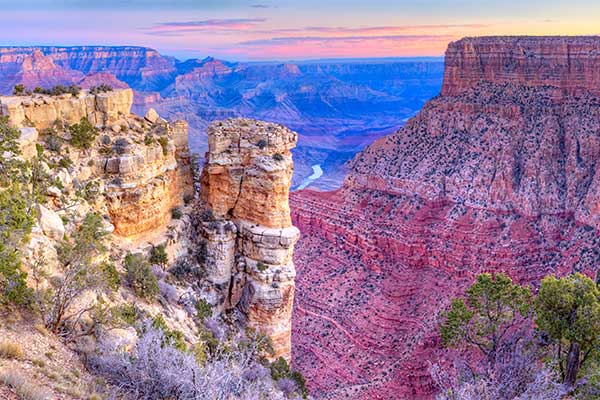 What are the benefits of taking a Pink Jeep Tour vs. driving yourself?
Jason: When you drive yourself, you see the sights without understanding what you're looking at. We want guests to have a unique experience and understand how the Canyon came to be. I love sharing the history of its first pioneers, Native American culture and facts about the wildlife. You leave the tour with a full breadth of knowledge about the land and feel a connection to history. We give you an intimate and personalized experience.


Why should travelers visit you in the Grand Canyon?
Jason: First and foremost, it's one of the Seven Natural Wonders of the World! Watching a movie or seeing a picture doesn't do it justice. You need to be here to experience what it's like to ride a mule in the Canyon, float down the Colorado River or witness the vivid colors of a sunset. If you don't, you'll regret it!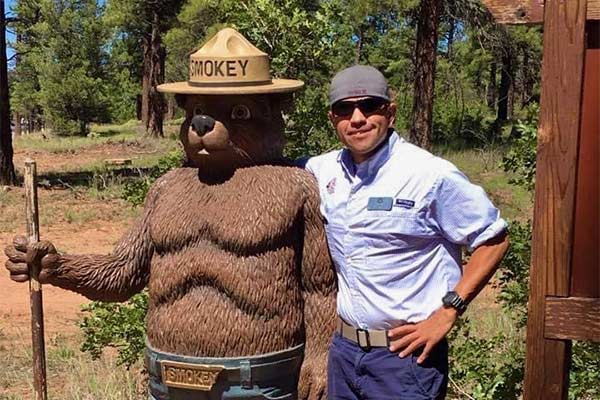 Give us a fun fact about you!
I'm an avid runner and frequently run the Arizona Trail, which runs from Utah to Mexico. I like to be immersed in nature and surrounded by wildlife. So, if I'm not trail running, I'm mountain biking. I also know how to live completely off the land—from natural first-aid to nutrition, shelter and more. I learned my survival skills growing up and roaming the wilderness of Tombstone, Arizona. I love to share this knowledge with my guests. You never know when it will come in handy!
Visit Jason Rodriquez on your next trip to the Grand Canyon. Book your Grand Canyon Tour today!
---