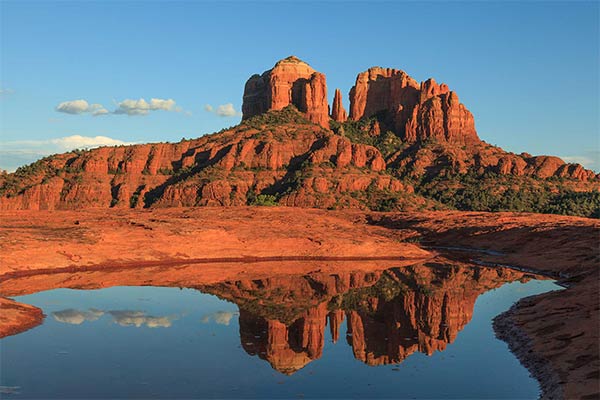 Sedona, Arizona, offers some of the most breathtaking natural scenery in the United States. In fact, nearly three million people visit Sedona each year for its vibrant red rocks and spectacular landscape. It's also a popular destination for photographers that want to capture the beauty of the American Southwest.
In this article, we will cover the best places to take Instagram-worthy photos and selfies in Sedona's surroundings.
Instagram-Worthy Photos in Sedona
Today's travelers want to document their adventures in pictures and share their experiences with family, friends and followers on social media. Luckily, technology has kept pace with consumer demand for high-quality cameras built into smartphones.
Photos that capture the beauty of nature remain the top trending pics on Instagram and Sedona, Arizona is one of the most photographed destinations.
Here is a list of the most Instagram-worthy places to photograph in Sedona, Arizona:
Best Selfie Photograph Locations in Sedona
Bell Rock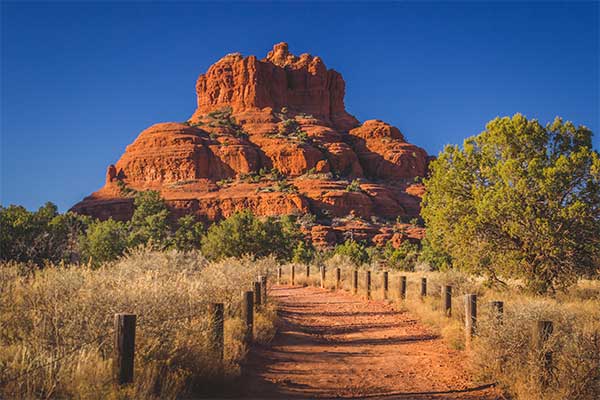 Bell Rock is a well-known Sedona vortex, famous for hiking and meditation. Its massive shape is unmistakable and easy to spot. The Upflow (masculine) energy here is said to be inspirational. Several trails and scenic vistas are within easy access.
The Bell Rock Pathway offers stunning views of Bell Rock, Courthouse Butte and other outcrops. Not to be confused, the Bell Rock Loop Trail offers direct access to the rock itself and the difficult Bell Rock Climb to the top! The best news? These trails are dog-friendly!


Cathedral Rock & Reflection Pools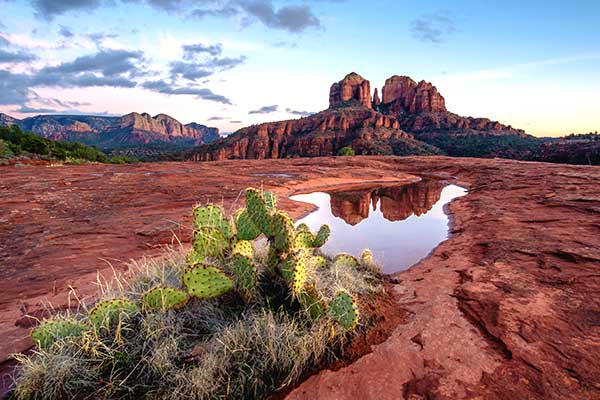 Cathedral Rock and its Reflection Pools are among the most photographed areas in Sedona. You access Cathedral Rock from the Red Rock Scenic Byway (Hwy 179). Reflection pools dot the rock's surface and trails to Oak Creek.
The short trail to the Saddle rises over 650 feet in elevation. Sunrise and sunset views are unforgettable here. Cathedral is an Upflow (feminine) vortex where the energy is introspective and calm. Don't be surprised to see people taking photos in full lotus or easy pose.
Best Photograph Locations for Couples in Sedona
The beautiful surroundings of Sedona and natural lighting make for romantic settings and the best photograph locations for couples. In fact, you may even see a proposal or wedding taking place in these special spots.


Red Rock Crossing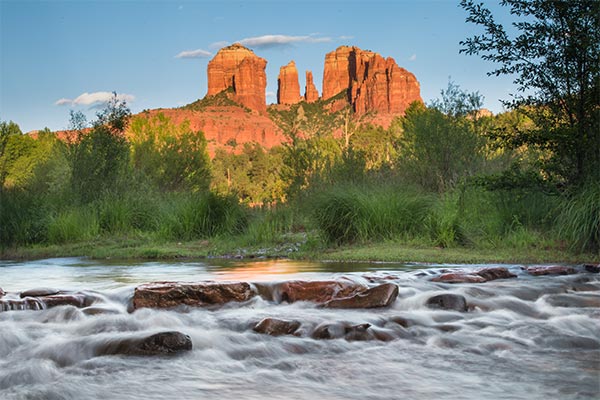 One of the most famous photographs in the southwest is taken at Red Rock Crossing, where Oak Creek flows in the foreground of Cathedral Rock. This spot, located at Crescent Moon Ranch, is known for weddings. Paved pathways lead to a semi-flat, shaded trail along the creek. Go during early morning or on weekdays to avoid crowds.


Lover's Knoll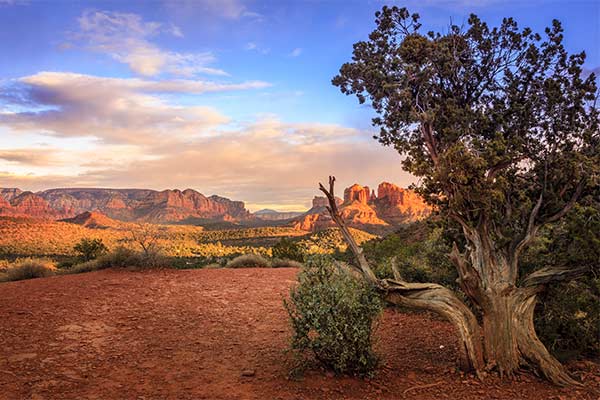 Lover's Knoll is located off Upper Red Rock Loop Road. This scenic drive winds through the hills of West Sedona and unfolds world-class views at every bend. Lover's Knoll sits atop a dirt pullout with ample roadside parking.
Romantic views of Twin Buttes, Schnebly Hill, Courthouse Butte and Cathedral Rock are in the distance. It's a Sedona gem, especially at sunset and divine during a full moon sunset.


Merry Go Round Rock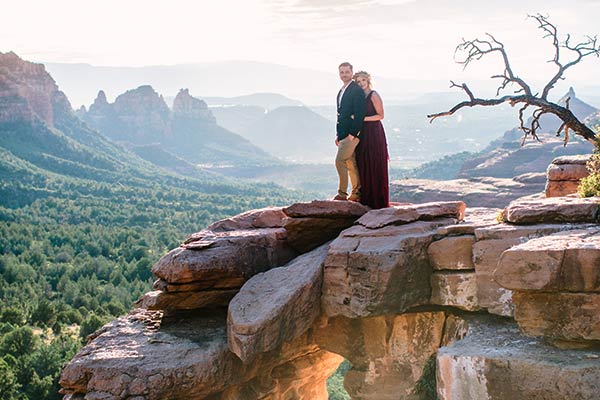 Sedona's Merry Go Round Rock is a more secluded and intimate setting for adventurous couples. It is only accessible with a high-clearance vehicle. From Sedona, you'll climb the rugged Schnebly Hill Road for about 4.6 miles and walk to a stone ledge with 360-degree views.
Sedona's red rock buttes tower over the verdant landscape, often against a clear blue sky. This is one of Sedona's most private and dramatic sunset locations. Plan at least 45-minutes, one way to the parking area.
Best Scenic Photograph Opportunities in Sedona
Sedona's gorgeous landscape has no shortage of photograph opportunities with natural light illuminating its red rocks, perennial streams and lush vegetation. Two of the best spots to capture this scenic beauty are Devil's Bridge and Oak Creek Canyon.


Devil's Bridge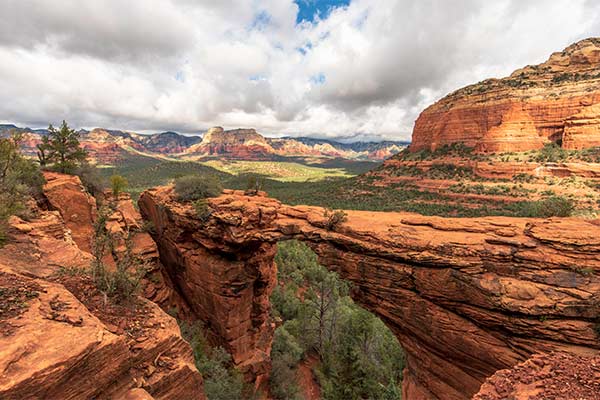 Devil's Bridge is the largest natural sandstone arch in Sedona's Red Rock Country and one of the top five "must-do" trails. Rising 54 feet in the air and 45 feet long, the arch is a popular spot to take a selfie or bask in the beauty of Sedona's landscape.
This is one of Sedona's most heavily trafficked but heavenly sites. You need a high-clearance vehicle to reach the main trailhead. From there, it's a 1.8-mile roundtrip trek to the arch. Most people park at Dry Creek Vista trailhead and walk another mile both ways.


Oak Creek Canyon & West Fork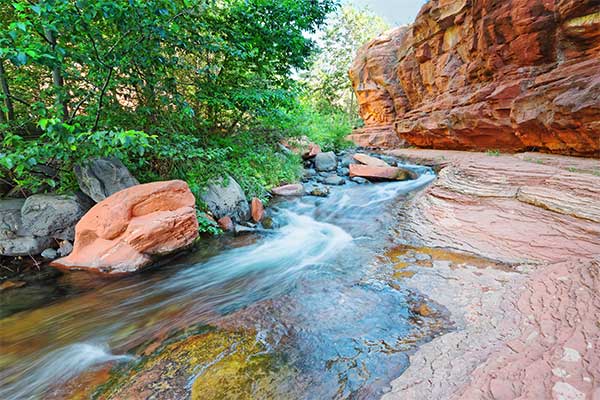 The most serene landscape of Sedona is along Oak Creek Canyon and the West Fork Trail. Often referred to as the "smaller cousin" to the Grand Canyon, this narrow river gorge allows a respite from the Arizona sun. The 14-mile Scenic Drive (SR 89A) has many photographic viewpoints as it climbs 4,500 feet to the Mogollon Rim.
West Fork is the most popular trail in Coconino National Forest. It's a wonderful area to photograph crimson cliffs, crystal pools and lush forest. In autumn, the canyon forest is ablaze with color. The best light is mid-day when the sun is high above and streaming into the canyon.
Best Sunset Photo Opportunities in Sedona
Sedona, Arizona's landscape makes for some spectacular sunrise and sunset photo opportunities. The golden hour, that period of daytime shortly after sunrise and before sunset, is awe-inspiring. This magical light shouldn't be missed. Two awesome spots for the best sunset photos are Airport Mesa and Schnebly Hill Road.


Airport Mesa Vista & Overlook


Sedona's Airport Mesa vortex is known for spectacular sunset photo opportunities. The parking vista at the top of Airport Road commands impressive views of Thunder Mountain, Coffeepot Rock, Chimney Rock and the city.
Further downhill is a short, nearly vertical trail to the Airport Mesa Overlook with 360-degree views. The Airport Loop Trail is one of the best sunrise hikes in Sedona. This gentle 3.5-mile trail encircles the mesa with panoramic views of the entire Verde Valley.


Schnebly Hill Road Vista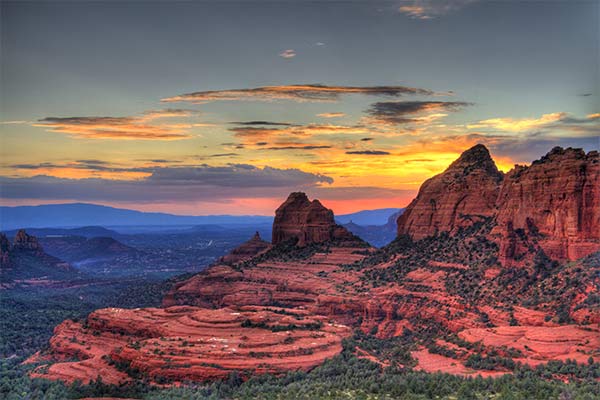 Schnebly Hill Road overlooks all of Sedona's best landscape. Red rock spires, sandstone mesas and desert vistas with bursts of green. Pull-offs and hiking trails abound.
The road is paved for the first mile. The rest is steep, dusty and bumpy requiring a high-clearance vehicle. After climbing six miles of switchbacks you are rewarded at the Schnebly Hill Vista. Find a good seat near the edge of a cliff and watch as the landscape becomes aglow in color.
Best Photograph Locations in Sedona
Selfies are the modern-day version of postcards that truly say "wish you were here," without the cost of a stamp. Before you start your Insta-story, consider our top picks for the best places to photograph Sedona.
Some of these spots are not for novice hikers or those inexperienced with off-road driving. If that's you, consider hiring an experienced guide or a Jeep® tour to get you there. And don't forget the water and sunscreen!

Ready to plan your visit? One of the best ways to experience and photograph Sedona's iconic spots is with a local adventure guide. Pink Adventure Tours offers one-of-a-kind, Sedona off-road Jeep® and paved tours for an experience that you will never forget!
---