You are making a difference. Along with 29,000 others, you opted to make a $1 donation to the National Forest Foundation (NFF) last year when you booked online. Being only a dollar, you may not have given it a second thought. However, when seen as part of a whole, your single dollar bill grew wings.
And once in NFF's hands, boy, can those wings fly. The NFF works on behalf of all of us to restore natural habitats, improve recreational sites, and replant trees in areas affected by fires, insects or disease. They match your contributions with other funds and local manpower, and it's estimated that they leverage $4 of environmental impact for every $1 collected.
The fund we support - Northern Arizona Forest Fund (NAFF) – has only been around since 2015. But don't let their youth fool you. The NAFF has invested over $11.8 million in the past two years to improve water quality, forest health and community resilience across the Salt and Verde Watersheds.
To date, your donations have prevented wildfires, combatted sedimentation, improve water quality, and helped avert a home-heating crisis in Tribal communities.


LOOKING BACK
Aspen Creek Watershed Health & Aspen Restoration Project
Located in the headwaters of Aspen Creek, a tributary of Granite Creek and the Upper Verde River, this Prescott National Forest project focused on watershed health and aspen restoration. Decades of conifer tree encroachment had increased the risk of high-severity wildfires and was impacting the aspen community.
NFF and partners supported hand-thinning activities across 300 acres of aspen and surrounding pine forests, reducing the threat of unnaturally severe wildfires while simultaneously restoring the unique aspen ecosystem and protecting the local watershed.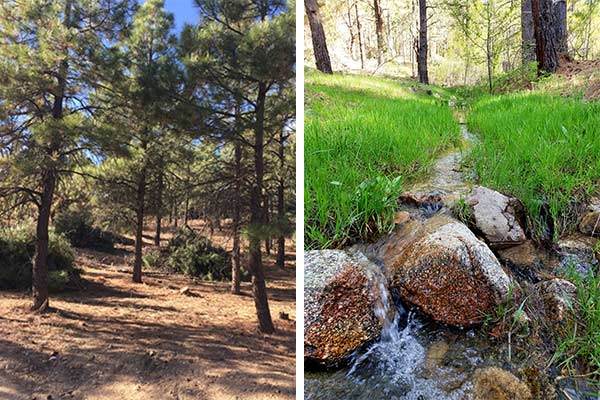 Results: Your contributions helped to reduce Aspen Creek area fire risk by about 30%, protecting a critical watershed for the City of Prescott and the Upper Verde Watershed.

Fire Risk Mapping for Northern Arizona
Forests in northern Arizona have undergone major changes over the past 150 years. Land use changes and fire suppression have led to unhealthy forest conditions that are leading to hotter, higher-intensity wildfires. Thinning small trees and controlled burns have helped restore the natural fire dynamics on this landscape.
To date, the NFF has completed over 13,600 acres of fuel reduction treatments. Before and after satellite imagery of on-the-ground restoration work is being used to model the predicted change in area fire dynamics.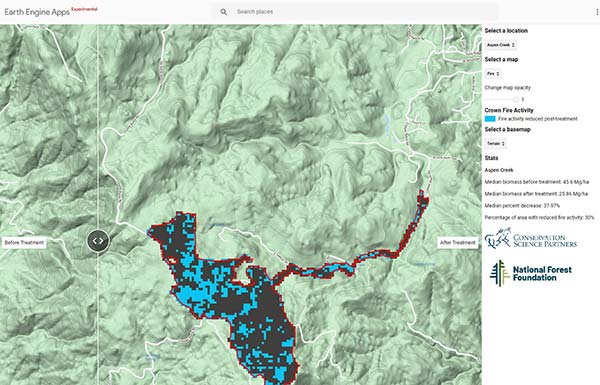 Results: Your contributions supported the development of a Fire Risk Map Viewer to help fire ecologists and spatial analysts monitor project areas.

Oak Creek Schnebly Hill Road Erosion Project
Oak Creek is valued for its beauty, recreation, and tremendous ecological impact. Its headwaters begin south of Flagstaff, flowing through Sedona's Red Rock Country before feeding into the Verde River. The annual monsoon season is a double-edged sword for the creek, bringing both water and erosion. Erosion creates sedimentation, alters turbidity levels, and can lead to outbreaks of E. coli.
Schnebly Hill Road was an erosion pain point along the creek. It's one of the most heavily used 4x4 roads across the Coconino National Forest, and has a tendency to wash out and get a bit rough (which anyone who has taken one of our Scenic Rim tours can attest to). The road suffered from low-functioning drainage, which caused extensive erosion each year. Pink Jeep worked alongside NFF partners to rehabilitate an 11-mile stretch of the road, installing new, low-maintenance prevention features.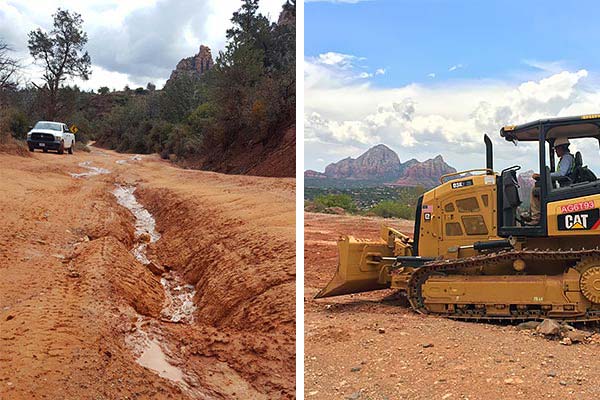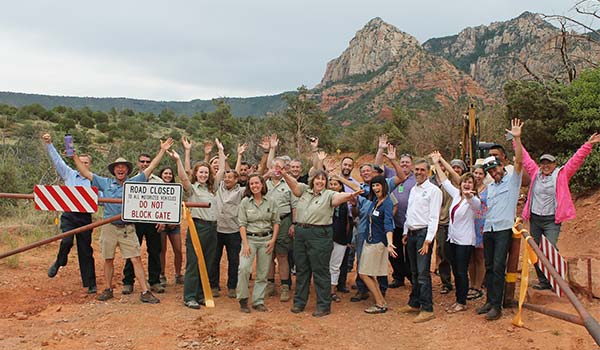 Results: Your contributions help reduce sedimentation from Schnebly Hill Road into Oak Creek by an estimated 14 tons each year. These activities also reduced the threat and spread of E. coli outbreaks in Oak Creek, which is exacerbated by sedimentation, and improved recreational access.

Wood for Life Tribal Fuelwood Initiative: Lockett Meadow Pilot Project
Hopi and Navajo communities faced a home-heating crisis when the Navajo Generating Station and its coal mine closed their doors in 2019. Many off-the-grid homes depended on the coal-fired plant as an energy source, and in its absence, turned to wood for heat. COVID-19 brought additional challenges, as social distancing and stay-at-home orders made wood hauling difficult.
Meanwhile, the Northern Arizona Forest Service was struggling to find places to bring the low-value, small-diameter wood from forest restoration projects. Leaving piled wood on a restoration site poses fire and insect infestation risks.
Two problems, each an answer to the other, save one all-important element: transport.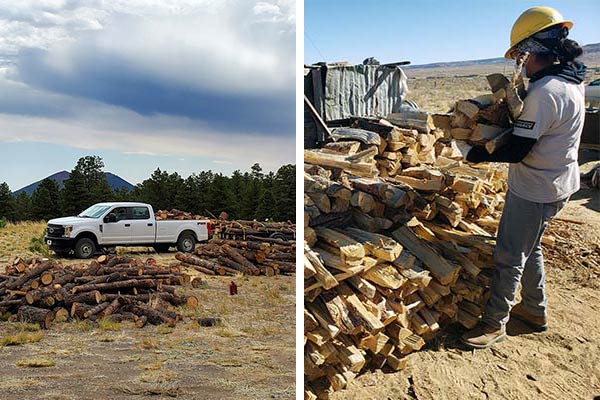 The NFF accepted the challenge with gusto. They worked with partners to remove woodpiles from Coconino National Forest's Lockett Meadow and piloted an approach to transport the wood to Navajo and Hopi communities. It was an incredible success.
The initial pilot has grown in scope. The NFF now works with the Forest Service, Tribal governments, Tribal communities and the Ancestral Lands Conservation Corps to transport small-diameter timber from restoration projects to Tribal partners.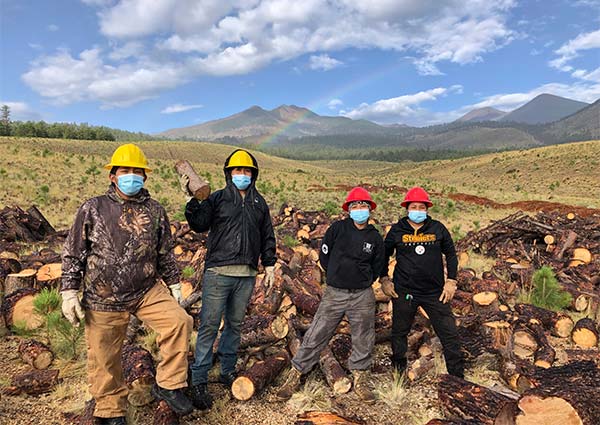 Results: In the past year, your contributions helped build a Wood for Life partnership that's connected over 1,600 cords of wood from local forest restoration projects to Navajo and Hopi communities. Support for the Lockett Meadow pilot project catalyzed interest and allowed the initiative to grow.


LOOKING AHEAD
Highline Trail Improvements
This project will target erosion along the Highline Trail, a portion of the Arizona Trail, and reduce the impact on important waterways.


West Sedona Dispersed Camping
A multi-faceted approach to reduce erosion, improve the camping experience, encourage responsible recreation, and reduce user impacts on Coconino National Forest land in West Sedona through signage, dispersed camping infrastructure, and volunteer events.

Ward Camp Meadow Restoration
An important meadow habitat and beloved camping areas are being restored through youth engagements and visitor education.

Stewardship of the lands we travel is a responsibility. In partnership with the NFF, your donations have achieved important restoration outcomes that will benefit watersheds, wildlife, and public health for years to come. Thank you for making a difference.
---