A natural-born explorer, Airika White has lived everywhere from Hawaii to the Northern Mariana Islands. Her curiosity for rare plants and animals fuels her passion for sharing the rare beauty and abundant wildlife with her guests on our Smoky Mountain tours.
Beloved by visitors for her singing and a rare affinity for attracting bear sightings, "Bear Whisperer" Airika White is an energetic, popular adventure guide leading Pink Jeep Tours Smoky Mountains tours.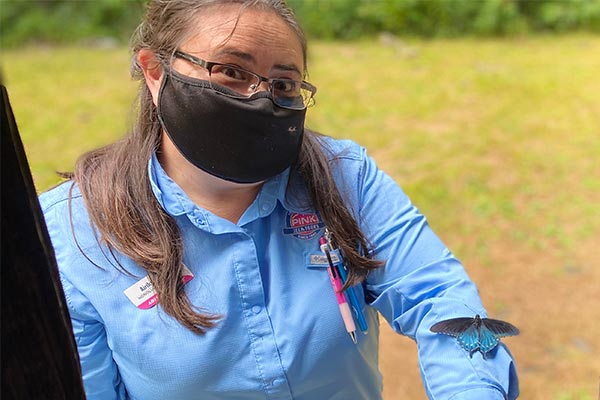 How long have you worked for Pink Jeep Tours?
Airika:  I started as a Pink Jeep adventure guide in August 2019 but I've been with Herschend Family Entertainment longer. Previously, I worked as an activities host at Dollywood's DreamMore Resort.
Why did you decide to become an Adventure Guide?
Airika:  I was a military spouse for a long time so I never had a clear career path since we moved around a lot. My resume includes everything from being a seasonal campground host in the Cherokee National Forest to driving fire rescue vehicles.
I come from a natural tour guide family. I spent my middle to high school years on Saipan, the largest of the Northern Mariana Islands. We didn't have a movie theater or even a stoplight. 
We flew to another island just to buy clothes and had to get creative to pass the time. We'd take a small plane or ferry to other islands or go exploring for plants and animals.
When I moved near the Smokies, I fell in love with exploring them. Becoming a Pink Adventure Tour Guide was a natural fit. Leading tours reminds me of the days I spent exploring nature while growing up.
What does it take to be a good Adventure Guide?
Airika:  Passion for the natural beauty around you is first and foremost. In the Smoky Mountains, you also have to be in the moment. You never know what you're going to see or encounter. I'm constantly amazed by the change of seasons and the newness it brings to every tour.
Right now we have snow, frost, and icicles. Spring is one of the best times to go to the Smoky Mountains because beautiful wildflowers bloom. By fall, the Smoky Mountains are draped with autumn leaves. You also have to be attentive to safety and the unpredictable natural elements.
You also need to be able to get into the minds of your guests to show them sites that will leave lasting memories. I don't follow a script. I like to share hidden gems and places I would want to see on a Smoky Mountains guided tour.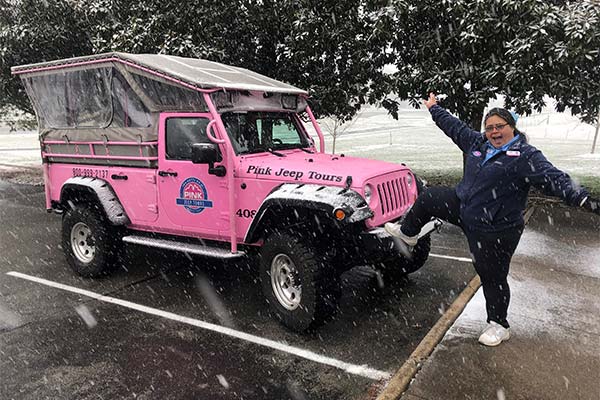 What is your favorite part of being an Adventure Guide?
Airika:  My favorite part is that every day is different. From weather to wildlife to animal behavior, I have moments on every tour that surprise me.
For example, we don't always see animals. But in October, the Roaring Fork tour has about a 75% chance of seeing a bear. You never think you'll see something...and then you do. It's exciting!
I even saw a bald eagle sitting low in a tree on a Smoky Mountains jeep tour. It was amazing. Moments like those are my favorite.
I also love seeing who I will get on my tours. You meet a variety of people and really get to know them. I love it when Floridians see snow for the first time or someone spots their first bear. It's one of the top things to see in the Smoky Mountains.
What is your most cherished tour memory thus far? 
Airika:  When I first started, another Pink Jeep guide was nicknamed the "Bear Whisperer." Now, that's me! All my exciting moments include bears. I just love the "Bear Adrenaline."
In October, I decided I would count how many bears I saw throughout the month. I put a pumpkin at our off-road stop for every bear I saw. My last October tour was on Halloween. We were looking for bears so we could add more pumpkins.
I had a dad and his teenage boys on the tour. We didn't see anything in the mountains. Then we're leaving Gatlinburg and we saw a mother bear with three cubs walking on a hill in Herbert Holt Park.
We just parked and watched them from afar. This was so exciting because it was my last chance to see bears in October. All the tour guests got to put the last pumpkins at my bear patch that day.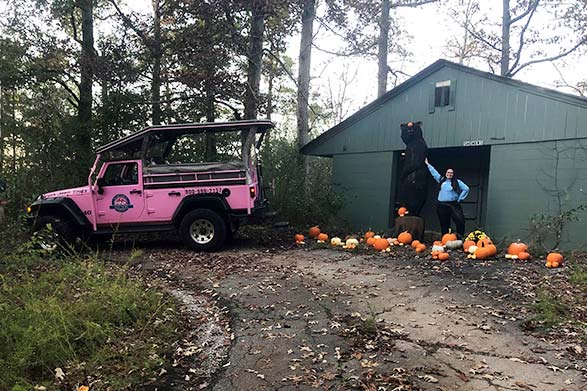 What is your favorite stop on Smoky Mountain Pink Jeep Tours?
Airika:  There are a lot of pull-offs along the Roaring Fork Motor Nature Trail where you can walk down to the water. There's something so soothing and peaceful about sitting by the water, listening to it flow and dipping your feet in.
I love to look for salamanders and aquatic wildlife. You can really be one with nature there. The other Pink Jeep Tour guides tease me because they'll see me there on my day off. I just love it so much.


What are the benefits of taking a Pink Jeep Tour vs. driving yourself?
Airika:  I try to show people things they can miss when driving themselves. If you're focused on driving winding roads or reading a map, it's easy to get distracted. When you take a Pink Jeep Smoky Mountains Tour, you can relax and enjoy the ride.
It's more about the added experience our knowledgeable, trained tour guides offer. You're exposed to things you find interesting even when you didn't expect it. I include facts about history, biology and plants on my tours
I also like to hear what the guests want to see. I make sure to include things that they wouldn't even know to look at when driving to a requested site. Taking a Pink Jeep Tour adds depth to their experience.
Why should travelers visit you in the Smoky Mountains?
Airika:  It's a great way to kick off your visit to the Smoky Mountains. The tour is catered to your interests. We're happy to answer questions about top things to do in Great Smoky Mountains National Park, recommend other Pigeon Forge attractions or places to eat. It can enrich your entire trip.
And, if it's your first visit to the Smoky Mountains everyone can have a moment of relaxation while getting all their questions answered. I share insider tips about navigating the park from my personal experiences. Our guides will even help you take photos for memories that last a lifetime.
My advice is to book early near the beginning of your visit. Come with questions to improve your experience. In addition to Roaring Fork, we offer tours through Wears Valley to the Foothills Parkway, around Gatlinburg and up to Newfound Gap.
Lastly, give us a fun fact about you!
Airika:  The silliest thing that people like about me is that I get overly excited about seeing mammals and I love groundhogs. We have some that live near our off-roading course. On my days off, I explore and take a lot of pictures of them.
I also like to sing on tours and my guests love it. It helps break the ice and brings everyone out of their shell. I tell people we have to sing a "bear song" to lure out a bear. When we do and then actually see one, it's amazing!
Visit Airika and experience the exciting beauty of the Smoky Mountains with your own eyes. Book your Smoky Mountain tour today.
---