For some couples, romance means wining and dining, mass-produced chocolates and sappy poetry. For others, romance is better when it's a little more...well, adventurous. We fall squarely in the latter camp. Nothing against hearts and flowers, but we tend to think the best romantic experiences involve excitement, lasting memories and experiences that are outside the norm.
That's why we think the most perfect way to celebrate Valentine's Day this year is with a trip to an incredible destination. And what could be more incredible than the Grand Canyon? We've come up with five reasons why this getaway is perfect for any couple looking for the perfect mix of adventure and romance. See for yourself!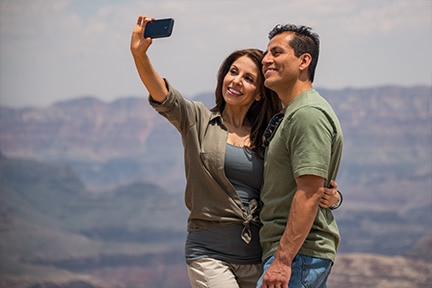 1. Endless photo ops. If nothing says "love" to you like snapping a picture of the two of you sharing a kiss on top of a cliff, then the Grand Canyon is the place for you. Check out lookout spots like Navajo Point, Lipan Point and Moran Point to get unique views, angles and backdrops. (Better still, take a Desert View tour that will take you to all three!) You'll leave with some incredible memories, lovely snapshots and, most likely, quite a few likes on Instagram.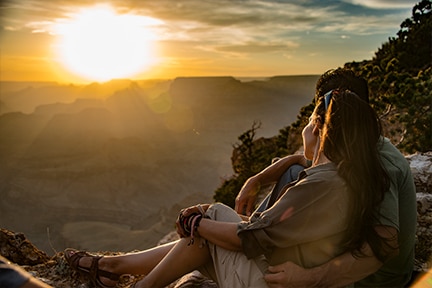 2. One word: sunset. The sunsets at the Grand Canyon simply cannot be topped. Incredible colors ignite both the sky and the canyon, bringing it to life and creating a natural ambience like you've never seen before. Want the absolute best spot to watch? The Grand Entrance Sunset tour is one of many perfectly timed jeep tours that will get you away from the crowds and into the perfect romantic setting. Sit back and let nature do all the work.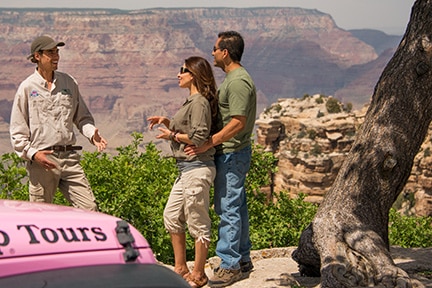 3. Lots to learn—together. Having an educational experience with your partner is actually a great way to bond. On the Trail of Time tour, you'll find yourselves learning tons of interesting facts about the history, ecology and culture of the area. This shared experience, combined with the sweeping views and gorgeous scenery around you, is sure to create a memory that will last a lifetime.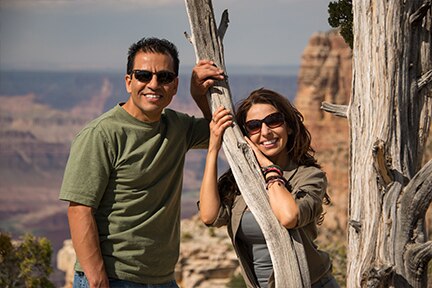 4. Variety is the spice of life. The Grand Canyon offers something for everyone—whether it's rumbling off the beaten path in an open-air Jeep, getting an aerial view of the canyon through a helicopter ride, or showing it all to you in the comfort of a theater through a stunning IMAX presentation. No matter how mismatched of a couple you are, you're sure to find something to please both of you. Pink Jeep offers a variety of Grand Canyon tours can appeal to anyone's heart.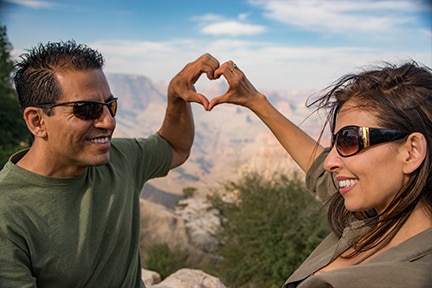 5. Getting "away from it all." The Grand Canyon provides a setting that is completely unique from a busy restaurant or unglamorous movie theater. Getting out in nature together will give you a chance to appreciate the world's natural beauty while spending quality time together. What could be more romantic than that?
Let's be honest: you always say you're going to do something to make Valentine's Day special, but you never actually do it. Well, here's your chance. Don't just go big—go Grand. Do it right this Valentine's Day and treat your sweetheart to a romantic experience at the Grand Canyon that both of you will always remember.
---