Pink® Adventure Tours Commitment to Forest Service Lands
When it comes to preserving Arizona's Coconino National Forest, Pink® Adventure Tours wants to be part of the solution. Wes Barber, Guide Manager for Pink Jeep Tours in Sedona, takes this commitment to heart.
He oversees the location's Adventure Guides and ensures that all Guides are properly trained. Their mission is twofold. To relay facts and history about the lands they travel to tour guests and to be active stewards of environmental conservation.
Wes discusses the company's commitment to sustainability, "treading lightly" and sharing the importance of protecting the world's natural ecosystems. Read more to learn how Pink Adventure Tours aims to make a positive impact on USDA Forest Service lands.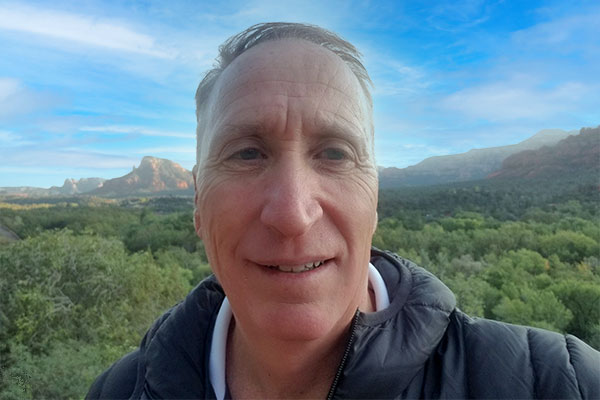 How does the company play an active role in conserving the National Forest?
Wes: We've built a close partnership with the Coconino National Forest, Red Rock Ranger District since we ran our first Sedona jeep tour in 1960. Our team's role in helping to conserve the public lands that we operate on is an ongoing, everyday effort. We approach our environmental stewardship from several angles such as fundraising, trail conservation, volunteer efforts, sustainability and more.


Fundraising
We put our money where our mouth is. From 2016 to year-end 2020, we collected over $82,000 in donations for the National Forest Foundation. These funds are used to support ongoing projects in the Coconino National Forest and other parts of Northern Arizona.
In the past, funds have been put towards maintaining Sedona's famous Schnebly Hill Road. This popular destination offers stunning views and a rugged, off-road experience. But it has become much less accessible in recent years due to erosion.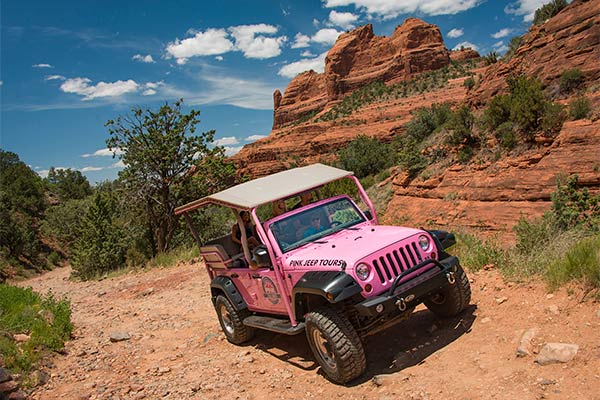 Trail Conservation
We conduct trail maintenance, litter cleanup and restoration on the five trails that our tour vehicles drive consistently. We are the sole tour operator maintaining two of these trails—Broken Arrow and Diamondback Gulch.
We also help manage the Honanki Heritage Site, a cliff dwelling with ancient rock art in the National Forest. We provide a year-round site host who welcomes visitors, educates them about the site and explains trail etiquette. We helped the Forest Service rebuild the trail at Honanki, improving it for visitors for many years to come.



Volunteer Efforts
Under the oversight of the Forest Service, we mobilize larger, specialized efforts during times of natural disasters. Recently, an Arizona monsoon storm flooded the Diamondback Gulch Trail from end to end and exposed a natural gas pipeline. We led a team of volunteers who spent over 900 hours moving rocks and boulders. They filled in eroded areas to restore the natural ecosystem and allow off-road vehicle travelers safe passage through the route.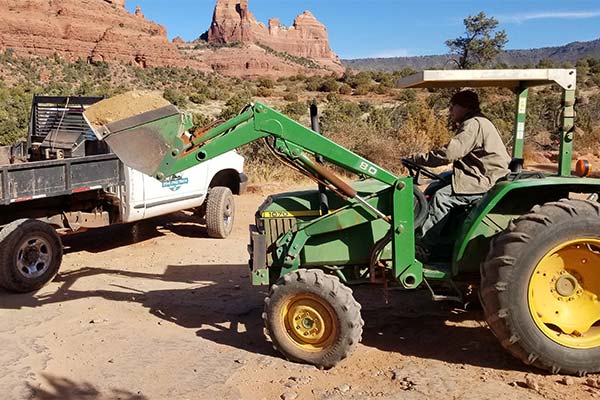 Arizona wildfires also came dangerously close to Sedona this year. We helped clear an arterial service road to ensure that the local community could travel safely to and from their homes. We often see neglected campfires and report them. We carry a fire extinguisher in every vehicle and sometimes use it to prevent forest fires.


Recycling
We have a long-standing commitment to recycling. We make it a regular practice in our vehicle maintenance facility. We're really excited about our commitment to eliminate disposable water bottles on our Grand Canyon tours. We offer refillable water bottles and encourage guests to use them to reduce plastic waste.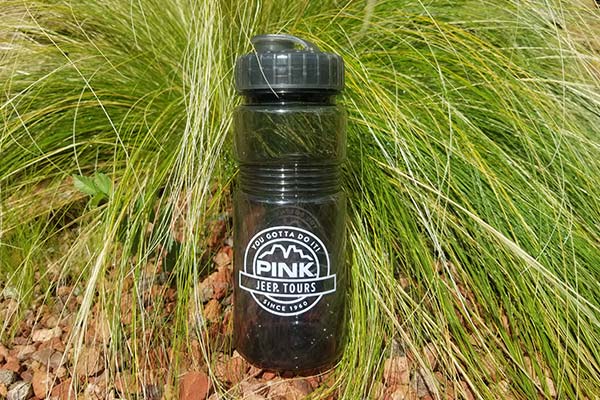 By eliminating single-use water bottles on our van tours, we avoid 22,000 plastic bottles in the waste stream each year. We offer water refill stations throughout the Sedona Pink Jeep Plaza for tour guests. This reduces another 30,000 water bottles each year.


Why is it important for Pink® Adventure Tours to partake in these projects?
Wes: We realize that our tours have an impact on the lands we use. Our goal is to mitigate that impact as much as possible and protect the Forest for future generations of adventurers. By controlling where people go we help reduce traffic impacts on the forest trails. We help to educate customers about Leave No Trace practices.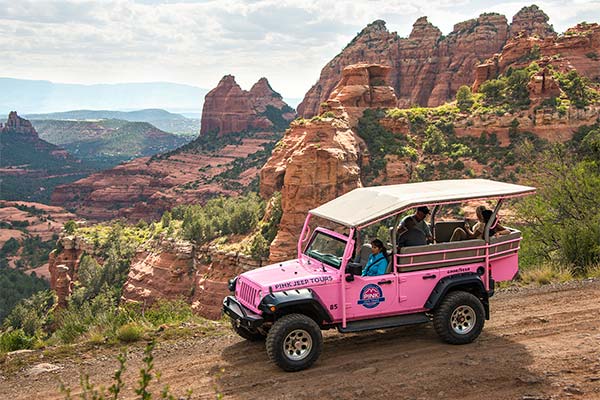 We partner with Tread Lightly! to protect and enhance recreation access by promoting outdoor ethics and environmental stewardship. T.R.E.A.D Principles encourage individuals to travel responsibly, respect the rights of others, educate yourself, avoid sensitive areas, and do your part. By sharing these values with guests and fellow tour companies, we hope to encourage others to be aware of outdoor ethics.


What advice would you give to travelers about protecting the lands they explore?
Wes: Anything we do today while exploring nature—no matter how big or small—has an impact long after we're gone. Mindfulness and education can ensure that we leave the environment in the same or better condition than we found it.
At Pink Adventure Tours, we like to share information about the sensitivities of certain plants and animals with visitors and locals. Some plants in the Coconino National Forest take over 100 years to grow. They can be destroyed in mere seconds by a tire or footprint.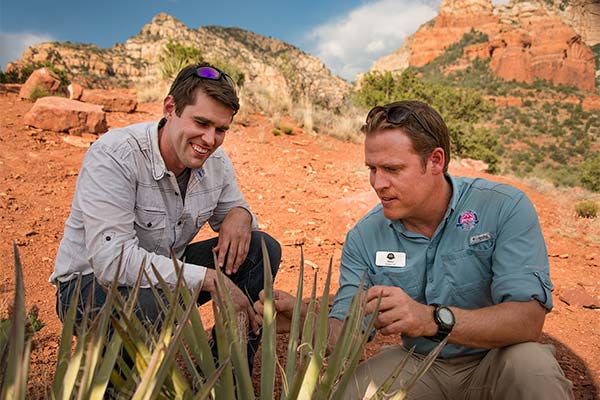 Our tours frequently cover topics like this. We want our guests to connect with the land by learning about its geology, erosion prevention, use ethics, plants and wildlife. We want the National Forest to be enjoyed by adventurers and nature lovers well into the future!
Sedona's famous red-rock landscape offers adventure at every turn. Experience the land with a local, experienced Pink® Adventure Tour Guide. Book your Sedona Tour today!
---