The misty haze that blankets the ridges of the Smoky Mountains National Park draws millions of travelers every year. Beyond the haze are ancient forests, plunging waterfalls, diverse flora and fauna, and real Southern Appalachian charm.
There are ample things to do—scenic drives, hiking, visiting historical sites and more. Nearby towns offer theme parks, family attractions, restaurants, shopping and lodging.
These jewels, coupled with free and easy access, have crowned the Smokies as America's most visited national park. It's impossible to cover it all in one visit. This Smoky Mountain travel guide will help anyone planning a trip to the Smoky Mountains for the first time.

What You Need to Know About the Smoky Mountains

Weather and Climate
The Great Smoky Mountains have warm, humid summers and cold winters. Since the elevation changes almost 6,000 feet from the lowlands to the peaks, Smoky Mountains weather temperatures can vary 10–20 degrees.
Average highs are in the 70s. Winter days average 40 degrees but can drop below freezing, spring and fall are pleasant. Rainfall averages 55 inches in the valleys to 85 inches on some peaks.

What to Pack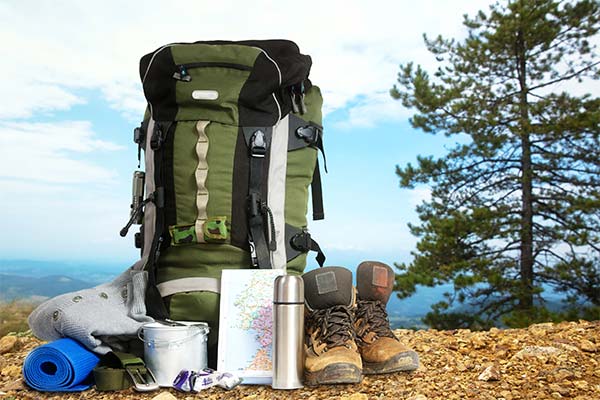 No matter when you visit, you'll need a few essentials. For comfort, pack layers of lightweight and warmer clothing. Rain gear and sturdy hiking shoes are a must. Bring a daypack with two water bottles or a good hydration system.
Cell phone reception in the park is not reliable; get a good map. For hikes, bring a compass, flashlight, pocketknife, whistle, first aid kit and bug spray. Don't forget a sun hat, sunscreen, sunglasses, camera or binoculars, and food to fuel your adventure.

Dining
There are no restaurants inside the park; only a few places offer grab-and-go snacks. There are hundreds of places to eat in Pigeon Forge, Sevierville and Gatlinburg. Menu options range from old-fashioned Southern food to international cuisine.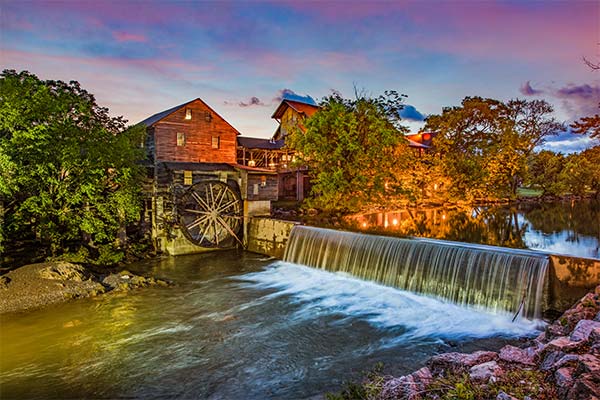 Old Mill Restaurant and Mama's Farmhouse are famous for comfort foods. Steps away, the Pottery House Café and Grill uses freshly ground grain from the local mill. For those who eat a plant-based diet, the Wild Plum Tea Room is a local favorite.
Pancakes are serious business here! Pigeon Forge and Gatlinburg have more pancake houses per square mile than anywhere in the country. Dolly Parton's Stampede Dinner and Show and the Pirate's Voyage Dinner and Show are great family dining adventures.

Shopping
No visit to Tennessee's Smoky Mountains is complete without shopping! Hundreds of boutiques, specialty stores, factory outlets and malls offer everything from handmade souvenirs to designer clothing.
The Old Mill Square is a charming area built around Pigeon Forge's historic gristmill. The Great Smoky Mountains Arts & Crafts Community is an 8-mile loop of shops, galleries and studios showcasing the works of local artists.
The Village Shops offer a collection of 27 boutiques, eateries, galleries and clothiers in a European atmosphere. For adventure gear and guidance, Nantahala Outdoor Center's 18,000 square-foot flagship store sits at the Gatlinburg entrance to GSMNP.

Lodging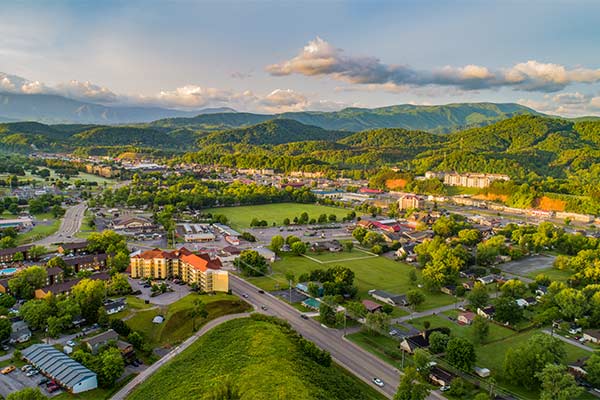 No Smoky Mountain travel guide is complete without mention of lodging. Pigeon Forge has many hotels, condos, cabins, and VRBOs near Dollywood and other family-friendly attractions. Gatlinburg sits at the base of the mountains. It's the closest you can get to the national park, without sacrificing other amenities.
Nature lovers can stay at campgrounds and RV sites, or hike into the backcountry wilderness. The only permanent structure in GSMNP available to overnight guests is LeConte Lodge … but you have to walk five to eight miles to get there.
Smoky Mountain's Top Sightseeing Destinations

Cades Cove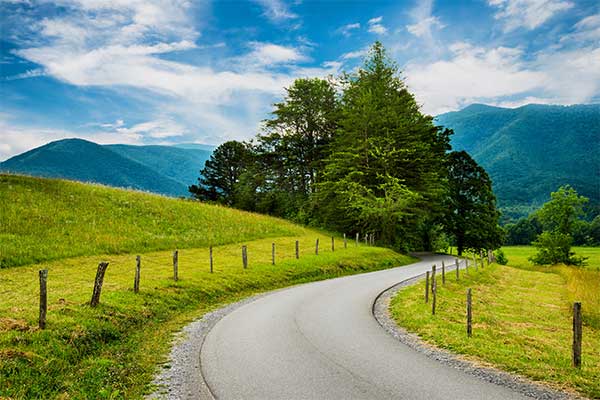 Encircled by mountains, Cades Cove is the most popular destination in the Great Smokies. This verdant valley draws over two million visitors a year for its historic homesteads, scenic views and abundant wildlife.
An 11-mile, one-way loop allows motorists to sightsee at a leisurely pace. Travelers often see white-tailed deer, black bears, coyote, fox, wild turkey, red wolf or elk. Half-way through the loop, stop at the Visitor Center to see the nearby water-powered mill.

Newfound Gap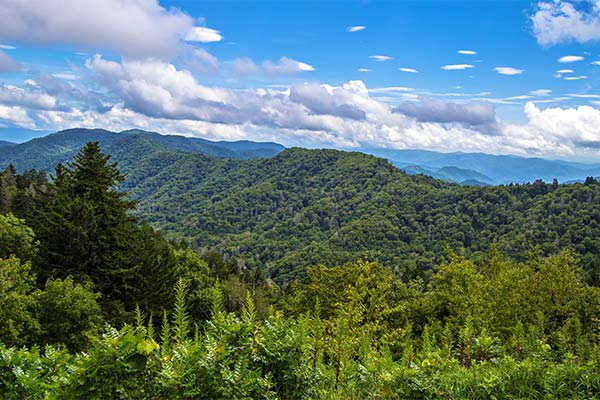 At 5,046 feet, Newfound Gap Road is the lowest drivable pass through the park. It climbs 3,000 feet between Gatlinburg, TN and Cherokee, NC. At Newfound Gap, you can visit the Rockefeller Memorial, stand in two states at once, or take a stroll on the Appalachian Trail.
Sightseeing stops include the Sugarlands Visitor Center, Clingman's Dome, Mingus Mill, Smokemont Church, and the Oconaluftee Visitor Center and Mountain Farm Museum.
Clingman's Dome is the highest point in Tennessee at 6,653 feet. The Observation Tower provides a 360-degree view of the Southern Appalachians.

Foothills Parkway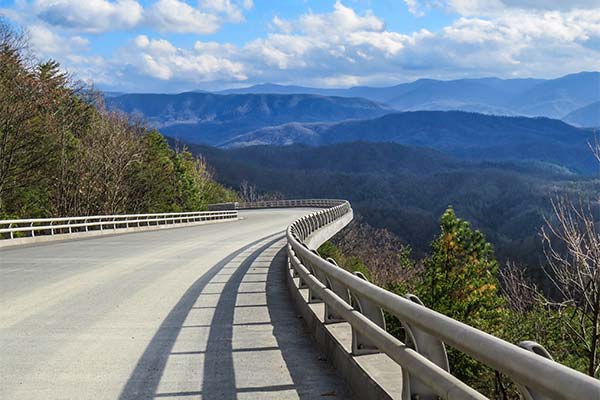 The Foothills Parkway is one of the "prettiest drives in America," with panoramic views of mountain peaks and the valleys below. It passes near the Smokies' Tennessee border. The newest section, called "The Missing Link," opened in late 2018.
Motorists can now drive 33 continuous, scenic miles between Chilhowee and Wears Valley. The eastern section extends six miles from Cosby to I-40. It presents breathtaking views of Mt. Cammerer.

Roaring Fork Motor Nature Trail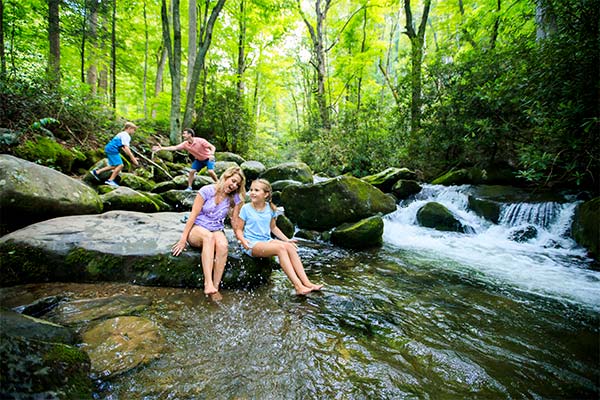 If you're staying near Gatlinburg, don't miss the Roaring Fork Motor Nature Trail (April–November). The six-mile, one-way loop winds through dense forest next to a roaring stream and is dotted with old farmsteads, mills and scenic turnouts.
From here, you can access hiking trails to the 80-foot-high Rainbow Falls or Grotto Falls, where you can stand behind the falls.
Best Activities To Do in the Smokies

Jeep Tours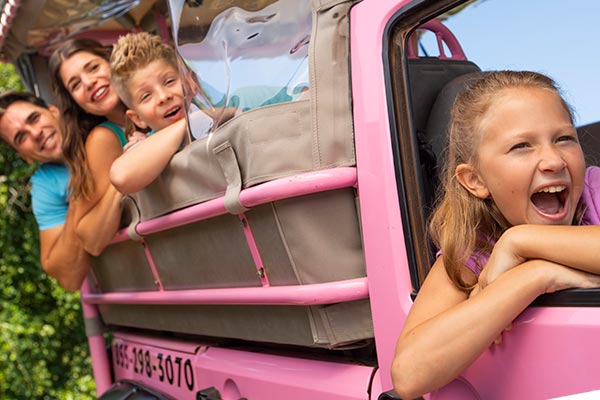 To get the most out of your Smokies adventure, consider taking a jeep tour of the Smoky Mountains. Pink® Jeep® Tours is one of the newest additions to the area. Their local, certified tour guides deliver unmatched knowledge, experience and service. Vacationers experience an exhilarating ride in customized Pink® Jeep® Wranglers.

Gatlinburg SkyLift and SkyBridge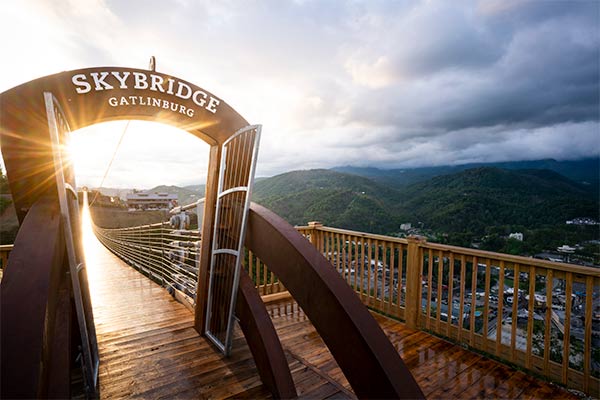 The Gatlinburg SkyBridge is the longest pedestrian suspension bridge in North America. It spans 680 feet across the valley below. Looking down through the glass midway across can be a dizzying view.
Guests can ride the Gatlinburg SkyLift from the heart of downtown to the top of Crockett Mountain or take a private road up with Pink® Jeep® Tours. Plan to enjoy a craft beer or snack on the expansive SkyDeck while watching the sunset.

Outdoor Adventure
Naturally, outdoor adventure activities abound in the Smokies. No one will run out of vacation ideas for things to do. Whether it's hiking, camping, picnicking, fishing, taking a jeep tour, or horseback riding, there is something for all ages and interests.
Family-Friendly Activities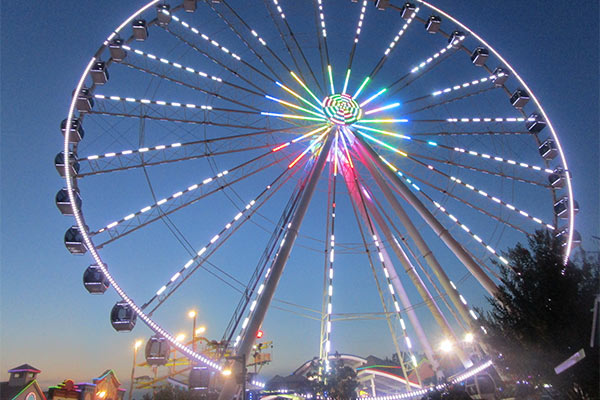 Dollywood and Dollywood's Splash Country
No visit to the Smokies is complete without a visit to Dollywood. This 150-acre theme park features the fastest wooden roller coaster in the world, kiddie rides, entertainment, festivals and award-winning dining.
Dollywood's Splash Country has several water attractions where thrill-seekers and pool loungers can relax. Nearby accommodations include Dollywood's DreamMore Resort & Spa and Dollywood Cabins.

Ripley's Attractions in Gatlinburg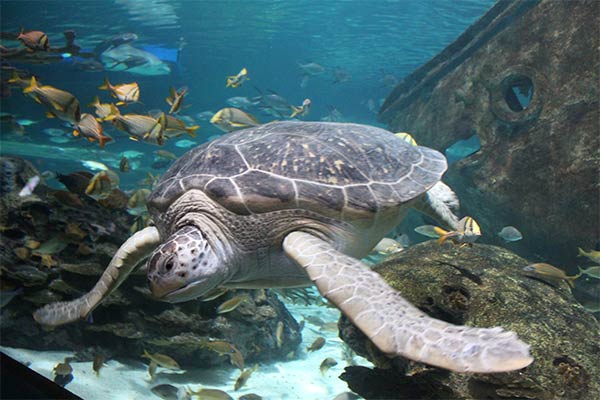 Ripley's Believe it or Not! operates eight attractions in Gatlinburg. The 85,000 square-foot Ripley's Aquarium of the Smokies was voted best aquarium in America by readers of USAToday. Ripley's Odditorium is the weirdest place in town with 500 unbelievable exhibits and artifacts.
Other venues include a 5D Moving Theater, Haunted Adventure, Marvelous Mirror Maze, the ALL NEW! Guinness World Records Adventure and two mini-golf courses.

The Island in Pigeon Forge
The Island in Pigeon Forge boasts 23-acres of family fun with dozens of kid-friendly activities and an eclectic mix of boutique shops and eateries. Entering the Island is free, but the rides cost. The multi-million dollar water fountain show and live music performances are also free.
Smoky Mountain Frequently Asked Questions (FAQ)


What Is the Best Time to Explore the Smoky Mountains?
The peak tourism season is mid-June through October. Summers are warm with cooler nights and frequent afternoon showers. Fall foliage emerges in mid-September and October is especially crowded.
Winter and spring draw fewer crowds. Snow falls in January and February. Some trails, sites and roads close for the season. Spring conditions can change rapidly. In April and May, wildflowers explode across the meadows.

Are the Smoky Mountains Kid-Friendly?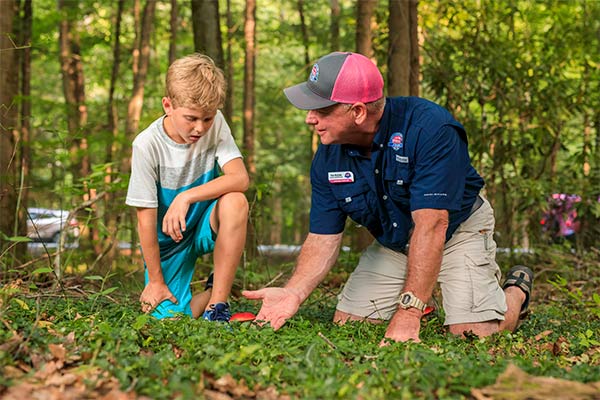 Hundreds of outdoor adventure activities and nearby thrill rides make the Smokies very kid-friendly. The park offers a Junior Ranger program for kids (ages 5–12) to earn a badge to take home. Several kid-friendly hiking trails, such as Kephart Prong Trail and Porters Creek, are perfect for child explorers.

How Much Does It Cost to Visit the Smoky Mountains?
Smoky Mountain vacations can range from budget-friendly to luxury-style. Although entrance to the national park is free, overnight camping runs between $14–$23 per night. Staying in a hotel or cabin will cost $100–$150 per night.
Tourist attraction and theme park fees vary greatly. Plan on $13–$65 per person. Look for special passes and coupons when planning your trip. For saving money, consider a mix of cooking in and dining out to manage food costs.
Summary
The Great Smoky Mountains has become the go-to destination for people who love outdoor adventure and family fun. These Smoky Mountains travel tips will help first-time visitors plan an unforgettable Appalachian getaway.
Don't forget to reserve a Smoky Mountain tour with Pink® Jeep® Tours to some of the area's top sightseeing destinations. The whole family will enjoy the ride and create memories worth repeating!
---