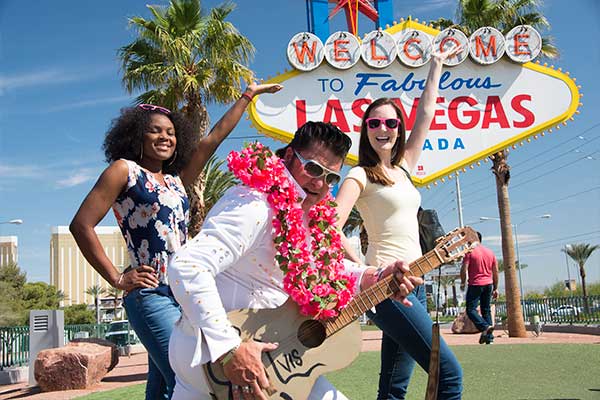 Are you a first-timer to Las Vegas and curious about what there is to do on and off the Strip? Or perhaps you've been to Sin City, but would like to see it from a different perspective?
While the Strip is full of sights, sounds, shows and stories, it can be hard to weed out the flashy tourist traps from more worthwhile attractions. There's also a different side to Vegas, away from the glitter and glam, that can easily get missed.
Pink® Jeep® Tours in Las Vegas in Las Vegas offers the perfect solution to finding your way around. Rather than gamble on self-guided days through the city and its surrounding areas, take an adventurous journey that will highlight the best of "The Entertainment Capital of the World" and its neighboring destinations.
These tours are led by expert, knowledgeable and friendly guides who know Vegas like the back of their hands. They will help you explore not only the Strip, but the "natural side" of Las Vegas too.

Why is a jeep tour a great way to explore this world-famous city?

Variety

One of the best things about Jeep® tours in Las Vegas is that there are options for everyone. Whether you want to spend a few hours stopping by the highlights of the strip, an afternoon exploring nearby Red Rock Canyon, or an entire day braving Death Valley National Park, there are jeep tour options to accommodate every interest. It's a safe bet that you'll find one to suit you and your group.
There are even options for Las Vegas to Grand Canyon tours. These bucket-list tours provide the ultimate way to experience the majestic Canyon from a home base in Vegas, via the comfort of a custom-built Pink® Adventure Tour Trekker. Designed for comfort and safety, this luxurious yet rugged, state-of-the-art tour vehicle has reclining leather seats, a DVD player and large tinted windows.
You can visit the South Rim or West Rim of Grand Canyon National Park. See Lake Mead and tour Hoover Dam. The possibilities are endless!

Best things to do in Las Vegas with kids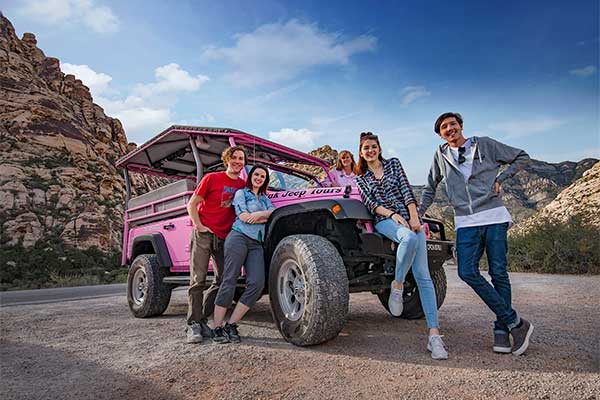 When it comes to family-friendly activities, Vegas isn't exactly the first place people think of. However, there are many activities on and off the Strip for children from water parks, roller coasters and chocolate factories to adventure tours. Jeep tours are actually one of the best things to do in Las Vegas with kids because people of all ages love the open-air experience and elevated views from inside a Pink® Jeep® Wrangler.
Combine the city sites with a journey to the natural side of Las Vegas where the whole family can get out and wander. Take a jeep tour to Valley of Fire State Park to see Elephant Rock and other bright red sandstone formations, and ancient petroglyphs. Or buckle-up for a rugged, off-road ramble along an old wagon route on the Red Rock Canyon Rocky Gap tour to create family memories of a lifetime.

Convenience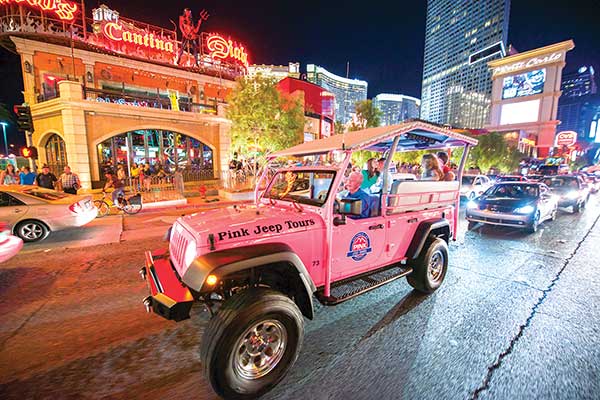 Let's face it: vacations can be a hassle. Renting a car and navigating unfamiliar roads is difficult anywhere, but throw in some infamous Vegas Strip traffic and it's a downright headache. And the endless crowds of gawking tourists are enough to turn any "relaxing" vacation into a flurried frenzy.
A Pink® Jeep® Tour provides you with a convenient hotel pick-up and a Certified Interpretive Guide who is an expert at navigating all the must-see Las Vegas attractions. Jeep tour guides are highly trained and have tons of skill at making their visitors' experience incredible. In addition, the stories, history and fun facts they will share about the area will really bring Sin City to life. Don't try to figure it out yourself; leave the work to someone else!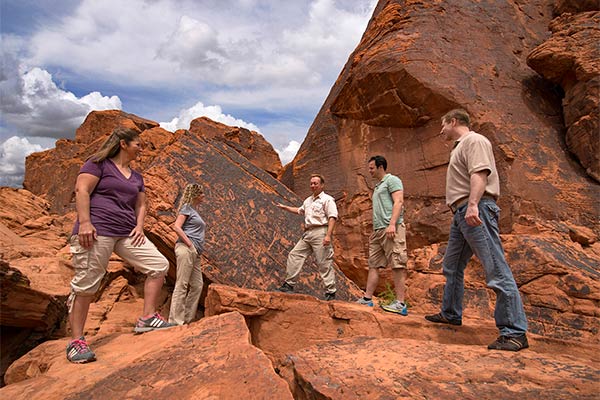 Choosing the Right Jeep Tour
A jeep tour is undoubtedly the ideal choice when it comes to Las Vegas tours. The only question: how do you find the best jeep tour company out there? Check out local reviews and don't be afraid to call and ask questions! Local tour companies care about creating the best jeep experience possible for you and your family; they won't steer you wrong (pun intended). Also, make sure to take note of age restrictions and car seat requirements when selecting your tour.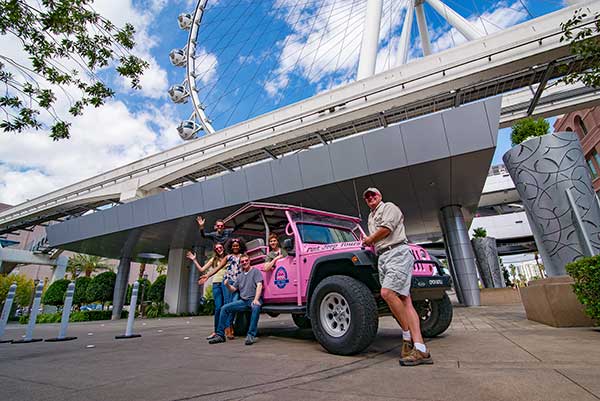 Pink® Adventure® Tours has a top-notch reputation for their jeep tours in Las Vegas and surrounding areas. Their amazing guides and vehicles will leave you wanting more. Check out all their options today, and explore Vegas the right way -- in a jeep!
---