If you and your special someone are thinking about spending Valentine's Day in Vegas, chances are, you're no ordinary couple. You're not the type to settle for a dinner at a chain restaurant followed by whatever chick-flick is in theaters. You're not going to have a balloon bouquet, teddy bear or glittery card sent to your sweetheart's desk. Sure, maybe you've done that in the past, because you didn't have any other options. But this year—you do.
Enter Las Vegas. Known for its shining lights and playful, whimsical spirit, Vegas is romantic in its own unique way. Nothing flowery or overly sentimental, but romantic for those who think that romance is all about fun, adventure, and fantastic memories.
For those people—and for people who wish they were those people—we've created this list of fun, unique ways to celebrate Valentine's Day in Vegas this year.

Ignite the fire with a trip to the Valley of Fire
Just a short drive away from your Vegas home base is the Valley of Fire, Nevada's largest state park and the home of too-many-to-count incredible lookouts and photo ops. Share a kiss in front of the mesmerizing canyon walls at Rainbow Vista. Gaze in awe at sandstone rock formations and ancient petroglyphs. Pick out a fun gift for each other at the park's gift shop. It's the perfect date, just waiting to happen. (Pro tip: Book with Pink Jeep Tours for the most luxurious vehicles and complimentary pickup and dropoff at your Vegas hotel.)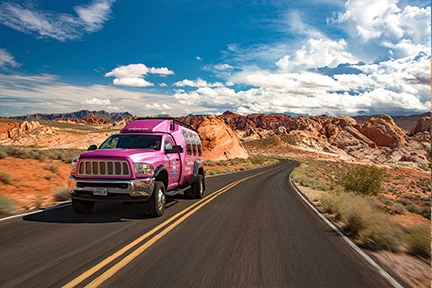 Get a (love) bird's eye view on a helicopter tour
There's something about gazing at all those lights from the air that just amps up the romance a couple notches. Our favorite helicopter tour actually starts on land, with a ride in an open-air Jeep to see some of Vegas's most famous sites, like Wedding Chapel Row (you can always come back later—hint hint!) and the light show at Fremont Street. Then, enjoy a champagne toast before you clasp hands and take to the skies in a luxury helicopter. You'll see Vegas's most iconic sights, like the Bellagio fountains and the Luxor pyramid, from the air. It's extreme, it's adventurous, and it's perfect for the couple looking to go all out this Valentine's Day.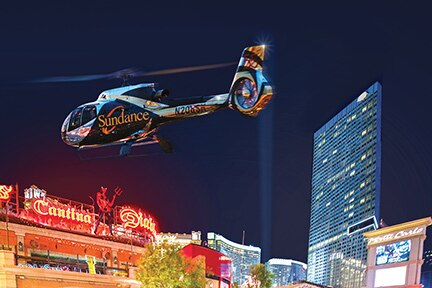 Feed the romance with a progressive dinner.
One of the most exciting things about Vegas is the huge variety of restaurants available to you. If the way to your loved one's heart is through their stomach, then this definitely works in your favor. Hop around for your romantic dinner to keep things interesting and adventurous. Start with drinks in a trendy bar, grab some street food appetizers, and then head to a swanky upscale restaurant for entrees. Add in a little spontaneity and go with the flow for dessert. This special night with your sweetheart is sure to be full of great conversation, incredible food, and one-of-a-kind experiences.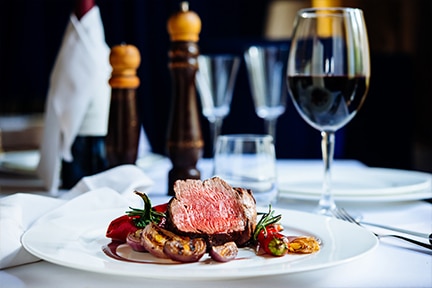 Sure, Valentine's Day is usually about lacey cards and cheesy love songs. But it doesn't have to be. Don't settle for anything typical this Valentine's Day. Rediscover your sense of adventure and passion this year. Viva Las Vegas, and viva romance!
---