"Oh, I could never live in Vegas."
It's a comment that Vegas local Sandy Knapp says she gets frequently when someone finds out that she lives in Las Vegas, a city that is notorious for tourists who are looking for a party.
But Sandy and other Vegas residents love their city for reasons that have nothing to do with the infamous Strip.
Sandy, who has worked for the past two years with Pink® Jeep® Tours as one of their popular tour guides, loves Vegas for its incredible outdoor scene.
"It's a beautiful state," says Sandy. "There is so much to see. And in Vegas, you're never too far away from some really beautiful landscape."
We talked to Sandy about some of her favorite outdoor Vegas destinations. As a Vegas local and outdoor enthusiast, she had plenty to contribute. So much, in fact, that we had to split her list up into two posts! Here's our first group of Sandy's suggestions.
Mount Charleston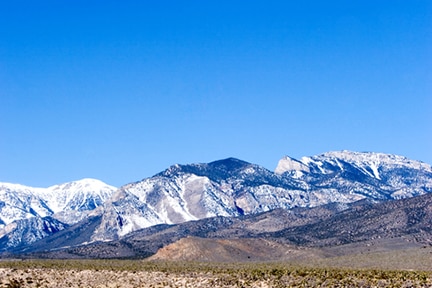 First on Sandy's list was Mount Charleston. Less than 40 miles from Vegas, this destination offers year-round fun for many Nevada residents, with snow and skiing in the winter months, and beautiful hiking trails and scenery in the spring and summer.
"It's a great escape from the heat," Sandy says. "It's just beautiful up there."
There's plenty of wildlife on the mountain; everything from wild horses and burros to bighorn sheep. The ski lodge features a restaurant and there are a few other dining options in the area (but no gas stations, so fill up before your trip). You can also check out the Spring Mountains Visitor Center, a fairly new addition where you can learn some of the history of the area.
Sunset Park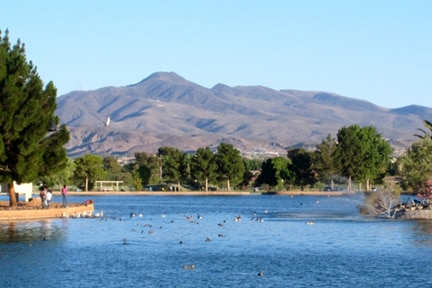 Just 15 minutes from the Strip, Sunset Park provides locals with an oasis in the desert, featuring walking trails, playgrounds, a splash pad and even a large lake on which visitors can fish (make sure you get a license beforehand). There are also sports courts, including tennis, volleyball, basketball and baseball/softball.
"People come out for picnics or to race remote-controlled boats on the lake," Sandy says. She mentions that it's a definite local favorite, which is backed up by the fact that it is the five-time recipient of the Reader's Choice Award for Best Park, as decided by the Las Vegas Review-Journal's Best of Las Vegas poll.
Red Rock Canyon National Conservation Area (RRCNCA)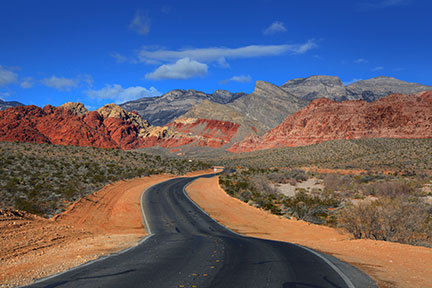 The Red Rock Canyon National Conservation Area, encompassing 195,819 acres within the Mohave Desert, is just a few miles west of Las Vegas. It's known for its many geological features such as towering red sandstone peaks and the Keystone Thrust Fault, as well as Native American petroglyphs.
Red Rock Canyon features a one-way, 13-mile scenic drive accessible by car or bicycle that is dotted with panoramic viewing spots. You'll find canyons and peaks, ledges and chimneys, chutes and gullies that lead to surprises around every turn. There are 26 different hikes and trails that take you from the deep canyons to the highest points.
The Visitor Center is filled with indoor and outdoor exhibits, plant specimens and live Desert Tortoise habitats. You can meet "Jackson," the Red Rock Canyon adopted burro and participate in several educational programs.
Pink Jeep Tours Las Vegas
If you're looking to explore the more "natural" side of Vegas, any of Sandy's suggestions would be a great place to start. Or, take your outdoor adventure to the next level (and meet more Vegas area experts like Sandy) on a Pink Jeep Tour. With highly trained guides and incredible tour itineraries, you'll see the very best that Vegas has to offer—even beyond the Strip.
For even more of Sandy's outdoor scene recommendations near Vegas, read  Part 2.
---