AAH…the Red Rocks of Sedona! Magical and mystical, these world-renowned towering spires, buttes and mesas create a mesmerizing scene that makes the heart leap. It is no wonder that this natural canvas draws brides from near and far who want to tie the knot in a striking way.

For many, a Sedona destination wedding is the ultimate dream. Whether it's an exclusive ceremonial spot, a breath-taking cliff for a wedding photo or a Southwest adventure that guests will never forget, Pink® Jeep® Tours helps brides and grooms rock their outdoor wedding in style.
"Many couples like to take their wedding vows in a natural setting and we're in a geological wonderland," says Sarah Fox, the wedding expert at Sedona's premier off-road adventure company. "We offer four unique locations for intimate, on-site ceremonies and each is combined with a different signature tour experience."
Merry-Go-Round Rock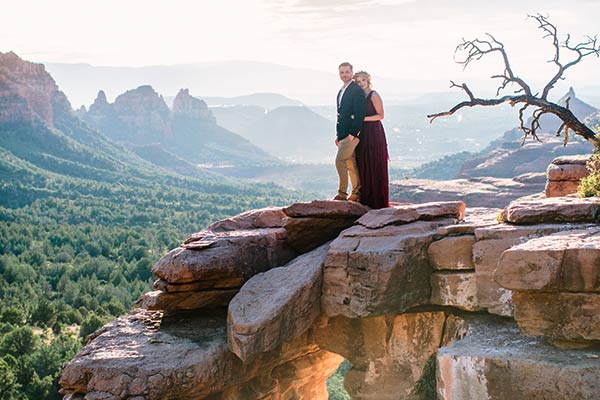 By far the most scenic is Merry-Go-Round Rock. It features a 1,500-foot ledge overlooking Sedona, AZ's splendor where blushing brides and love-struck grooms can exchange vows. Located in the Munds Mountain Wilderness area, this secluded place is not for the faint of heart. Couples and guests will climb high in elevation up the rugged Schnebly Hill Road, winding through remote backcountry on the Scenic Rim tour.
The 50-minute bumpy ride follows Munds Wagon Trail, one of the state's first cattle routes between Sedona and Flagstaff. After stopping, a short hike leads to a breathtaking view of Bear Wallow Canyon and the Cowpie rock formations. The walk to the site is rocky, so shoes with good tread (or light hiking) are a good idea. While some brides choose to get hitched in their boots, others bring a change of heels.
Sarah's Tips:
Temperatures are cooler up here; bring a wrap
Plan extra time for bride and groom photos
Total time: 3 hours
Chicken Point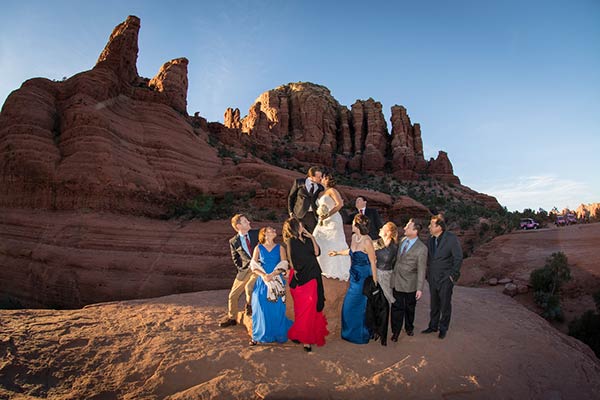 Exclusivity and a red rockin' adventure are the hallmarks of a ceremony at Chicken Point. It calls to those with a more adventurous side who want to get up close and personal with Sedona's slickrock. Featuring 360-degree views of stunning Southwest wilderness, the towering rock spires and infamous Sedona landmarks—Bell Rock, Courthouse Butte and Twin Sisters—are jaw-dropping.
This route incorporates the original 4x4 adventure that started it all—the Broken Arrow Trail. Sixty years later, Pink Jeep Tours is still the only guide company permitted to use this trail so the wedding site is definitely exclusive. After the ceremony, certified professional guides will take guests on the "Road of No Return," navigating a highly technical route of rocks, ruts and roots. This rugged, rock-crawling joyride up steep inclines and down dramatic descents is an experience guests won't forget.
Sarah's Tips:
More private, a bit windy; bring extra bobby pins!
PINK® guides train six weeks to drive this trail
Total time: 2 hours
Dry Creek Vista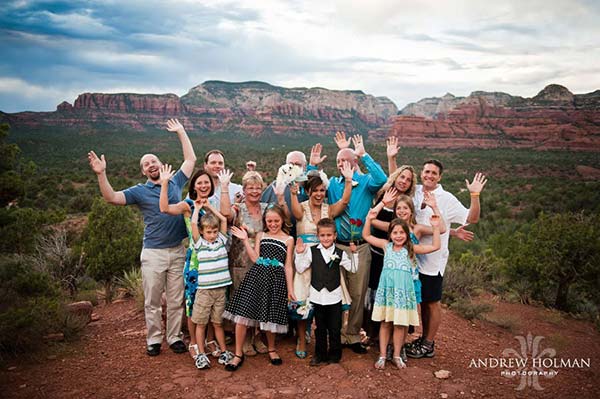 Romance is woven into the soul-nourishing expanses and canyons of the Red Rock Secret Mountain Wilderness area, once home to many ancestral tribes of the Southwest. Here, just 20-minutes from the heart of town, the Dry Creek Vista offers a sacred setting blessed by the vortex energies of the nearby Boynton Canyon area. It's a popular site for Native American-inspired ceremonies.
The Coyote Canyons tour parallels Dry Creek Basin, a seasonal streambed flanked by juniper trees, manzanita bushes and other native vegetation. This rugged ride along Vultee Arch Road leads into one of Sedona's remote canyons and is punctuated by views of Thunder Mountain and the Boynton Canyon area, including Doe Mesa, Bear Mountain and the Camel's Caravan.
Sarah's Tips:
Ceremony on slickrock; dress won't drag red dirt
Best site for those with limited mobility
Total Time: 2 hours
Rattlesnake Point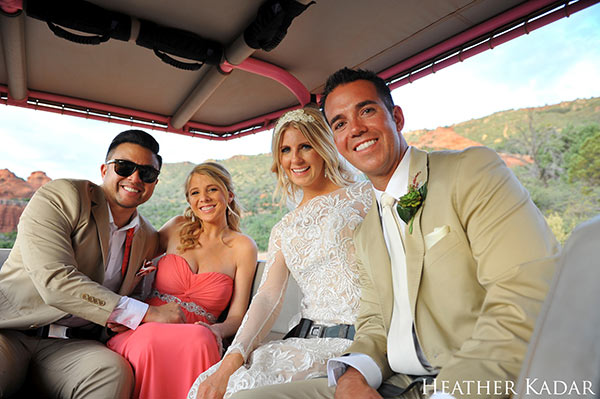 For couples who really want to "get away from it all," Rattlesnake Point offers the most remote location deep in the desert outback—far from the tourist crowds. The ride snakes through the Verde Valley on a 100-year old backcountry wagon trail, leaving Sedona behind. Say "I Do" atop a knoll surrounded by desert grasslands with views of Camel's Caravan. This is a scene synonymous with the old west.
After the wedding, guests embark on the Diamondback Gulch tour--a thrilling, off-road 4x4 glimpse into Arizona's ranching past. En route are views of Capitol Butte, Chimney Rock and Lizard Head. You'll have to hold on tight on the steep descent into Diamondback Gulch, a deep ravine sliced through the land by fast-flowing water.
Sarah's Tips:
Rugged, steep rocky hills
Remote, high-desert outback
Total time: 2.5 - 3 hours
Why Add a Touch of Pink to Your Nuptials?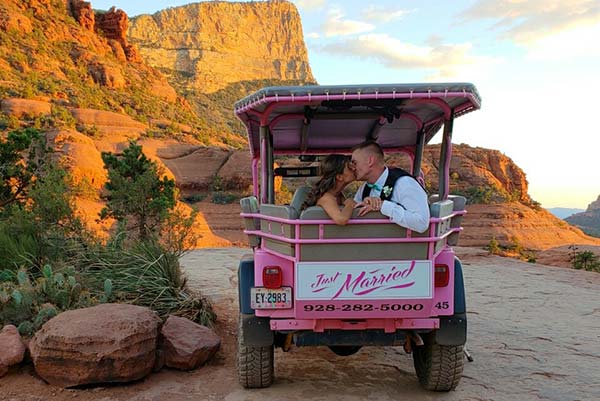 Pink® Jeep® Tours doesn't take a "one-size-fits-all" approach to its wedding packages. Depending on the location, ceremony sites can fit up to 100 guests. The company's flexible approach is ideal for small, intimate groups or elopements. Amazing experiences can be crafted with minimal lead time.
"The best thing about a Sedona, AZ wedding with us, besides the amazing locations, is that we can make it exactly what you want it to be," says Sarah. "For example, we can include a fully-catered BBQ with filet mignon prepared on-site by a local chef, pack picnic lunches, provide champagne toasts, arrange acoustical serenades and more," she added.
Couples don't have to worry about special permits or parking hassles; guests don't have to drive themselves to the wedding. And while the packages don't include full wedding coordination services, Sarah enthusiastically shares her advice and referrals to Sedona's best wedding vendors and resources.
PINK® will even outfit the bride and groom's vehicle with a "Just Married" plaque for the ride!
Learn more about Pink® Jeep® Tours' weddings in Sedona, Arizona.
---