The Great Smoky Mountains National Park is home to an array of natural and man-made attractions. The park offers miles of wooded trails, stunning waterfalls, winding scenic drives, more than 90 historic structures and lots of educational exhibits.
1. It's Close to Two-Thirds of the U.S. population
Spanning the borders of NC and TN, the park is conveniently located near I-40 or the Knoxville airport. It is within a day's drive of large cities like Atlanta, Charlotte, Washington DC, and Chicago, and easily accessible to most of the nation's population
2. Park Consists of Half a Million Acres
The Smoky Mountains National Park encompasses more than half a million acres ranging from mountain terrain to hardwood forests to wetlands. It has five different types of forests alone and one-third of its trees are over 100 years old.
3. The Smoke From the Smoky Mountains
The mountains get their name from the smoky haze that blankets the area giving it an almost magical quality. The wispy, smoke-like fog that hangs over the mountains comes from rain and vegetation in the park. As plants take in carbon dioxide and give off oxygen, they also exhale "volatile organic compounds."
The high concentrations of VOCs in the park give off vapors that combine with rain, sunlight and humidity to create fog. These compounds also create the various scents and odors people smell when walking through a thick forest (think pine). Molecules in the gaseous vapor scatter blue light from the sky and create the region's signature smoky blue haze!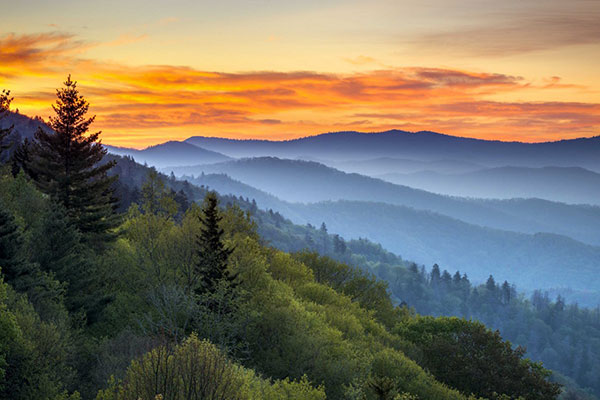 4. You Can Visit the Smokies All Four Seasons
Smoky Mountain National Park is a park for all seasons. Primary roads are open 24-hours a day, seven days a week, year-round, weather permitting.
Thousands of wildflowers bloom March through April, while summer temperatures rarely rise above 80 degrees at higher elevations.
October and November usher in vivid colors of red, orange and gold along with crisp, cool weather.
Winter offers a relatively crowd-free experience, snowy landscapes and the gravity-defying phenomenon of frozen waterfalls.
5. The Park is home to Thousands of Species of Wildlife
The park is home to an array of wildlife including nearly 1,500 black bears, the densest population east of the Mississippi River. Elk, white-tailed deer, bobcat, coyote, red and gray fox, and wild boar are just a few of the local inhabitants that visitors might see.
There are over 240 species of birds and 67 native species of fish. The park is also the Salamander capital of the world.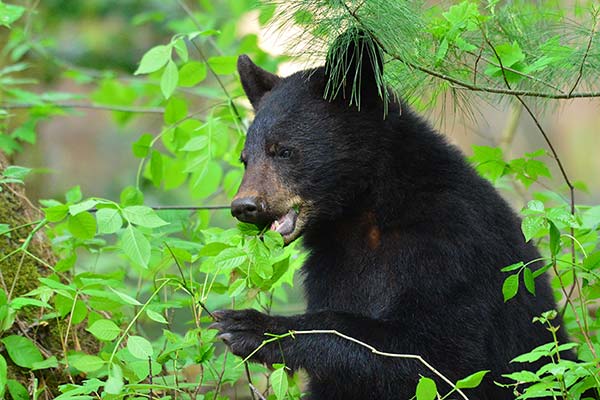 6. No Entrance Fees
The park has three main entrances, Gatlinburg, Townsend, and Cherokee. It's open all year round and there's no entrance fee. This accessibility, combined with the park's unspoiled scenery, make it a mecca for outdoor enthusiasts of all ages.
7. Close to All Pigeon Forge Attractions
While many people come specifically to enjoy the park, many attractions exist just outside. The nearby towns of Gatlinburg and Pigeon Forge, along the park's western boundary, host over 11 million visitors a year. The area is a popular vacation spot for couples, families and everyone in between.
8. Smoky Mountain Activities
Activities range from road touring, hiking, cycling, horseback riding, whitewater rafting, camping, fishing, waterfall scouting, wildlife viewing and more. There are 384 miles of scenic road to choose from rising from 875 to 6,600 feet in elevation.
Roaring Fork Motor Nature Trail is just minutes from Gatlinburg. Newfound Gap Road travels through a variety of forest types to a saddle where visitors can stand in two states at once.
Surrounded by mountains, Cades Cove is the most visited area of the park and famous for spotting wildlife. The Foothills Parkway West offers unparalleled mountain views and breathtaking sunrises and sunsets.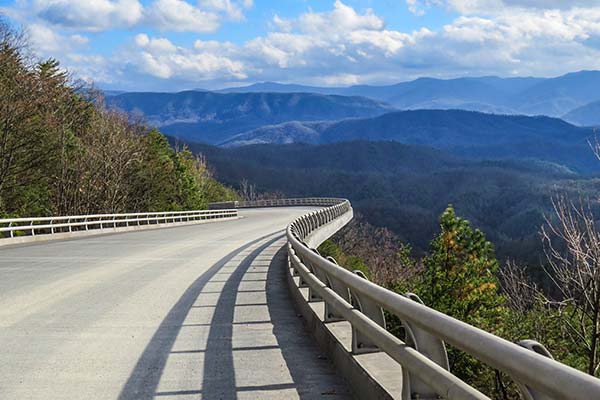 9. Firefly Festival
For two weeks each year (May to early June), Elkmont becomes the site of the most magnificent synchronized firefly gathering in the world. They are the only species in America who can synchronize their light patterns. Thousands of fireflies light up the night sky in a brilliant mating display. It has become so popular, that visitors must participate in a lottery to enjoy the show.
10. 850 Miles of Trails
With over 850 miles of trails, the Smokies are a trail-lovers dream. Opportunities abound for all ages and abilities. Trails range from easy walks to challenging climbs and half-hour round trips to multi-day backpacking treks. Some must-do hikes include Andrews Bald, Charlies Bunion, Clingmans Dome, Chimney Tops, and Mt. LeConte and Alum Cave trail to name a few.
11. Beautiful Waterfalls
Over 85" of rain falls on average each year in the high country, feeding more than 40 sparkling waterfalls and cascades. In wet years, Mt. LeConte and Clingmans Dome can get eight feet rain. Some falls drop more than a mile in elevation from the high peaks to the foothills. Waterfall enthusiasts flock to Abrams Falls, Grotto Falls, Rainbow Falls and Ramsey Cascades among others.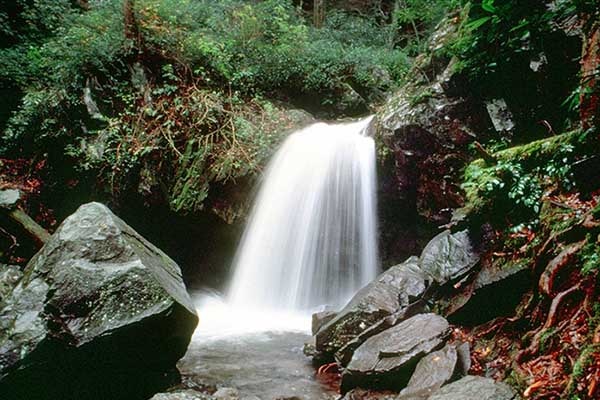 12. Guided Adventure Tours
For those who want to leave the driving to others, Pink® Jeep® Tours offers fully narrated tours with certified, professional guides. Guests can sit back, relax and learn about the history, geology, flora and fauna of the park without worrying about navigating the mountain roads. The company's custom-outfitted vinyl enclosed Pink Jeep Wranglers allow for an intimate experience, unlike tour buses.
Excursions include tours through Newfound Gap, the Foothills Parkway and Roaring Fork. Each tour ends with a thrilling 4x4 off-road trail adventure on private land. The guides will also help guests capture the ideal group photo while in America's most visited national park!
---